I wanted a shelf in the bed for the fridge but also to stuff Frontrunner boxes both above and below it. I built one out of stuff from Lowes and was planning to keep it a while but it started to get a good bow in the front where it was not supported. While I think it would have been good enough for a while - now that the camper is on I can measure the 8020 build I wanted to do.
First 8020 order arrived this morning and here is the framed build out so far. I will keep updates coming on this as well as some info on what I ordered.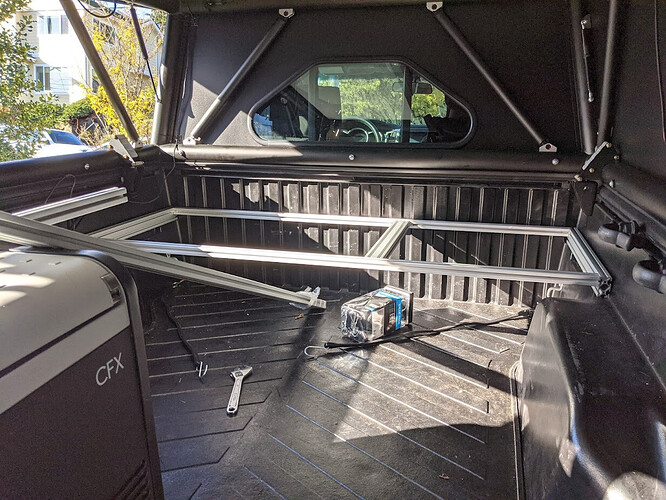 When I forgot I had changed the right piece to allow for a bench…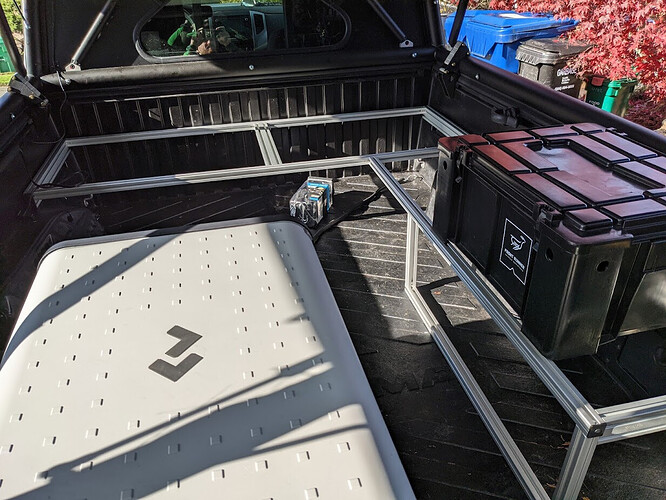 After I put the bench portion on and got everything situated…
Next up - put a top on it. Thinking 1/2" black Starboard with a 1/4" rabbeted edge so it slots into the track OR some sort of flush mount panel. I am still investigating options here.
To attach to the bed I will continue to use turnbuckles on the cab side to hold it forward and down and a third turnbuckle in the back to keep the bench from hopping.
Dometic fridge will go on the shelf on the left side of the cab - leaving room on the right for securing a stack of 2 front runner boxes, 2 more can slide in underneath the shelf. The right side is primarily to be used as a bench but will certainly make use of the storage once I have a plan.