The site seems to be off again. Showing 10.0 competed
yeah it has been bouncing 9.5 to 9.75…odd
back to normal. 355 as of today.
question, has anyone gotten their soft goods install notification? at the bottom of mine it said that they won't be scheduling install if its before the camper is complete. but then it also says: please note, we cannot schedule shop installs for any date prior to 5 days after your camper's completion". Anyone who has received theirs, why the 5 day wait after it's complete to schedule the install?
Thanks for that. So when mine is in sealant curing, I'm X + 5 days out from an install?
Guess my vaca isn't going to line up.
Up to 359 completed! And sounds like it. I talked to Taylor and he said he would clarify what that means. Sucks since I have scheduled my vacation from work to coincide with the 12th week of the original 8-10 week build time, figuring 2 extra weeks would be enough to buffer any delays. Guess I will be staying longer in Bozeman to get it done. And they only install on M, W, and F. But they won't let you onto the scheduler until after it is marked complete, and that is only after the unspecified time for QC inspection after soft goods. I was told Sealant Curing was a minimum of 7 days, was not specified as to business days or consecutive days. It moved into Soft Goods Install after 5 business days as it started Sealant Curing before the weekend. So that was a welcome surprise. They do mention they are willing to hold your completed GFC for up to 2 months so you can arrange travel, I just didn't want to do the trip during the winter. Taylor has been awesome in getting back to my emails inquiring about all these things.
So bottom line- if you're moving into Components Produced the lead time is closer to 12 weeks not the 8-10 weeks they tell you.
I asked him if I could install it myself instead of scheduling an install since I will have an extra body with me but he told me it's hard because its heavy and would take 4 people. I just hate how everything is so up in the air since I had to preschedule my vacation to take time off to get up there. It is what it is…
I got my camper recently but before that I was obsessively watching the leaderboard trying to predict when my camper would be complete.
On the morning of September 16th 2019 a Monday, I checked the leaderboard to see if my status had changed but no it had not. I was currently in the sealant curing process and been there for 9 days. About 10 minutes after checking the leaderboard I got an email stating my camper was complete! I was so excited. 15 minutes after this I get an email from support stating my camper was in soft goods. Confused by this information I called and spoke to Taylor he told me that my camper was in fact complete and ready for pickup. I rearranged my plans that day, packed up my truck and drove to Montana for an install just 2 days later on Wednesday.
So you cannot get it installed until you receive the email stating it is complete. That email has a calendar where you can book your time. I did this as soon as I got the complete email. It's so nice to not look at that leaderboard anymore. I know how frustrating it is but eventually your wait will be over.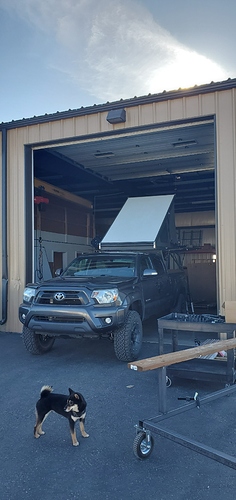 Could not have said it better. Put my deposit down in September 2018, and I knew I was going to have to wait. Waited a few months longer than was first anticipated, but I was kept informed of the progress until it was finished. It's a small company that builds a great product and if it took them little longer, I took it in stride. Any questions that I asked(quite a few) were answered promptly.
I drove up there and had mine installed on September 30, 2019. Got another tour with a young couple who were getting theirs installed right after mine and it was cool to see the changes in the company in a year. The guys who installed my GFC were awesome They had to remove some bed molle system that I had put in because it interfered with the brackets and they also had to notch out some of my roof rack to get better clearance and then install the camper. They didn't mind if I hung out and watch the whole process, they were cool.
Yes, it is worth the wait.