Are these any different than the Hardkorr strip lights? The remotes look very the similar is why I'm asking.
Looks fairly similar (i.e. identical) to the Truckparts kit that's sold out currently.
Quoted from the Truckparts website:
Currently out of stock! Will update as soon as they become available.

All lights are red/white switchable and dimmable. No cheapo string led's, all solid IP67 housings and complete wiring kit for a no tool installation.

Standard option is a warm white and red option. Red is great to keep night vision and also does not attract bugs.

Fits all Go Fast Campers. Installs is no tools required.

Lighting kit includes

Two long lights for "upstairs" sleeping area.
Four lights for "downstairs", one on each panel and one inside on the fixed panel.
Dimmers for upstairs and downstairs circuit.
Master on off switch.
All required cable attachment mounts…
Cigarette plug to attach to battery pack of your choice. Or can hard wire to car.

Optional super sticky mounting tabs for cable management. These things are expensive, so they cost 15 bucks extra. It does make the install a lot cleaner though.
I love my truck parts light kit
Do you have lengths for the light bars?
HMMMM seems fishy. Truckparts rebrand or straight up rip off?
We have bought Truckparts.parts's inventory.
With that said, @Madcap.Supply, what are the lengths of the led lights used in the kit for both the downstairs and upstairs?
Nice! I like the Truckparts.parts lighting kit! Highly recommend the Madcap lights if in the market!
Downstairs are 27.5 inches long, and upstairs are 39.5 inches long!
Thanks! Appreciate the quick response.
These are different lights, ours are specifically designed around the GFC. Different remotes as well.
Has anyone checked out Matt Gecko Leds? I saw a post on here somewhere a couple of days ago…
Big fan of the @Madcap.Supply (truckparts) lighting kit, easy to install and use, versatile, and awesome.
Also perfect for Halloween shenanigans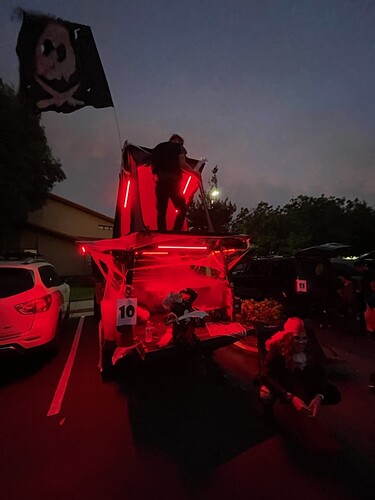 $375? Slight upcharge over the normal cost of LED string lights…
Awesome! Just ordered mine.
Ships out tomorrow with the rest!
Thanks for the support!
Just ordered mine! Thanks!
@Madcap.Supply Yo, I have received my lighting kit. I was wondering if there are any instructions for install? Did see anything in the box or on your website.
Mahalo
Radtke