Dude these are super clean! Nice work! Impressive
I have been making all sorts of stuff. The 3D printer, the welder, the woodshop, and now the sewing knowledge all combine to be really cool. Feeling like a proper DIY'er now.
Anyways, one thing I keep coming back to are these bags. Mainly because when I made the first one I had never touched a zipper project before and have since learned a lot. I feel like it is important while simply diving into things to have a standard to continually revisit and apply new learnings to. This is not the simplest assembly but now that I have a template and the process dialed, it isn't so bad.
While I don't really NEED anymore of these bags, it is fun to push myself and see the quality improve. Also - have to relearn everything on the "new" machine. Anyways, here is the latest bag front: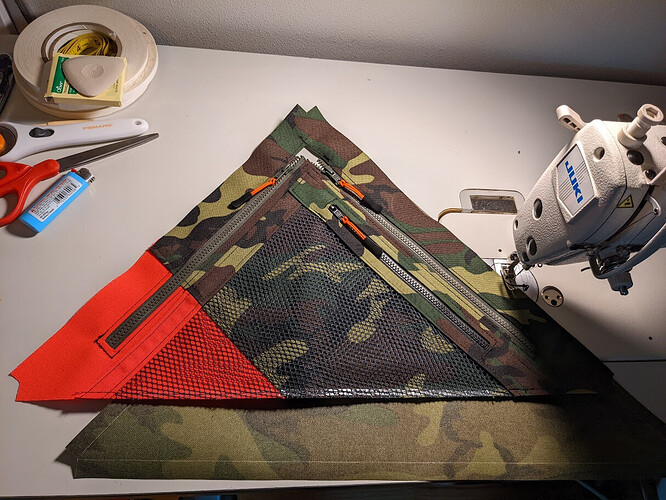 Nice work!! Those are looking awesome. Sewing machines are definitely addicting

and so much fun!
Nice machine! Quite the step up from a singer. I've been making bikepacking bags the last few years and planning to make some GFC frame bags once I find some free time. It's definitely harder work on regular sewing machines.
Spendy but good stuff! I am using 1000d cordura at the moment - the seams with 4+ layers were no fly zone for the Singer so I am pleased to be able to go through it easily.
Great job, Phil! Very clean look and feel.
@the_philxx let me know if you ever start slinging these. I live in Seattle as well, and would love to get my hands on some!
Nice! Where in Seattle are you?
Currently not planning on going into business with these. You've seen that VRNCLR sells them, right?
@the_philxx Such a tease! Looks like you got the Juki up and running. I'm really impressed with your progress in such a short period of time. Bravo!!!
Thanks! I am enjoying the hobby. It will be a nice skill to have dialed this spring when it comes time to upholster my custom motorcycle seat.
Cool stuff! The only problem I see when someone like you posts this stuff, is that someone like me thinks I should get off my a** and try it too!
I get my GFC next month, and will probably have a go at making some bags for it, now that it seems more doable to learn it.
I've made 5 full bags at this point and 3 more small bag fronts …
The first bag is the worst one, the 5th one is that clean looking camo one.
Each bag was a.little better than the one before it.
The 3 extra fronts … 1 was just trying a better construction method and using my spare bits and pieces. Maybe I'll finish it up and along it.
The other 2 fronts are perfect… other than the 400 denier material is too floppy. I still might try to salvage these and maybe sling them too.
Really the trick was getting the better sewing machine so I could get through the thicker materials in layers.
It's been fun though and while I'm posting these bags… I've also made dog collars, a stuffer dog toy, some beach bags, currently making a roof organizer to replace the cheap Amazon one I put up there before, and it's generally just a fun indoor activity while the garage is still cold.
Have fun and if you want any measurements or patterns, lmk.
P
@the_philxx the wife and I actually moved to Edmonds last year, but I still work in the city - Green Lake.
Yep! Looks like great stuff. Bedding catch is on my list of things to snag.
Black bag is probably the best of the first 4… then the black and grey front was me trying to better learn zippers… then I hit the ground hard with the camo stuff.
These have potential so I'll finish them… it's a left and right set of small triangle bags. If someone with a truck similar to mine wants them (6' bed Tacoma - not sure how much the triangle geometry changes truck to truck), lmk and make me an offer. They can still have the flap for top connection moved so the zippers either face in the camper or out. Would need to know preference. No plans to make the 2 larger triangle bags in this material at this time.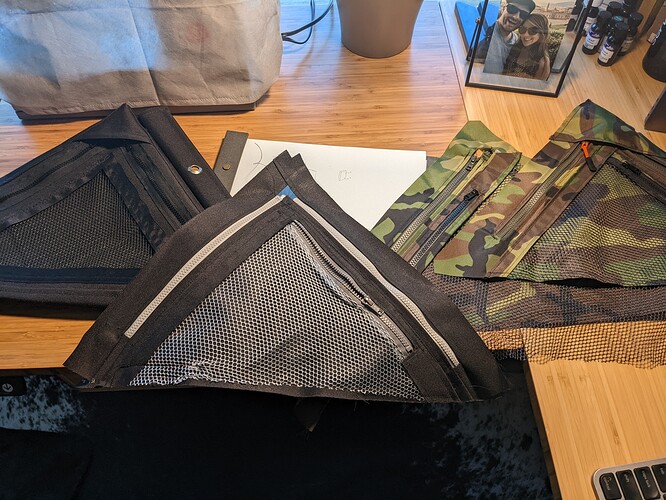 Awesome post! I was inspired and signed up for an industrial sewing class at a DIY space near me. (https://tinkermill.org/ for the Denver/Boulder folks) Cant wait to try this out.
Ripstopbytheroll has a couple types of Cordura and several zipper styles. Any tips on specific products @the_philxx ?
Awesome! I went with a 1000d cordura with a liner (makes it waterproof and helps prevent fraying so you don't need cut with a hot knife).
Ykk vislon number 5 zippers are what I'm using… They can be ordered in hundreds of colors it seems. If you are going around bends the coil zippers are the more common choice.
Don't sew through your finger!
Not only do I like the pockets, but I like your simple, functional storage/benches even more. Where did you get your extrusion, and what kind of board did you use?
8020.net or whatever their site is… 10 series. I have a post on my profile for it!
The panels are 1/4" abs plastic