Dang that is a great idea, I'm gonna have to borrow the tail gate trick, thanks!
Hi All,
That Dometic faucet looks very cool. I took the cheap route and bought a 12.99 unit off amazon and a few dollars of parts from Home Depot to attach to my 5 gal cube water containers. I can post some pictures if anyone it interested. Note it is not nearly as pretty.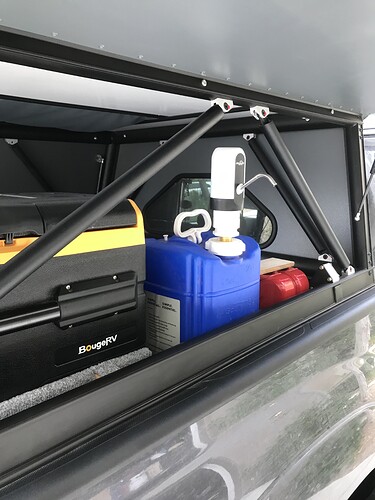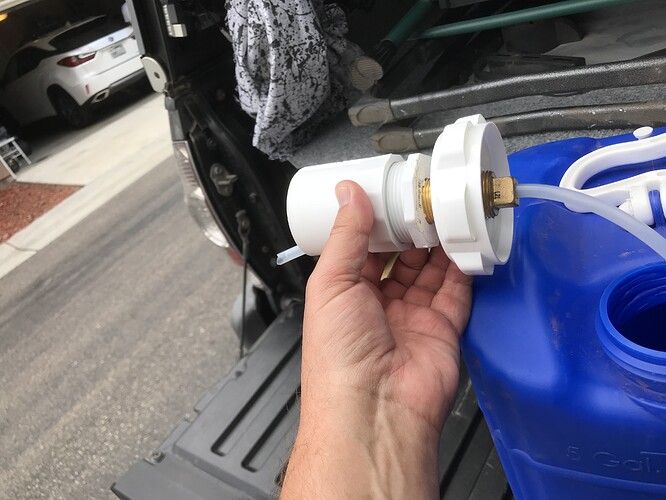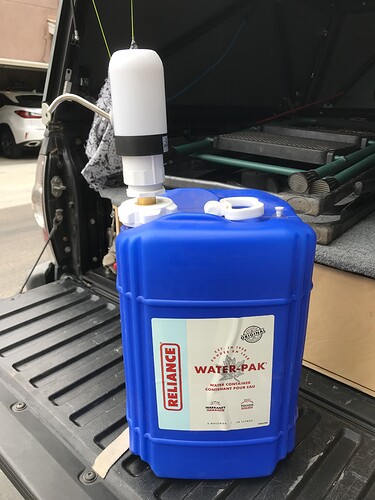 This was a quick and dirty setup I did night before leaving on a trip. The spigot on these jugs is 3/4" NPT into the cap and a 1 1/2" adapter just press fit on held on through some pretty rough terrain. Probably not necessary but I put the brass fitting on the bottom so my water did not go up into the PVC fittings. I have 2 jugs and switch between them.
The only downside is there is not a water volume adjustment so it uses must more water than needed most of the time. I don't think Dometic has one either.
Hey Josh, When you going to get the 10Rack Load Stops back in? Gotta stop this canoe from wondering around.
Hey @Dignon I should have them available by the mid to end of next week. I'll send you a message when I do!
I'll for sure suspend the spending freeze to get those beauties. It's crazy the rig actually gets better mileage when the canoe is on. I can assume because it creates a wind break before the camper. I'm like avg 16.5L/100km, but with the canoe on I can get it down to 15L/100km which is only slightly higher than the rig was pre-GFC.
Heading out on vacation so all orders placed from today on will be shipped on September 1st. Just wanted to give a heads up.

I have had a report of a few StepUp mounting bolts breaking. The included bolts are Grade 5 Medium Strength and the recommended torque spec is 76 in lbs. If you have any issues I am more than happy to replace them for you. Email me at josh@jedf.us if you have any concerns. Thanks everyone.
Josh,
You are awesome for always looking out for our community!
You can adjust the dometic to only pour out in pint portions, I believe. It's factory setting is 32oz.
Just went out and did a field test of the dometic… it comes out to about 32.5 fl oz so about a liter, give or take
Oops, I may have misread medicfungs post. I could have sworn it said something other than 32 oz. Must be time for another coffee.
Either way, it's a sweet addition to the camper! Imagine the looks on my riding buddies faces when i go to refill my water bottle before a ride or help the poor dog who's owner didn't bring along a water bowl for their fur child at the trail head.
Hey Josh,
Question that others my wonder too. With your load secure mounts, you reckon it's strong enough to thread your cam strap through, or should I still go around my bar?
@Dignon I have been just going through them, but I have them in the bottom as a tie down point vs on top as a load stop, and have been running paddle boards. I think with a canoe and possible side winds I'd feel most comfortable going around the bar. This pic has it mounted in the bottom as a tie down.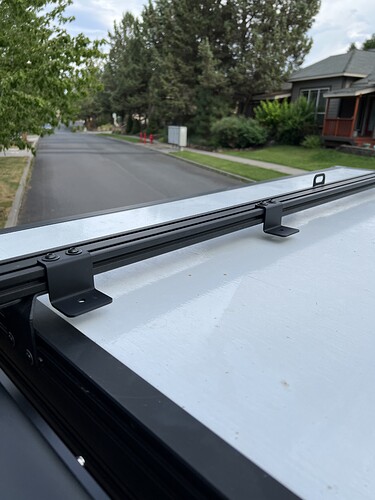 I have a few parts that were used for testing fitment that are up for grabs if anyone wants them.
First is a set of (4) 10Rack Solar Mounts. These do not work on the Beef Bars but will work on most 10 series 80/20 extrusions. They include all drop in t-nuts and stainless hardware.
Second is a set of my BeefBoosts (4) which raise up the Beef Bars for more clearance for aftermarket accessories. These only work on the older style beef racks with the black steel plates on the sides.
Both are no charge and I will ship them for free as well. First come first serve.