V1
#840
I too, had a bit of issue with the stock, stiff 2" foam. However, I don't want to carry around an extra pad roll that has to be stored below or that requires being inflated when getting to camp. This 3" pad has proven to be just the bit of extra memory foam and plushness that my wife and I need to sleep well without any extra fuss. Fits easily in the covers and can still leave sleeping bags stored up top with it.
Link to mattress below:
Sleepmax 3 Inch Queen Size Memory Foam Mattress Topper, Bamboo Charcoal and Copper Infused Mattress Topper, Double Sides Foam Mattress Pad Premium Bed
Amazon.com
Are you a cold climate? Curious if they memory foam is resistant to some lower temps.
Did you replace the original foam with the 3 inch pad from Amazon?
Yes. So far I really like the improvement.
What's the coldest temp you've been in with it?
I got one in today and will be cutting it up tomorrow. Laying on it on the floor is so much cooshier than the gfc foam! Thanks for being the guinea pig on this one @Nrampp !
Low teens have been the coldest so far.
I just spent a couple nights on it camping out at a bike race. I think it's a great improvement on the stock. However, everyone has their own ideas about how plush their sleep situation is. Hope I didn't lead your astray
Not at all. Slept on it last night and it was a huge improvement. My only concern will be how it does with absorbing humidity and moulding over time, but we shall see!
I would think with the covers you shouldn't have any issues. I guess I have never checked to see if the covers were waterproof or DWR coated.
I'm going to pull the trigger on this mod in the next couple weeks and am hoping the sleeping experience will be improved
I replaced my mattress with exactly what @Nrampp did above. However, I only replaced the larger fixed panel and the rectangular panel mattresses because I didn't want to buy two mattresses to fit all the panels. The new 3" mattress does fit in the GFC mattress covers. I just spent 4 nights with this new sleeping system and was noticeably better over what I was running before which was 2" GFC foam with overland softgoods 1" topper. Im a side sleeper and would wake up with a sore shoulder sometimes with the previous setup. With the new setup, no more soreness and didnt toss and turn as much. Oh yea, and the tent still closes with ease while keeping my aeronaut hoverquilt up there.
I'm selling some foam from my mattress experiments. CA SF Bay Area.
I have the original two layer GFC mattress. If you take the top soft layer off it and put it on top of your setup I'll bet it would add something nice.
I have 2" latex foam. I used this as a topper for a while and it was really great. But I decided to go even softer with some other memory foam. The pieces are cut to size for a standard GFC, however, the big piece is missing 8". Basically, if you installed it the tightest 8 inches of the wedge wouldn't have that 2" of memory foam.
I have 2" High Resilience HR40 cushion foam. Two pieces, one is 24x24 and the other 48x24. These were test pieces I picked up before ordering a full sheet to do the whole mattress.
$100 for the lot of it. It's about $400+ in foam if you went out and bought it all. So a good deal both for upgrading your current setup, or just for testing out different combinations before committing to a purchase.
Response to no one in particular.
I found a company that does custom cut foam for mattresses and cushions.
They sent me some samples of different density foams and i did a bit of temperature testing.
A couple takeaways:
#1. They all seem very temp stable
#2. The firmest i got (ild44) seems very close in both feel and color to the foam inside my gfc covers
#3. I ordered a 1 inch 50x90 chunk of there softest foam to put ontop of my existing foam. Will just cut myself to fit the pannels
I am hoping gaving something super plush ontop will make it more comfirtable while yhe firm stuff will prevent me from "bottoming out"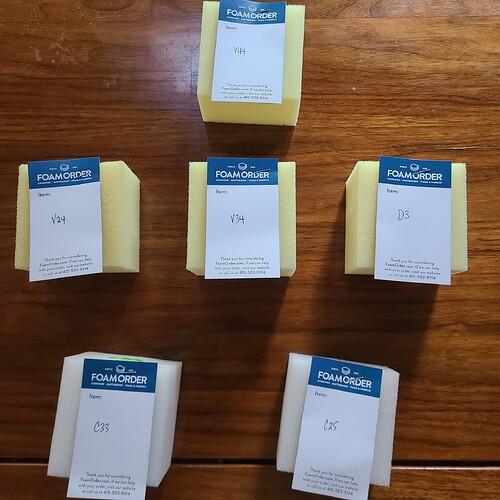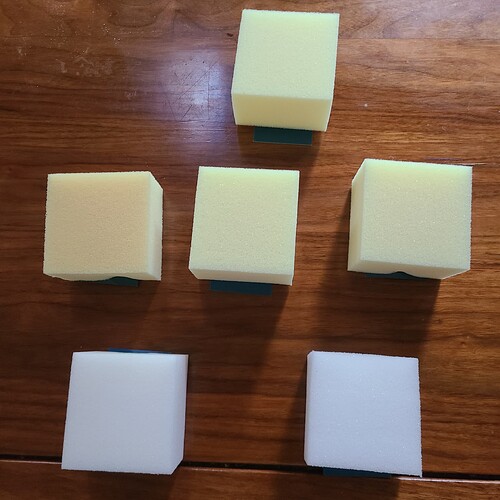 Will report back after i test a bit
I found some decently temp stable foam as well on Amazon. It was semi stable at fridge temps but not freezer temps. I use a diesel heater in the winter anyways but I was worried about the foam getting cold enough once taking the heater out that it wouldn't compress.
The biggest issue you will run into and depending on how much foam you add is the compression by the GFC covers is too much. Adding much beyond ~2.5-3 inches and the covers compress the foam way too much. This also causes "small valleys" in between the transform a floor panels. Only way to get around this is to make custom covers that allow more room to stuff foam into the covers themselves.
I don't plan to put this in the stock GFC covers. It will go on top of that and under my overland soft goods sheets.
I put these in the fridge over night and also left them out in the sun for a full day on the driveway at 90+ and in both cases they felt pretty much the exact same afterwards.
Just seems very convenient with all of their different ILD ratings and the custom cut option. Seems like a perfect solution to customize the firmness of the cushion.
Hopefully it works out.
Best of luck and excited to hear what you find out. @Buhlockaye and I pretty much gave up on testing the mattress lol. Even tried stuff foam under the OSG covers and wasn't the most successful.
For what its worth, I just got the OSG foam pads after 1 year of regular GFC camp pads.
Truthfully, I didn't find the stock ones that bad but after camping with a buddy who had the OSG pads, they were indeed softer so I picked up a set and some sheets.
As a side sleeper I 100% felt the difference and it seems like a great option.
For those using foam toppers, what is the max thickness you can put op top of the stock mattress and still close the topper/tent? I am planning my bed setup for when I pick up my camper in October!
Same question–did you add this foam ON TOP OF the existing stock foam, or did you remove the stock foam and replace it with the 3 inch topper?