XL GFC for Nissan Titan. Includes front/rear windows, beef racks, fitted sheets, awning racks, and ARB awning. $7,500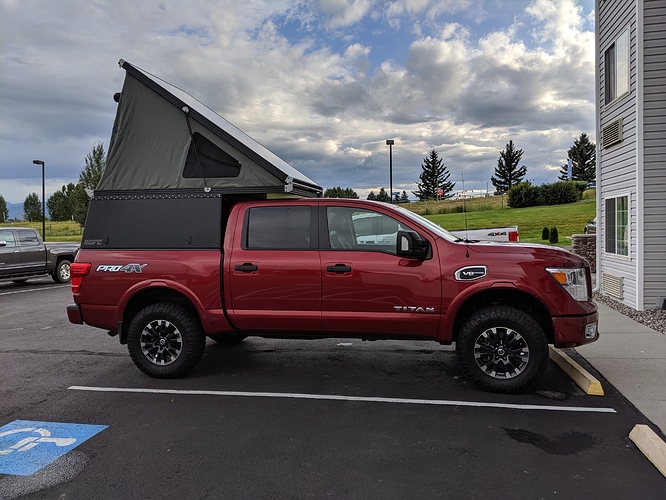 5.5ft bed? Any idea if it will fit the Ford bed?
If it was for an XD I would say sold.
Yep 5.5 foot bed. I have another person that's interested who's waiting on a call back from GFC on whether it might work on a F150.
Thanks, if they pass and it fits the ford bed I'm definitely interested
I am the one that was trying to find out if it will work on a F150, after speaking with GFC they said the only way to know for sure is by trying to put it on a F-150. After measuring again I believe the anchor points are to narrow to work for a F-150. But that is just my guess. Im 12 hrs from Chad and I dont have the guts to drive that far to see if it works. But if someone is willing, Im curious if it does fit. Chad is a super nice guy and someone will be getting a great GFC!
I just took some more measurements:
-The outside width of the camper at the rear mounts is about 66 inches.
-The width of the bed, measured between the top of the bed rails at the rear mounts, is about 62 1/4 inches.
-The width of the rear mounts is about 60 1/8 inches when measured at the center point of the mounting holes. The holes in the mounts are elongated, allowing about 1 inch of adjustment.
-The height of the bottom of the camper over the top of the bed (area extending over the cab) is about 24 inches.
Hope that helps.
Bump, dropped price to $7,500
Sold the camper to a guy with an F-150. It fit great on his truck.