OFFICIAL GFC MEETUP | 10/14/2023 - 10/15/2023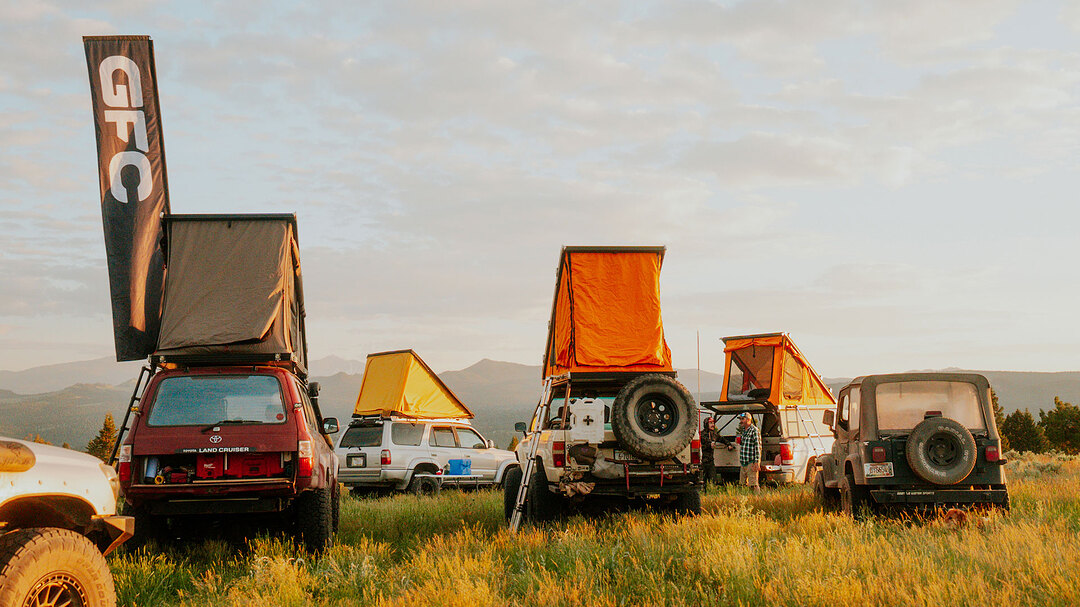 Join us October 14th for our first official GFC Fall Campout, right here in Montana. First on the agenda is a meetup at our HQ with tons to do, followed by a BIG group campout. We'll have plenty of space for rigs, vendors & product giveaways, food & drinks, and tours of our production facility to show you how our campers are built. Let us know if you can make it, and scroll for all the finer details. RSVP HERE and we'll keep you in the loop with updates.
We'll start things off at GFC HQ from 9am - 2pm , where you can meet members of our team, other GFC owners, product vendors and more! We'll have parking available to show off your rig and other customer builds, and there will be free booth spaces for approved vendors. We'll be serving up food and drinks for everyone until around 1pm, at which point we'll have a product raffle with some really rad GFC accessories and vendor products you won't want to miss out on.
Once we wrap up at HQ around 2pm, we'll caravan to Pipestone for our overnight campout. Pipestone is right in our backyard, and has plenty to do from off-roading, hiking & climbing, mounting biking & and moto trails, and much more. We'll bring some games of our own, but we encourage others to bring their own fun to share as well. This is a kid friendly event, and feel free to bring your furry friends (the well behaved ones).
If you aren't an owner, no sweat. Come by and check things out, we'd love to say hey and show you our community while you get hands on with our products. So invite your friends, and get ready for some camping with even better people-- it's going to be a great time!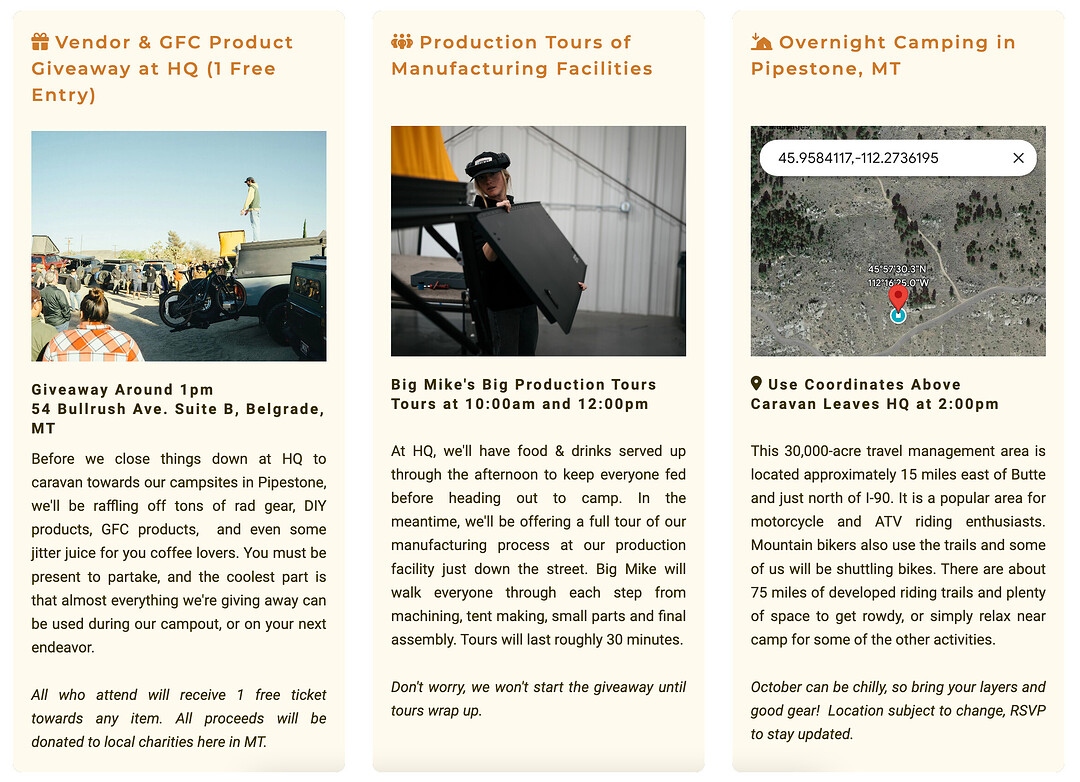 While some vendors might not have a booth, all will be joining in on the product giveaway. More to come, but here's the initial list:
Montana Knife Company
Gastro Gnome
Cudaway Knives
Big Sky Rod Box (@BSRB)
Maxtrax
Oboz Footwear
Dark Horse Customs/ Outfitters
Voormi
Steadfast Systems (@Rocky)
Roly Poly Coffee Co.
Brigg Beard Co.
Hatch
Grayl
JE Designs (@jedgar)
DIY Community
And more to come!
Be sure to RSVP by CLICKING THIS LINK and entering your email -OR- reply below. We'll keep you updated with any vendor additions and more!