GFC Tent: $3999
GFC Mount (4runner): $599
Cross Bars: $199 x 2
Awning Mounts: $65 x2
Windscreen: $210
Rainfly Brackets: $80
Retail Total: $5,417
It's only letting me put 1 photo because I'm a new user. You can check out photos on my IG and my youtube both "Oxfoot" Or hit me up and I'll figure out how to provide you with more.
This is the V1 of the GFC RTT. It originally came with orange hinges but was wrapped almost immediately. This tent served me well but just became too small for me as I have a GF and a dog now so I'm switching to a ground tent for a bit. Just had the roof replaced at TRU Automotive in Denver who is a local shop you can go to for warranty work. This was done on FEB 10th 2022. The roof had only an aesthetic issue on it before but GFC's Warranty covered it. The downside is the zippers, I got a quote to fix it for $50 Shipping to/from GFC (or you can get a local seamstress to do fix it) but after checking the forums seems like it was more common in these V1s. I ran out of time to get it fixed but some zipper lube for about $5 will do the trick to prevent it from happening again. I just recently added more zipper lube on FEB 12th 2022. GFC will fix it for free… but you have to drive to Bozeman or ship it. A valid reason to go visit beautiful bozeman, just don't have the time. I also have 2 extra stickers they sent me for the windscreen, I scraped the old one recently with an ice scraper while not paying attention, part of the "C" chipped but it's just a sticker. I also have some maxtrac mounts from front-runner that I drilled out to make it fit the GFC but never used them. You can mount traction boards to the Beefy Crossbars like I have done. You will need to do an antenna delete yourself but it sounds scary, but it's easy to do. TRU automotive can likely do it for you. I'll throw in the awning if you really want it, but it's a pretty low quality awning.
Trying to include as much as I can about the tent; please ask me any questions you guys may have, I'll try to be as helpful as possible. It's a really cool tent, sets up in seconds, and for some reason GFC folks have their own community with the wave to each other. Really sad to see it go, but hopefully someone will enjoy this. I have more pictures on my instagram @oxfoot, as well as some videos on my youtube channel @oxfoot with the tent. A walk around and also a review of the tent from like two years ago.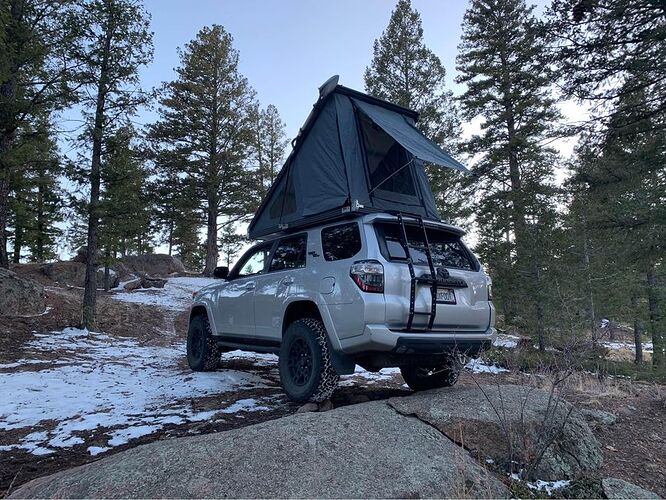 Also the issue with the zippers is that on the side door at the very top you can't zip it all the way up but it's almost the very top. The issue on the other side is that one of the windows on the right side of the window the teeth are not aligned.