@Czukie Thank you, for this. I appreciate the feedback.
If you're planning to stay stock and not do any wheeling then airbags are a fine option. The downside to bags is losing rear articulation.
Most of the time I use my bike pump to adjust the air pressure in mine.
Do the bags not limit your articulation? I honestly thought because of their length they would not allow you to flex that much!
Another benefit of airbags is they can be used to level the vehicle at camp. Our trailer is on bags and it's a nice feature, especially when rolling into camp when it's late and nothing is flat.
I mean there is a small amount or restriction but not enough to stop me from going anywhere. I mean if I was a hardcore rock crawler it might be an issue but I think the worries about lack of articulation for 90% of the people are wildly exaggerated.
For me they are perfect, they let me handle the times I have heavy loads, or towing a trailer without sag or extra sway on corners and when it is just me and some camera equipment I don't have to worry that my rig is permanently set up for heavy loads and can enjoy a smooth ride.
There is a company that makes some lower cups for the airbags so they are not actually bolted to the axle and have 0 impact on articulation (I have some in my garage that I have never put on) if you are really worried
Yup, also nice to make the truck more solid and less sway at night
Great feedback! Thank you, Sir!
@enjoitheride suspension on our rigs is a great deep rabbit hole and fun to traverse. There are a ton of ideas and opinions, and that's part of all of this. But, knowledge is power. Research Progressive v Digressive suspension systems (there are great suspension systems out there), consider the total weight of your rig (not just the dry weight), and what you will be doing (IE: what will you be driving on most the time). In general, due to the weight you'll need a new rear leaf pack or air bags at some point in time. We keep adding stuff to our rigs… I went with Deaver U402 Stage 2 leaf pack and Fox 2.5 DSC Remote Shocks due to weight and where I travel. Personally, I wouldn't go with an add-a-leaf type system; it's like putting a temporary crown on… at some point in time you'll need the real deal.
Regarding your shoes, on Tacoma World there's a thread about this topic for each year. Heaps of good info on TW. For my 2014 I had to go with a -12 offset so the tires wouldn't rub. This was a lesson I learned from having Method Standards with 0 offset that rubbed on the UCAs. I got a little bit better at researching… TW was great. Good luck and enjoy the ride!
@Taco-Surfer thanks! I appreciate the kind feedback. I'm leaning towards air bags. Allows me to keep my truck stock, and handle a little additional weight. I travel on the lighter side. I don't do all the battery systems, and sinks, and kitchen buildouts. Nothing wrong with those things, but I spent years slimming down my rigs from things like that. Thank you again for your feedback!
Cheers!
Hello, I have a 2021 Pro model just like your 2022. I wanted to keep mine stock also since I paid for Fox shocks and will do trails mostly, not rock crawling. I got my GFC camper V2 in March 2022. They measured my rear suspension and it dropped about 0.75 inches. Now it's very level. Stock the rear was I believe over 1 inch higher than front (eye balling the gap between top of tire and the wheel well).
I also recommend you use your truck as is until you want to or need to spend more money for suspension. I may in the future. I did add a CBI transmission skid plate, RSG rock sliders, and slightly bigger KO2's on Method 16x8 wheels, tire is 265-75-16 (stock is a 70 profile). The height addition is just shy of 1 inch with slightly taller profile tire. I'm doing trail duty for now. The extra hardware I put on there is for future and personal preference. I also just added a 4WP low profile front bumper so I have a strong frame attachment point. I bought the ICON AAL but have not put it on there yet. I bought it because when I carried my dual sport bike using a hitch carrier, the rear really sagged, but I don't carry the bike much, only one time so far.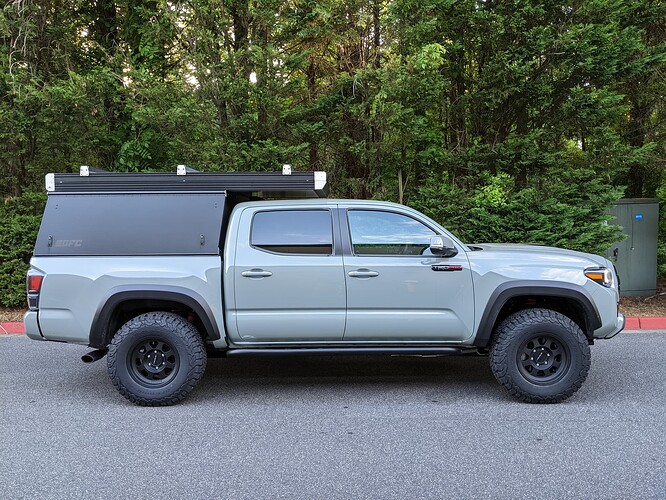 Cheers,
Eddie.
Awesome Chris! that's the fun of these toys, no wrong or right way, just "our" way. I learned I don't like bins and the carting them in and out. So I built a storage system for my essentials, down bags, etc. Works great for me. There are some many great ideas everyone has. Enjoy the adventure! KB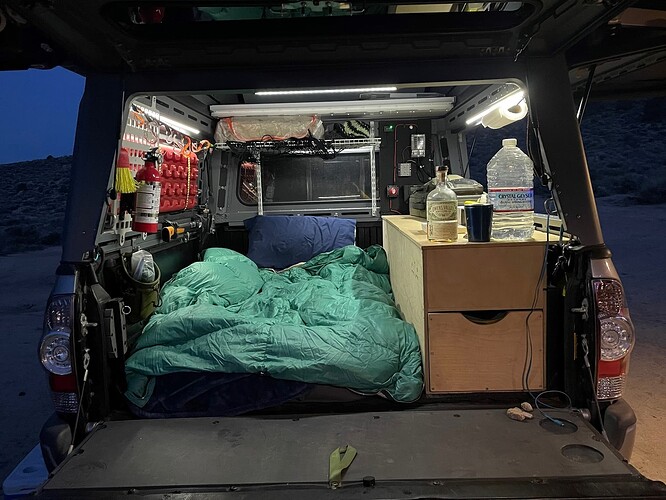 Thank you for this! Your rig looks great, and instills a little more confidence that it will sit okay. How does your truck handle with the top? Mainly at highway speeds. Thank you, again!
I drove 2000 miles from Atlanta to Montana for installation, and another 2000 miles back, so let me give you an accurate highway experience, LoL. The truck is slightly less bouncy with the added weight, and I would say not any difference in lane changes at highway speeds. I couldn't perceive the added weight. It does hava a muffled "hollow chamber low frequency echo sound" due to the chamber volume created by the topper, and with an empty bed. MPG was worse, I think about ~1 mpg less, but my travel back was opposite direction with different headwinds. Now my truck has over 10k miles now, it seems the computer is telling me better MGP numbers than when below 10k. All of this is less important, we just care more about the operation and performance of using the GFC. I am loving mine. It lets me secure items in the camper unlike bed racks.
This is great. Yeah, GFC is the perfect setup. Set out to enjoy adventures, while still being able to complete daily tasks.
I have a 2018 pro. RXT leaf pack has been perfect. My setup is likely heavier than yours but you could set it in option 1 or 2 if you don't plan on adding big weight over the camper. Still running the TRD pro shocks front and rear (Westcott lift in the front). Absolutely no complaints with on or off-road performance and about 25k miles with this or similar setup.
Did this require any front wheel well chops or mods? Just curious of there is any offset to that wheel / tire combo that would create any rubbing in tight turns.