Let's be honest, if it wasn't for remote work, we wouldn't be traveling the way we are.
Over the past year, nights spent sleeping in a house have been the exception, not the rule. From the day we got our Go Fast Camper installed, we immediately committed ourselves to spending as many nights in it as we could. And as it turns out, that's a lot of days and nights spent camping (300+ nights and counting)!
But just because we've been full-time in our GFC, doesn't mean we've been on vacation. In fact, I (Christina) have continued to work remotely full time while we have traveled to the northern reaches of Alaska and Canada, and all the way down the Baja peninsula and back. Working full-time from the road certainly presents its own set of challenges, and you have to be willing to be a little bit uncomfortable sometimes but the views and ability to access remote landscapes are worth it.
So here's how I've managed to make it work:
What I do for work and challenges I face working from the road
I work full-time as a Program Manager for a solar design software company that is fully remote. I am usually on Zoom calls multiple times a day and when I'm not in meetings, I'm usually writing documentation, project planning, or putting together educational content for our customers. This means that I need a quiet place to be able to take calls and focus, and in general, being in the middle of nowhere usually makes for a fairly quiet work environment.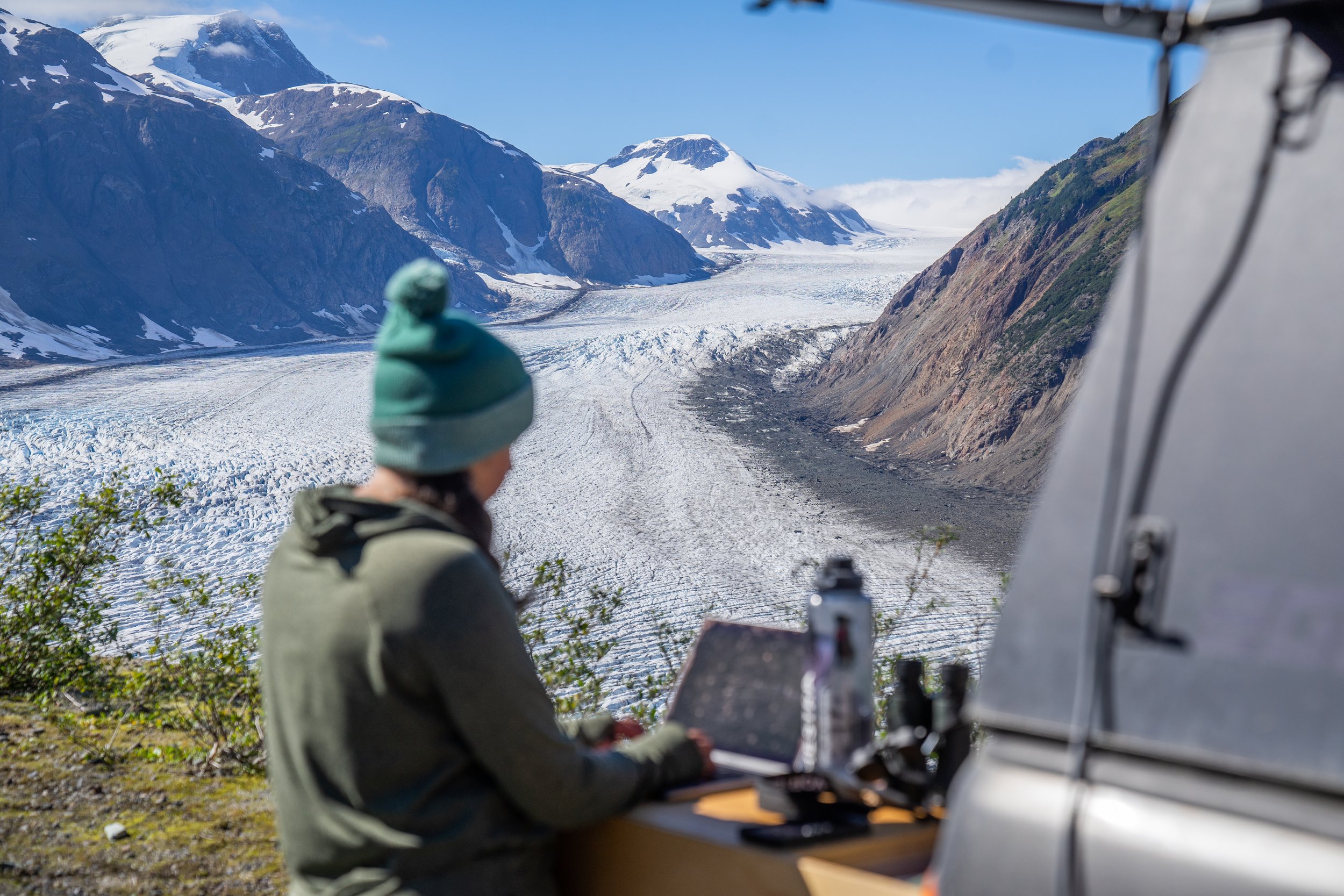 Office views: Salmon Glacier, British Columbia
But working full time from Dolores, our 2003 Toyota Tundra + GFC doesn't come without its challenges!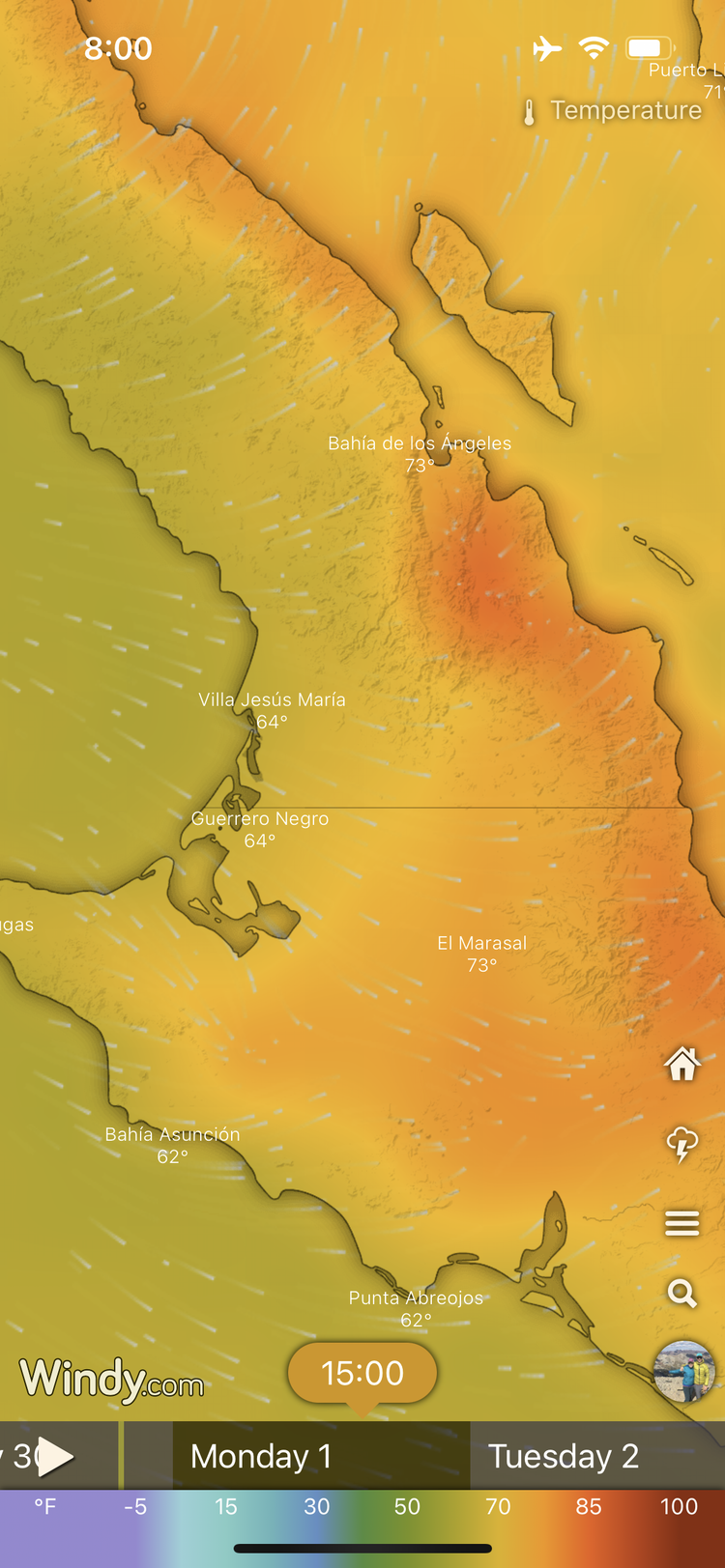 Checking wind and temperature forecasts with the Windy.com app

Weather - The weather and seasons are the biggest factor for how easy I'll be able to work especially since we don't have any kind of climate control in the camper. Is it too hot, cold, windy, or buggy? Too cloudy for our solar panels to produce optimally? Too cold for the battery to charge? Enough daylight hours to keep my sanity? These are all things that ultimately determine where we go, how long we will stay, and how I'll be able to work. I frequently use the Windy.com app to check out the hourly temperature and wind forecasts for the areas will be in to make sure we chase good weather.

Distractions - Being able to set up camp and work from anywhere means that the views are probably amazing, outdoor recreation opportunities abundant, and therefore the temptation to ditch work is definitely present! The longer I work from the road, the more my brain has adjusted to working with distractions and the better I'm able to appropriately balance work and play time.

Time Management - Managing my time is definitely a challenge and something that has taken a lot of trial and error but knowing when to work and when to play has really helped me be successful working from the road. Do I have meetings today? Yep, gotta be present for those. Do I have an impending deadline? Yep, I probably need to be heads-down and get it done. Do I have work that I can do on my own that no one else is waiting on me for? Maybe I can do some of that after the sun goes down to enjoy the day. Prioritizing my work is super important to me, but so is managing my time so that I'm not missing an epic sunset or rare lunchtime snorkeling opportunity. The whole point of living and working in these incredible landscapes is to be able to enjoy them as soon as I close my laptop!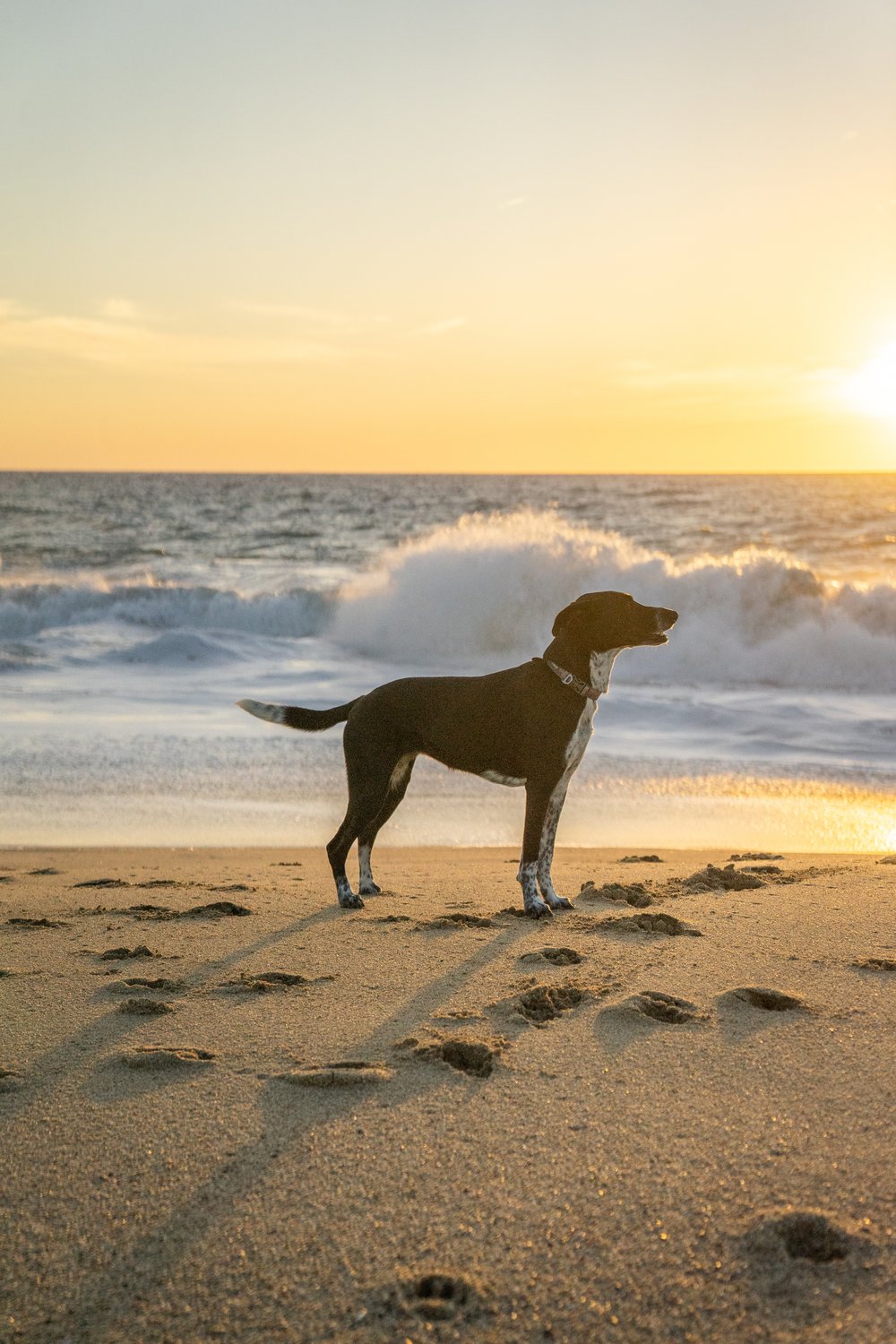 Greta taking in all the ocean sniffs
One epic post-work sunset in Baja California Sur

Traveling Slowly - Another thing worth noting is that since we are living and working full-time from the road, traveling slowly has become a higher priority. We are able to take our time in an area, sitting still for the work week so that I can focus and enjoy our surroundings, really getting to know an area. If we love a spot, maybe we stay longer! Or if we want to cover some ground to get to a new spot by the following weekend but don't want to burn a full day driving, we may drive for an hour or two after work in the evening, setting up camp in a new spot each evening. Then by the time, Friday rolls around, we are probably within an hour's drive of the spot that we want to enjoy for the weekend. This flexibility has been a huge game changer for us to be able to really enjoy the places we spend time in, and not feel like our time there is rushed.

Professionalism - Let's be real for a second. I live in a truck camper. Usually in the middle of nowhere. Working full-time for a tech company. It can be hard for some people to wrap their heads around the idea that these things can happen simultaneously. And so, I generally try to be on my "A game" at work and when meeting new colleagues, I usually don't lead with, "Hi, I'm Christina and I live and work out of my truck!" I also always make an effort to look presentable for Zoom calls and use a branded Zoom background so that potentially being in a new location each day isn't distracting to my co-workers either. At the end of the day, my goal is for my professionalism and work ethic to over-shadow any question of where I may work from.
Where I work from in the truck
Exactly where I work from in our setup is constantly changing depending on the weather and conditions as mentioned above but I'm pretty sure I've tried just about every working configuration you can think of in our truck + camper combo. If the weather is nice, and it's not too buggy, I like to sit outside in a camp chair under our awning. If it's not too hot and I need to focus or jump on a Zoom call, I generally like to sit in the passenger seat of the cab where it feels more quiet and private. Sometimes I'll sit on the floor inside the camper using the square GFC bed panels as a seat cushion and backrest. I also really enjoy my standing desk options: at the tailgate, on our slide-out kitchen drawer top, or inside the camper using the bed as my desk when in "bunk mode".
Working from the tailgate at Salmon Glacier
Tailgate Zoom calls in Seward, AK
GFC "bunk mode" standing desk
Tools and tech
Internet
Having a strong internet connection is critical for me to successfully work from the road so having multiple backup internet options is key. If/when one option fails for whatever reason, ideally you have at least one other option to be able to connect to the internet. This was more of a factor prior to Starlink, but still, you never know when something might break so it's always good to have a backup option.
Starlink setup on the roof of the GFC

Starlink internet has truly been the pivotal factor in our ability to work from anywhere! With faster download and upload speeds than we usually have back at our condo in Colorado, staying connected is easier than ever. In June of 2022 we ordered Starlink RV (which is now called Starlink Roam) and were instantly blown away (and continue to be) by the revolutionary implications of having portable high-speed internet from the middle of nowhere.
Skyroam Solis Lite, global cellular hotspot

Hotspots - Before Starlink, and even throughout much of our travels through Alaska and Canada when Starlink wasn't yet available that far north, I was working off of several different cellular hotspots: my iPhone's Verizon hotspot as well as a Global Pay-Per-GB Data plan with Skyroam Solis Lite. This meant that I could only work from areas with cell signal which is quite limiting and can also get pretty expensive. Also, I learned the hard way that the amount of data used on a Zoom call is directly related to how many people are on the call, how many people are on video, and if screen sharing is happening. To my shock and dismay, my company's weekly All Hands meeting (of roughly 400 people, all on video with screen sharing) blew through about 3GB per hour.

Electricity
In addition to the internet, electricity is the other critical component to being able to work from the road, and for that, we are solar-powered! We have three 100 watt flexible solar panels on the roof of our camper and we generally park the truck with the panels facing south so that we collect as much solar energy as possible over the course of the day. Our solar panels are connected to our Goal Zero Yeti 1500X which is our built-in charge controller, battery, and inverter and it includes all the charging ports you may need. For more details, check out this article that Brian wrote about our solar system!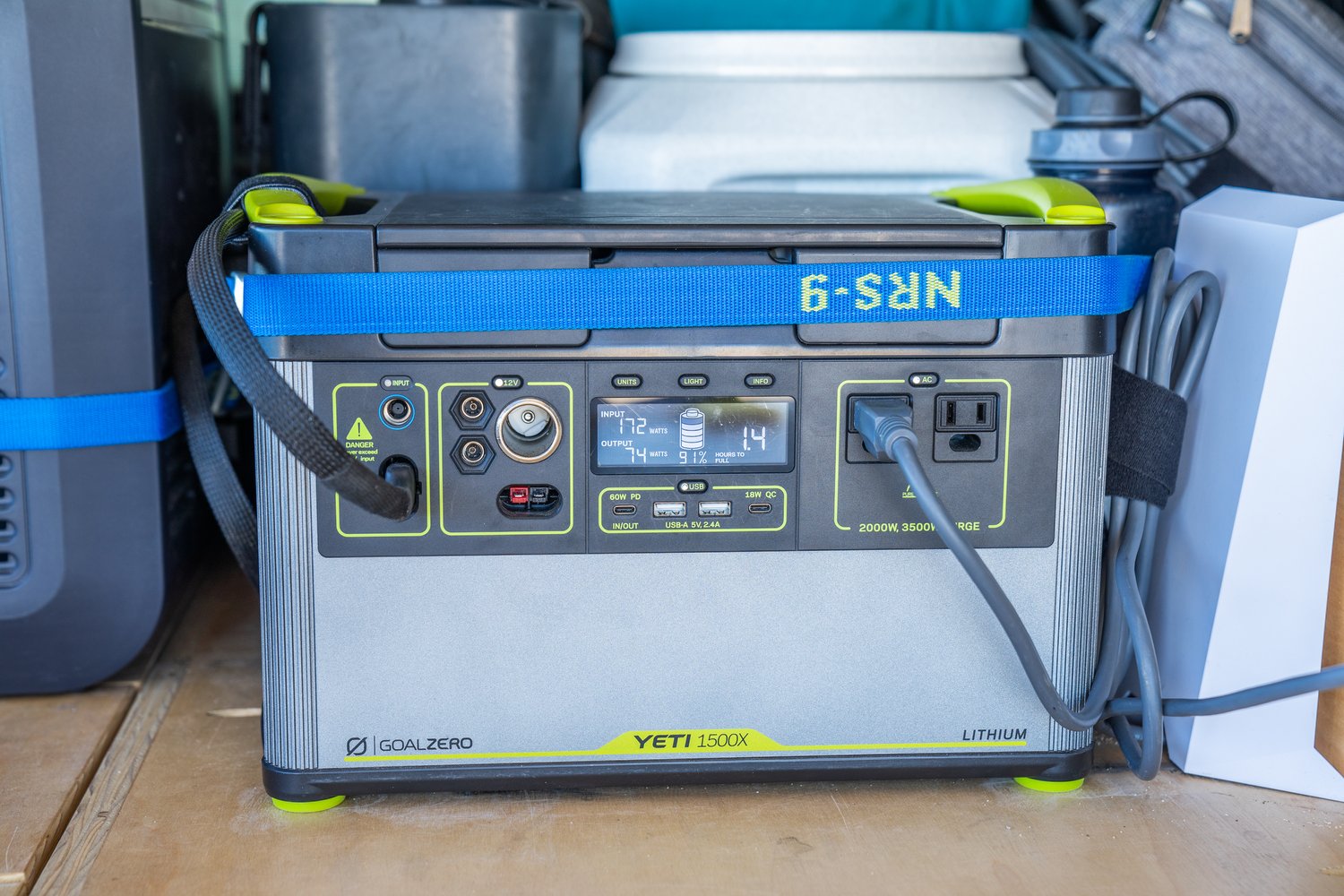 Our Goal Zero Yeti 1500X — solar input (left) and Starlink power output (right)
When Starlink is booting up, it pulls roughly 90 watts, and then once it stabilizes it pulls roughly 50 watts while it is running. I also need to periodically charge my laptop which pulls about 60 watts, and my cell phone which pulls about 10 watts when charging. If we conserve our battery usage, we can last two days without any charging input. As mentioned above though, the weather definitely can impact this if it is cloudy, or cold, which is just something to be aware of and manage. As a last resort option, if our battery is getting low and we aren't able to make good solar input, we can charge our battery off of our truck's alternator while running, or via our shore power connection.
Mobile Office Accessories
When we first started traveling and working from the road full-time, I was much more concerned with having a full "mobile office" set up. I was used to my giant secondary monitor from my standing desk back home so it was hard to get used to working off of just my laptop or even just my laptop and a smaller second monitor. I used to set up my whole "mobile office" as listed below, but now I find that for me, less is more. Just using my laptop by itself means less to set up and break down so that my transitions between starting and stopping working work are easier. Again, just maximizing my time for both work and play.
Lap board - I am able to use one of the wooden floor panels from our build-out as a lap board and mobile desk which is a great multi-purpose use! I use this when sitting and working in a camp chair or while working from the passenger seat in the cab.
Love this lightweight, packable folding table!
Folding table - Having this small folding table is great as a desk while sitting on the floor "downstairs" in the GFC or as a side table when I'm in a camp chair. It also has two center cup holders!
Camp chair - I wish that I had a nicer camp chair because the ones that we've had are not exactly meant for working ergonomics. The ones that we've had are either too reclined, or just cheap and uncomfortable but I'm seriously considering getting the Helinox Sunset chair since it has a high back and folds down fairly small. The GCI outdoor rocker would be luxurious but would take up a lot of room in our truck.
Portable monitor - I rarely use this portable monitor anymore but it is nice to have if I am going to be giving a Zoom presentation where I need to see multiple screens like my presentation and my notes. This one is nice because it just connects directly to my my laptop via USB-C cable, which is also how it is powered. The image quality isn't the best, but it gets the job done and it doesn't take up much room at all in my work backpack.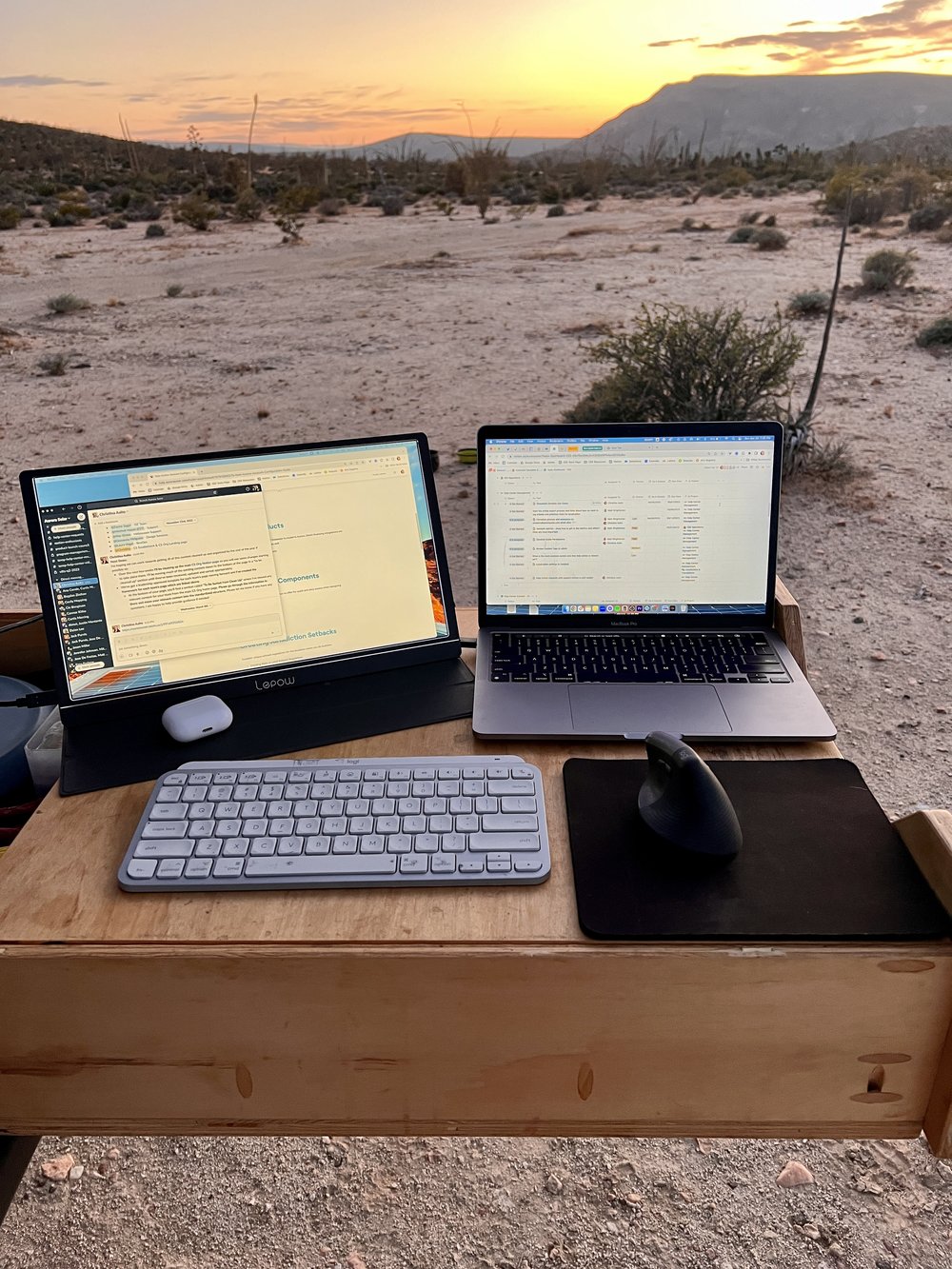 Portable 2nd monitor set up with keyboard and mouse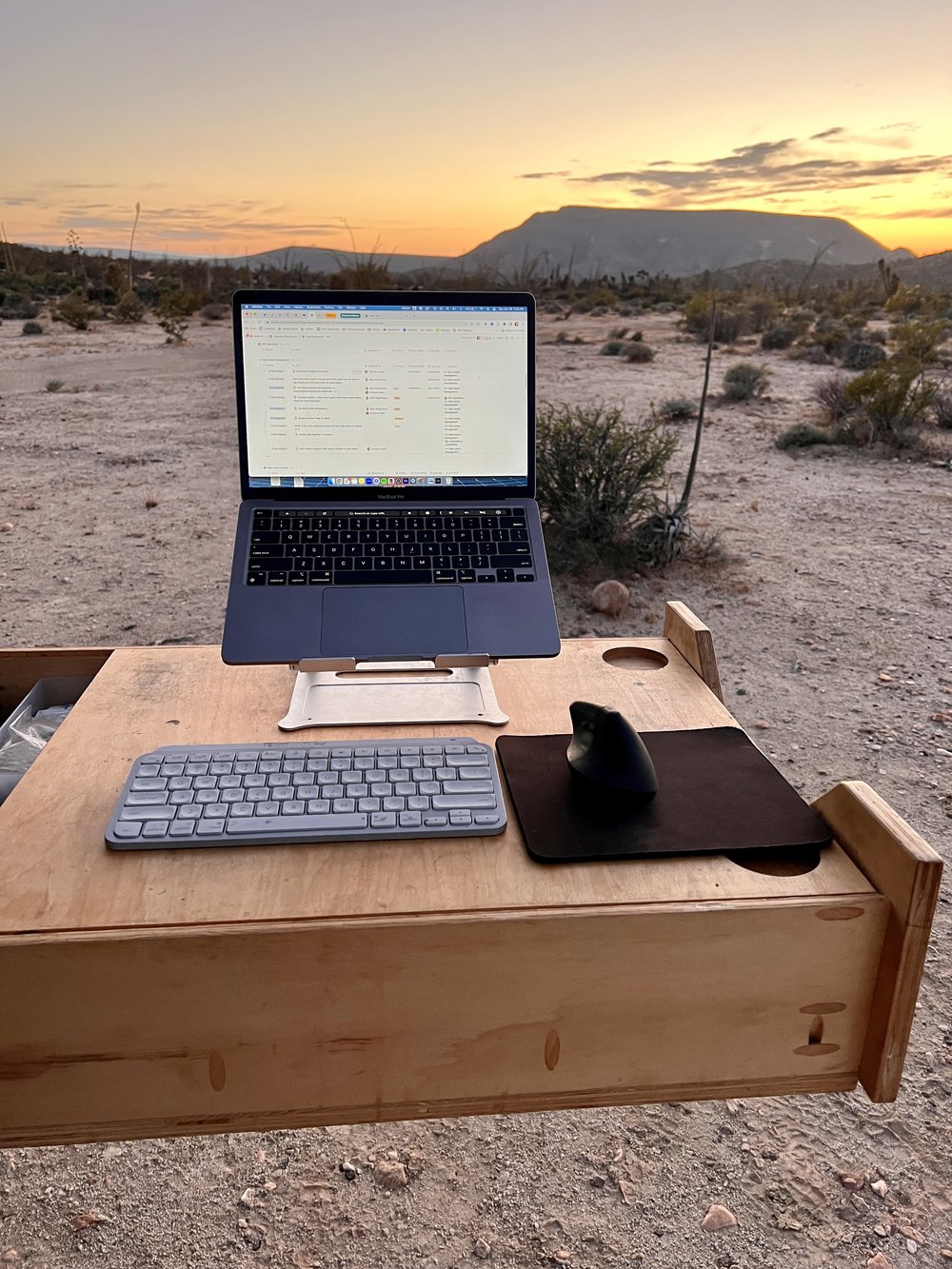 Raised laptop stand with keyboard and mouse
Laptop stand - Sometimes it is nice to have my laptop or second monitor a bit higher up and in those instances, I like to use this laptop stand. It folds down fairly small and fits in my work backpack as well.
Logitech MX keyboard and mouse - I have been really happy with this Bluetooth keyboard and mouse combo. The keyboard is fairly basic but comfortable and the mouse is a great ergonomic fit. The mouse also has side buttons for customized actions like viewing all windows or viewing your desktop which I find quite handy.
Headphones - I mainly use my AirPods but always carry a set of wired headphones as well in case my AirPods die on me. However, I find that the mic that is built into my MacBook Pro does a better job of canceling out background noise around me versus my Airpods. I will say that I've been seriously considering getting a nice pair of over-the-ear noise-canceling headphones like the AirPods Max but I haven't yet since they are pretty spendy and take up significantly more room in the truck than my little Airpods.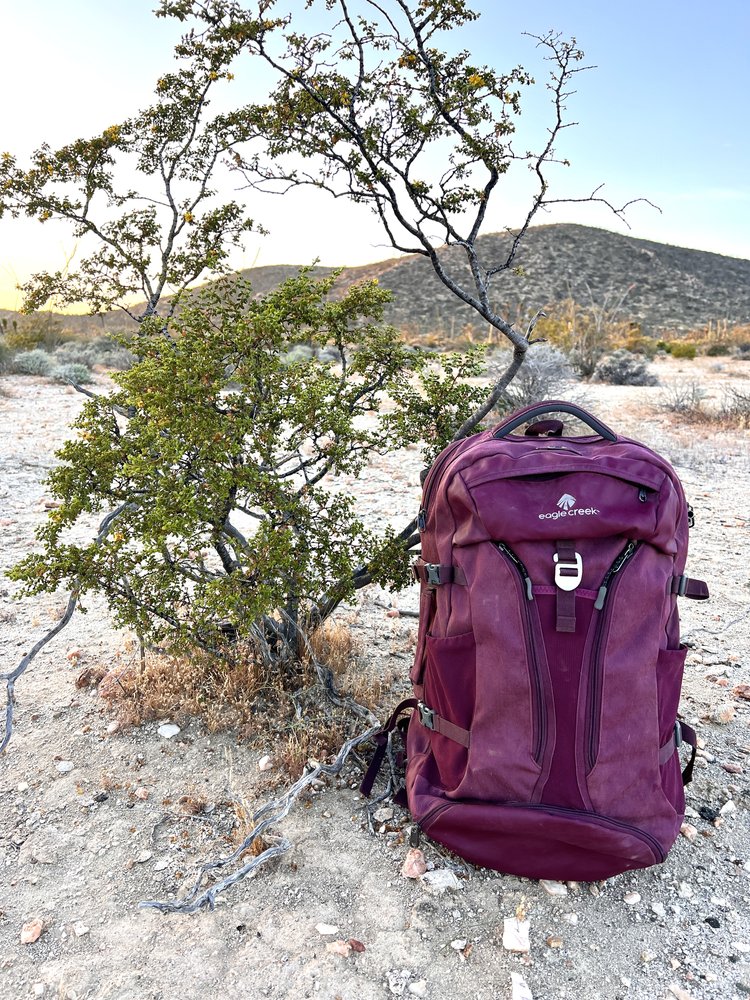 My favorite travel/work backpack
Travel/work bag - I've been using the Eagle Creek Global Companion 40L backpack for several years now and love it! I use this bag to hold all of my work accessories and when I occasionally travel for work, its great to have a bag that I can also use as a carry-on for my work gear, clothes, and toiletries. I'm a big fan of traveling light and this bag makes it possible. Unfortunately it seems like Eagle Creek has discontinued this model, but I'm sure they've got a new great bag very similar to this one!
---
Working remotely full-time from the road certainly isn't for everyone, but for me, it has opened seemingly endless possibilities for adventure and travel that I would have never been able to squeeze into finite vacation time. Even without being full-time on the road, having the setup that we do allows me the freedom to "extend" vacations by working remotely on either end of my time off; getting to experience more of the world that I love to explore!
I hope this post provides a bit more insight into what working remotely while traveling on the road can look like and hope to inspire some of you to get out there too! If you are thinking about working from the road or have any questions, feel free to reach out!