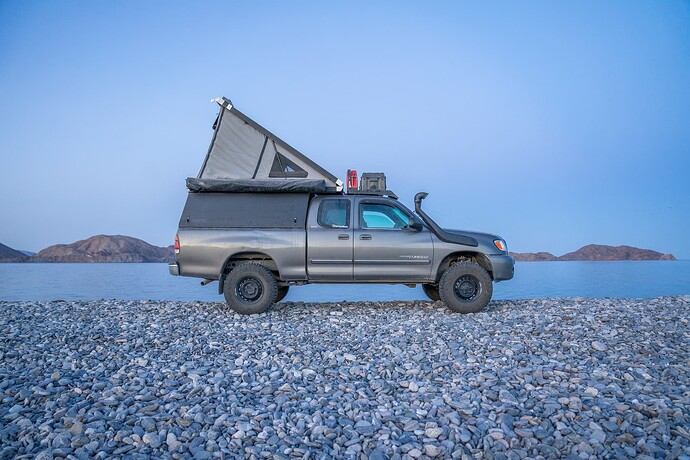 ---
Since we have had several people ask for a build page, I figured I would start to put together a completely chronological list of events and details about Dolores since the day we got her to "present". This page will be updated periodically and will likely lag behind a little on the current state of the truck, but we will do our best to keep it current.
---
May 21st '21, Purchase Dolores.
Christina and I purchased Dolores. We were thankful to find the truck we so badly wanted less than 50 miles from our house.
2003 Toyota Tundra SR5 3.4l V6 Manual 5 speed 4x4
Access Cab, 6.5' bed
No lift, original tire size 245/70/16 factory steel wheels
149,000 miles, one owner
Dolores felt like a diamond in the rough. We saw a lot of potential in her, but we knew that it was going to need some love to get to the point we wanted.
---
July '21, Tires & Wheels.
We installed a new set of tires and a used set of first gen Tacoma wheels go on the truck. We picked Goodyear Wrangler Ultraterrain AT tires sized 265/75/16 with a load rating of 116S. We picked this size because of it being one of the more commonly produced sizes, should we need to purchase another tire while traveling it should be easier to come across. We chose the lower load rating in favor of a smoother rider quality rather than if we would have gone with E Rated tires.
---
August '21, Suspension.
We installed an Old Man Emu lift kit. We used OME 2884 springs up front and a single add-a-leaf in the rear to get a level riding, 2.5" lift all around. During to process we installed new, upper ball joints, as well as new brake rotors, and pads all around. In addition, the truck got a 1" Diff drop kit installed. We took the truck to get an alignment done and we also had new lower control arms, lower ball joints, and new CV axels installed. All OEM.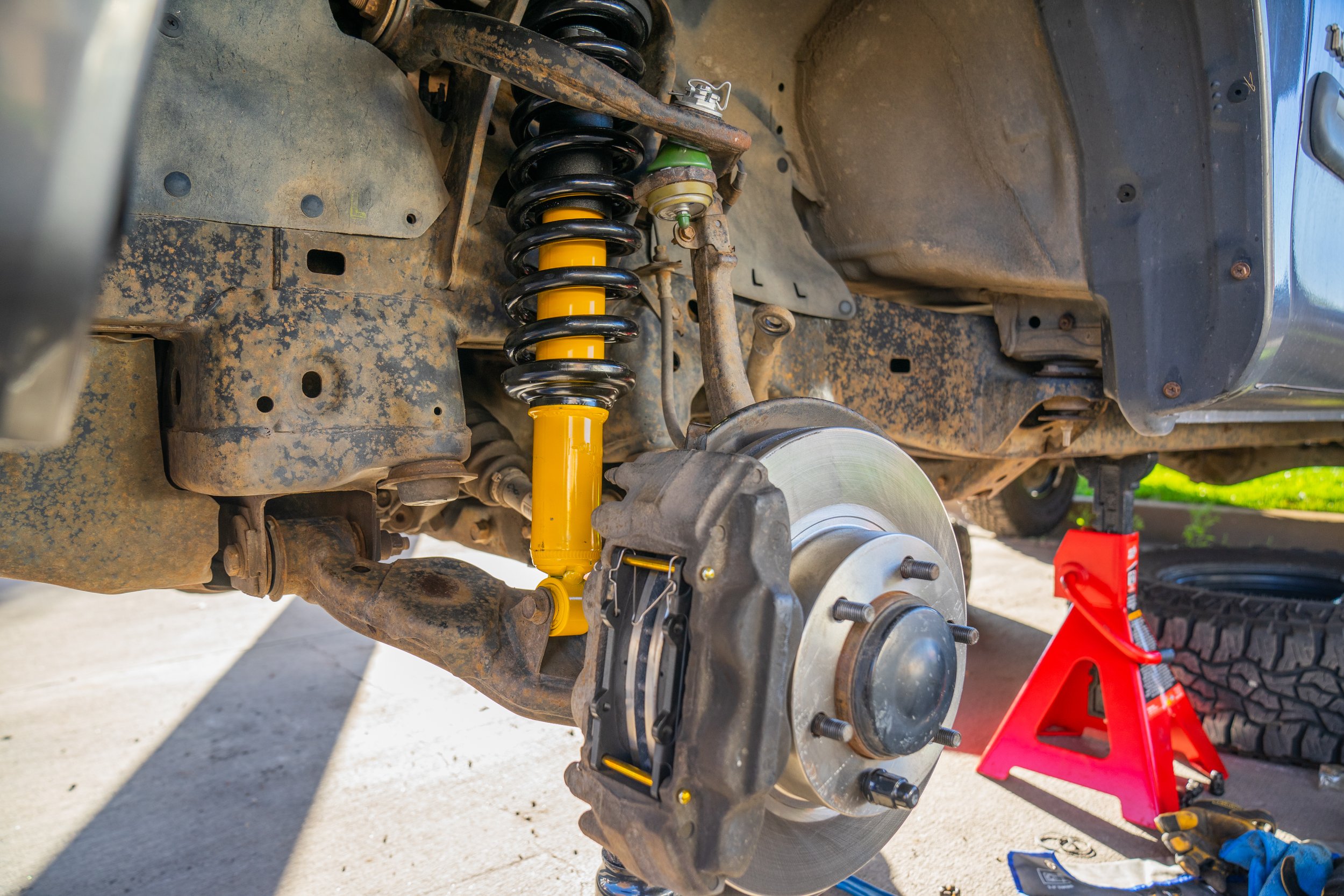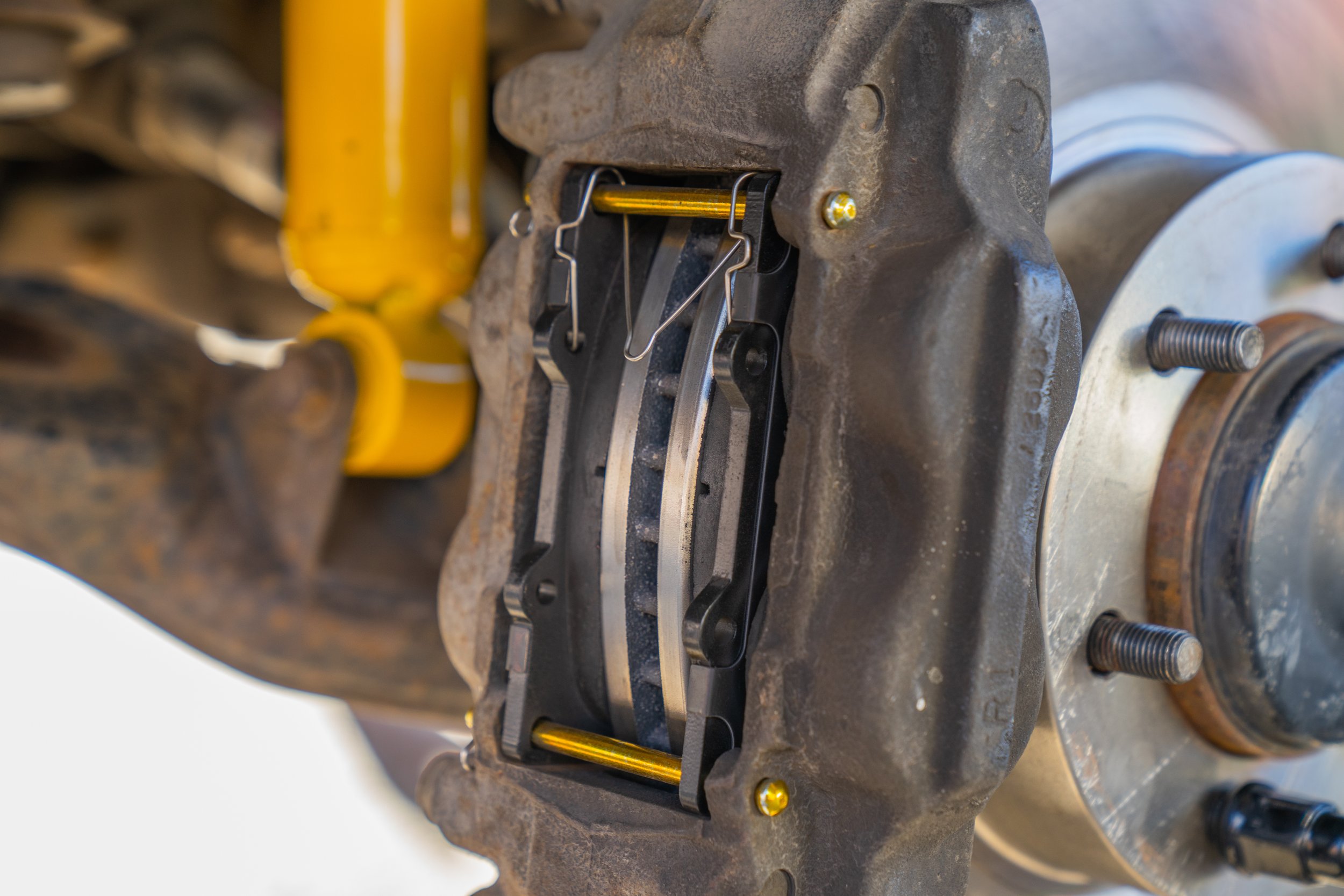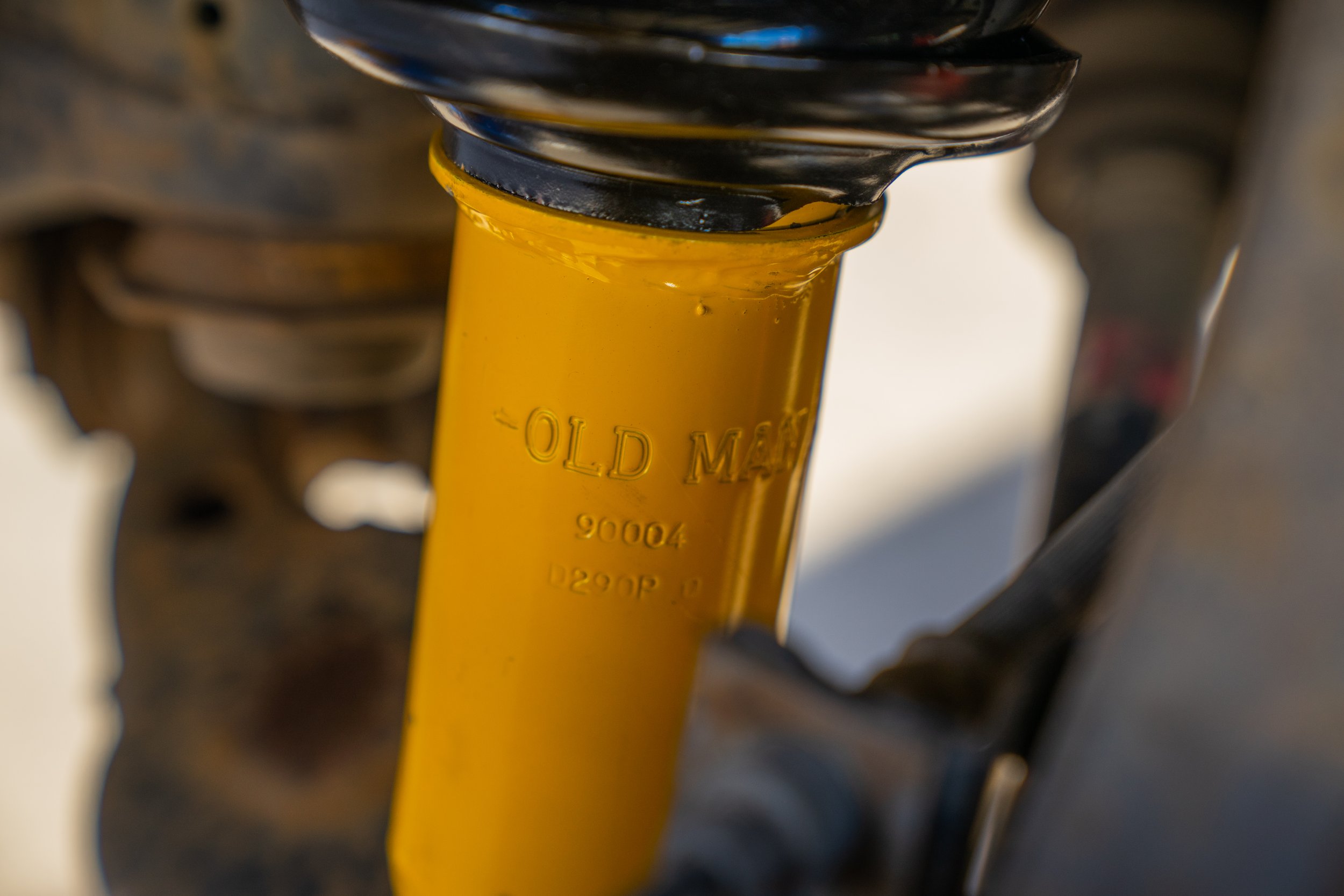 ---
August '21, Bed Platform.
We built our sleeping platform in the bed of the truck. We wrote an entire blog post talking about this so if you would like to read more about it click here.
---
September '21, Virginia, Maine Road Trip.
We set off for our first big trip in Dolores. Driving from Colorado to Virginia then to Maine, and back home to Colorado. The bed platform buildout did great!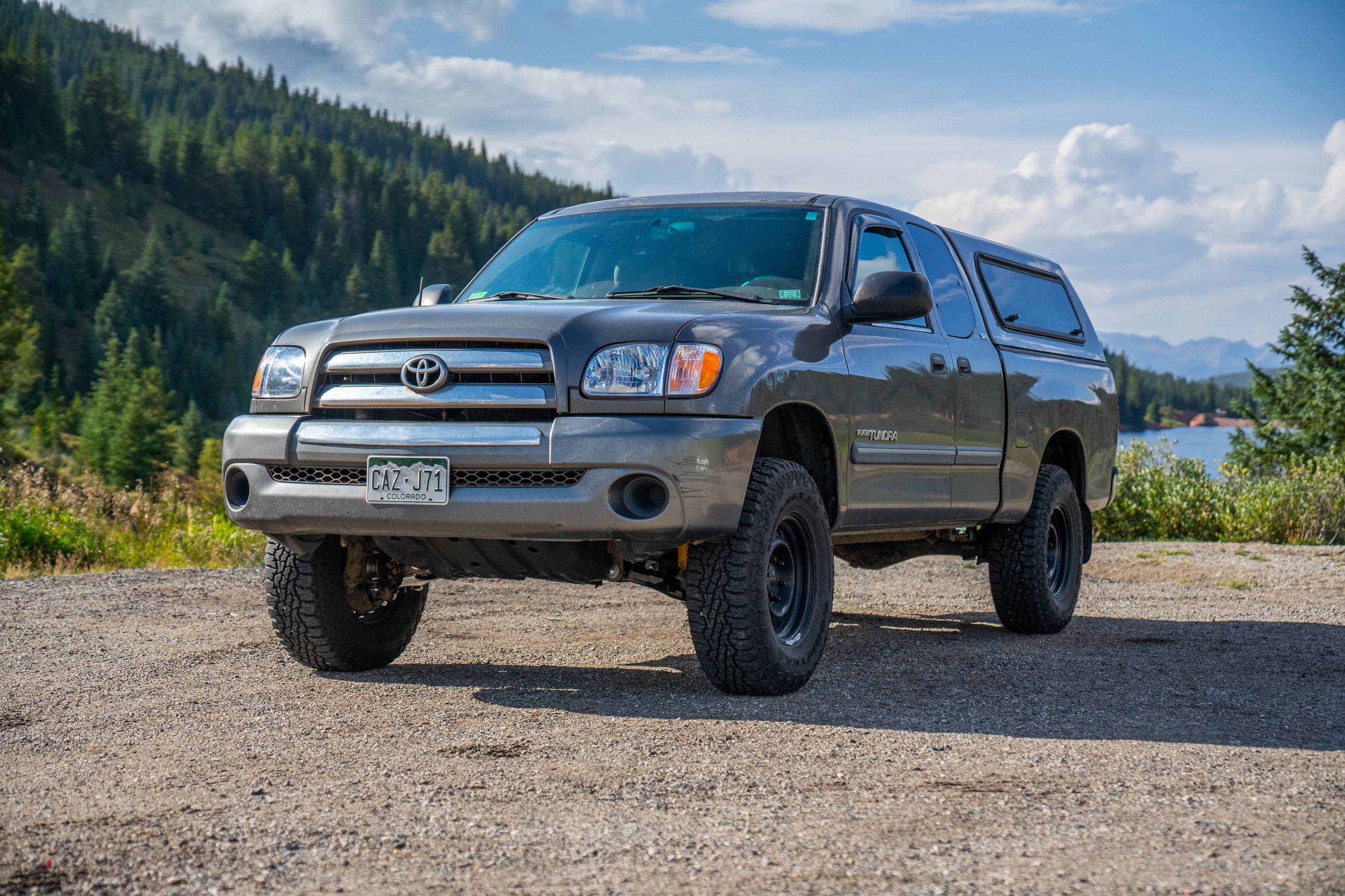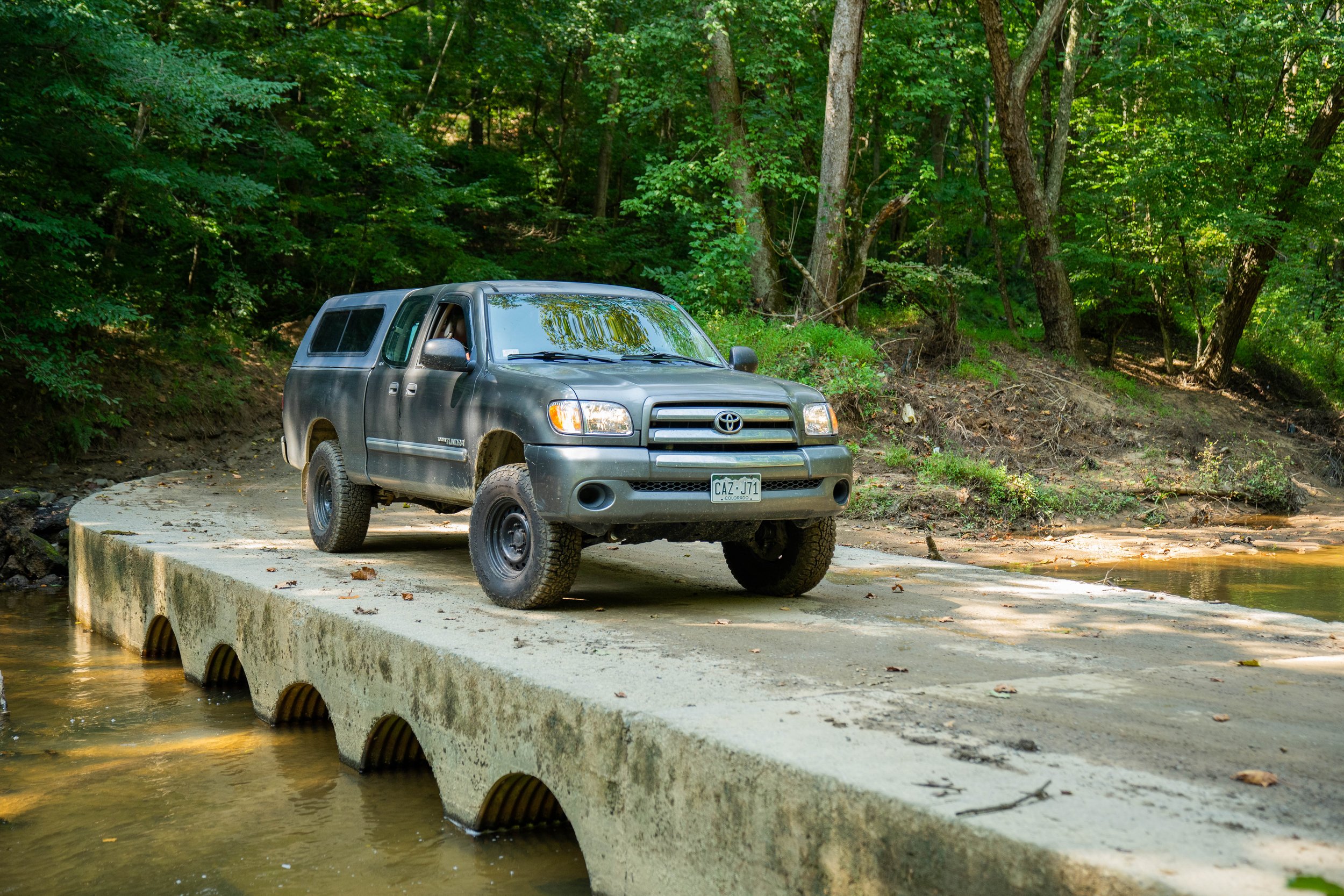 ---
March '22, Cell Signal Booster.
We installed a weBoost Drive Reach RV which has helped greatly with cell phone coverage in areas that otherwise had very weak signals. We mounted the antenna to a ditch light mount and tucked away all other electronic components of it within our center console. By this point, we had also added a stubby radio antenna.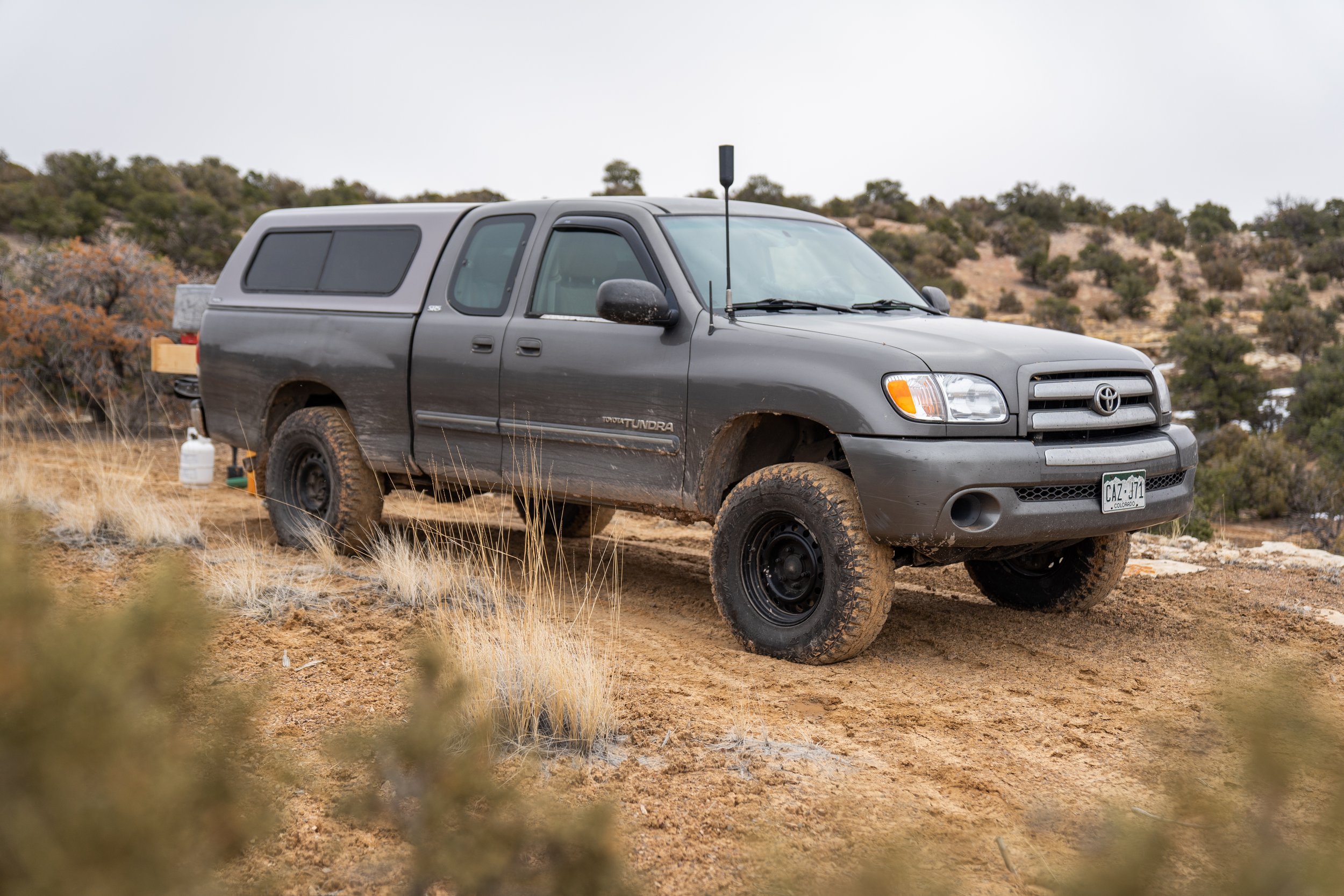 ---
April '22, Recessed Winch Mount.
We installed a Smittybilt X2O GEN2 10K. The winch is mounted using a mount from Amp'd Up LLC bracket that fits nicely behind the factory bumper. We finished the synthetic winch line with a Factor 55 Ultrahook for added safety and threaded the line through a Factor 55 Hawse, all chosen in a color to closely match our paint. We went with this winch setup to help save as much weight on our build as possible and also to keep a low-profile appearance.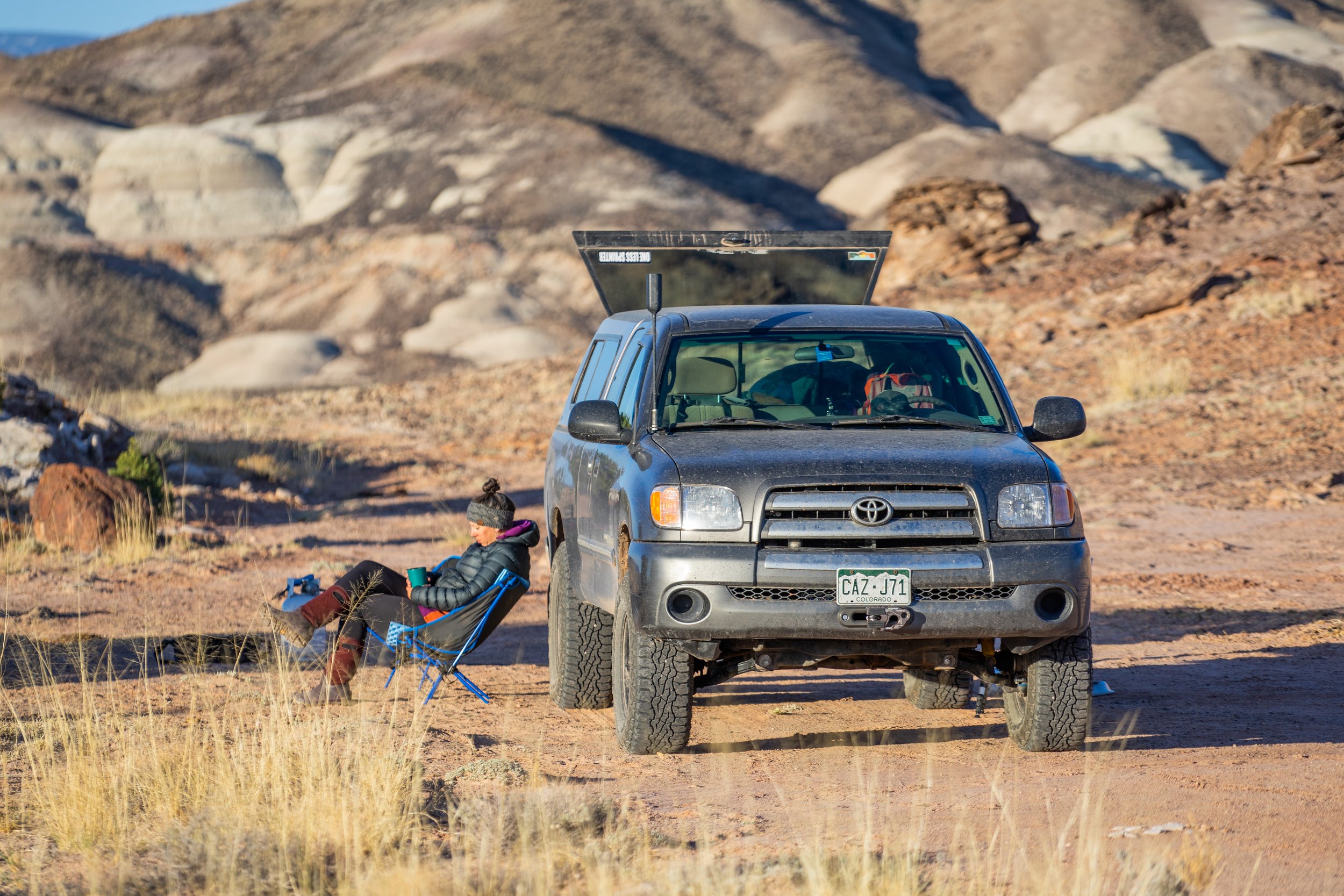 ---
May '22, GFC Install, & more.
These have been some of the most significant changes to our truck so far. We added a Prinsu Rack for storage over the cab where we carry 2 Front Runner Wolf Pack boxes and 2 Wavian Jerry Cans. During this time frame, we sold our original topper and picked up a Go Fast Camper, and added an Overland Vehicle Systems 270º awning. We also shortened the Prinsu rack by about 16" to fit with the GFC.
---
June '22, Traction Boards Mounted.
Traction boards are mounted to the driver's side of the GFC side panel. They are held in place with lag bolts that pass through mounting holes in the traction boards with large plastic turn knobs on the inside of the camper, and fender washers with rubber washers help to keep rain and water out.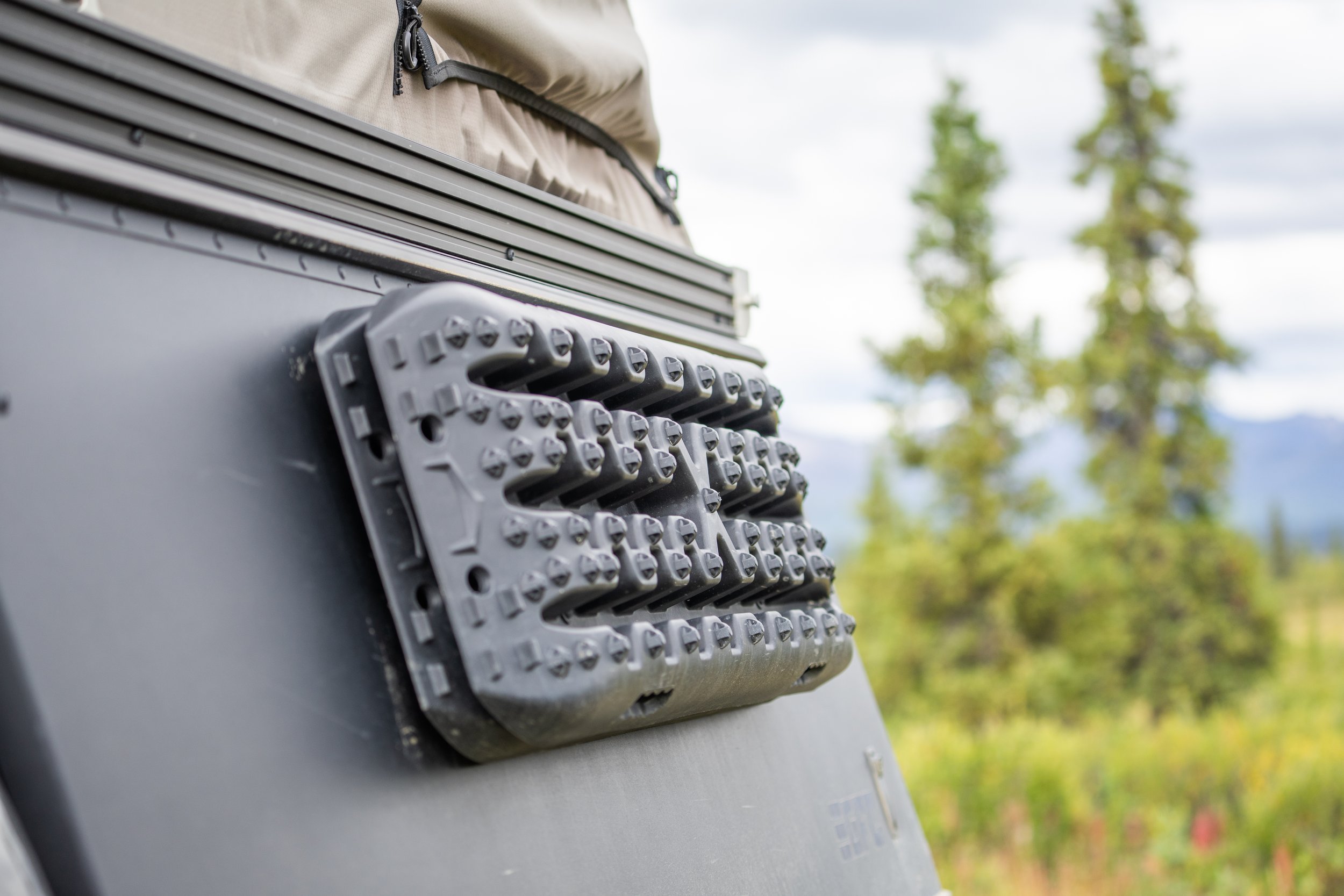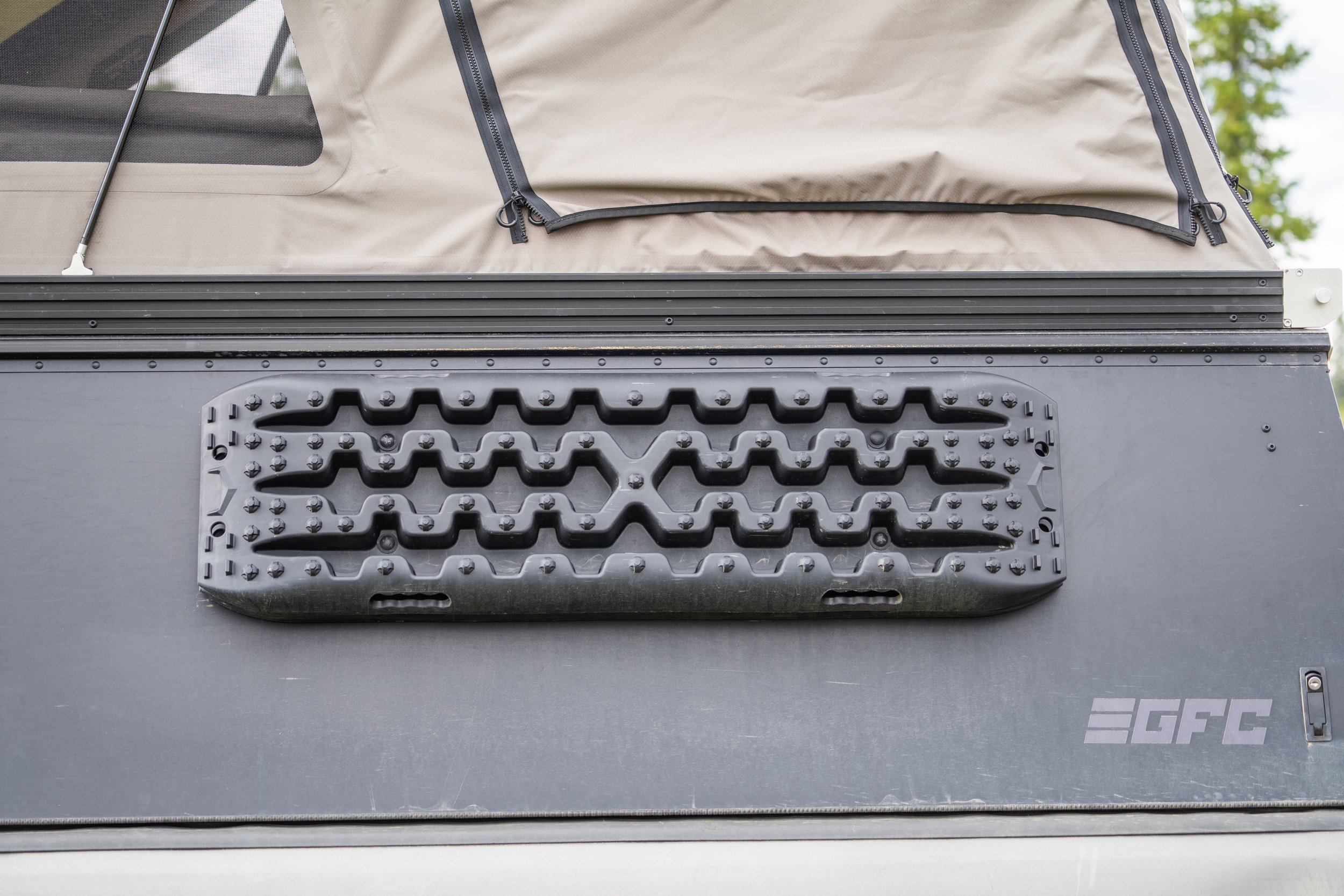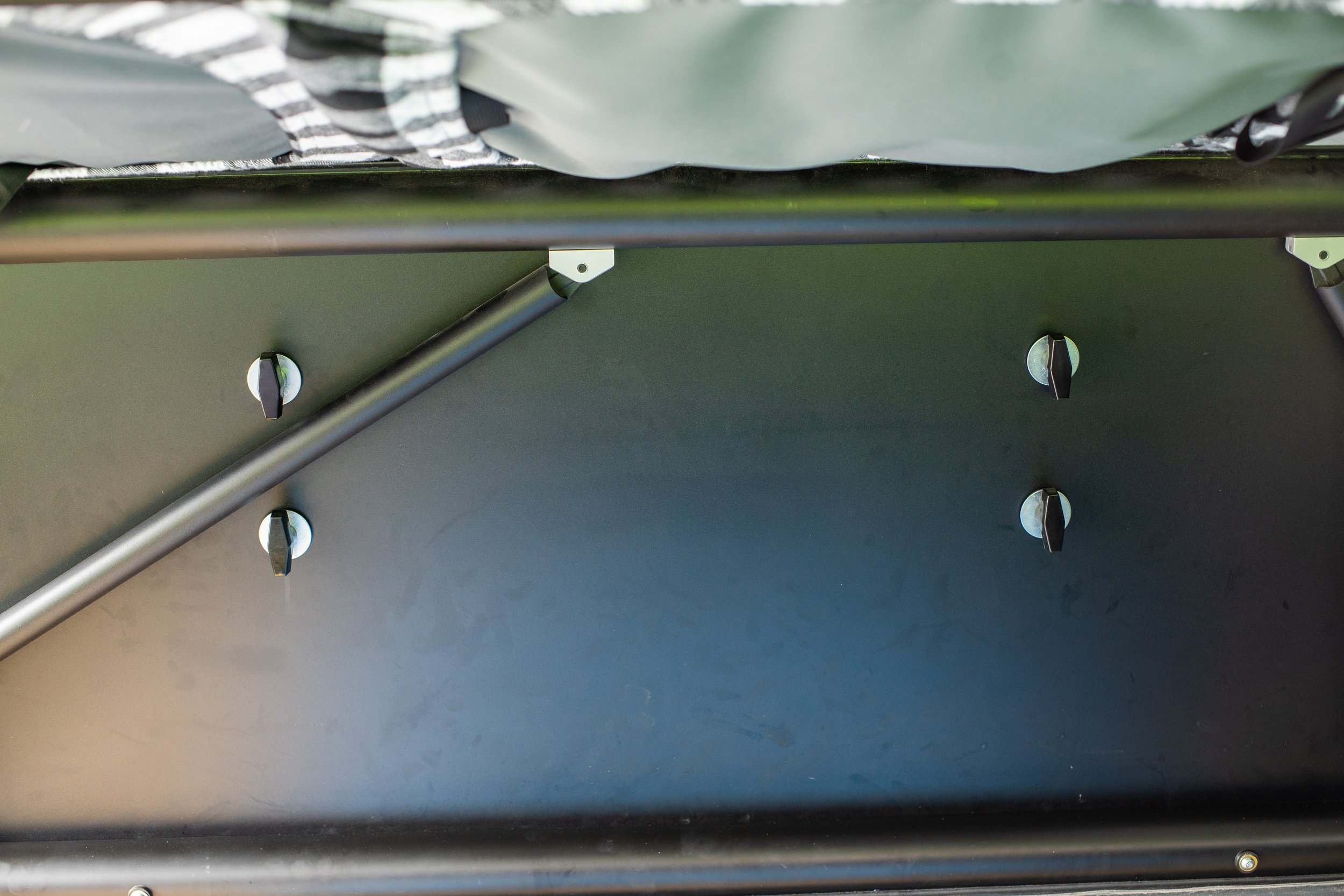 ---
June '22, Starlink.
We ordered Starlink, and our ability to be a bit more nomadic while working was revolutionized.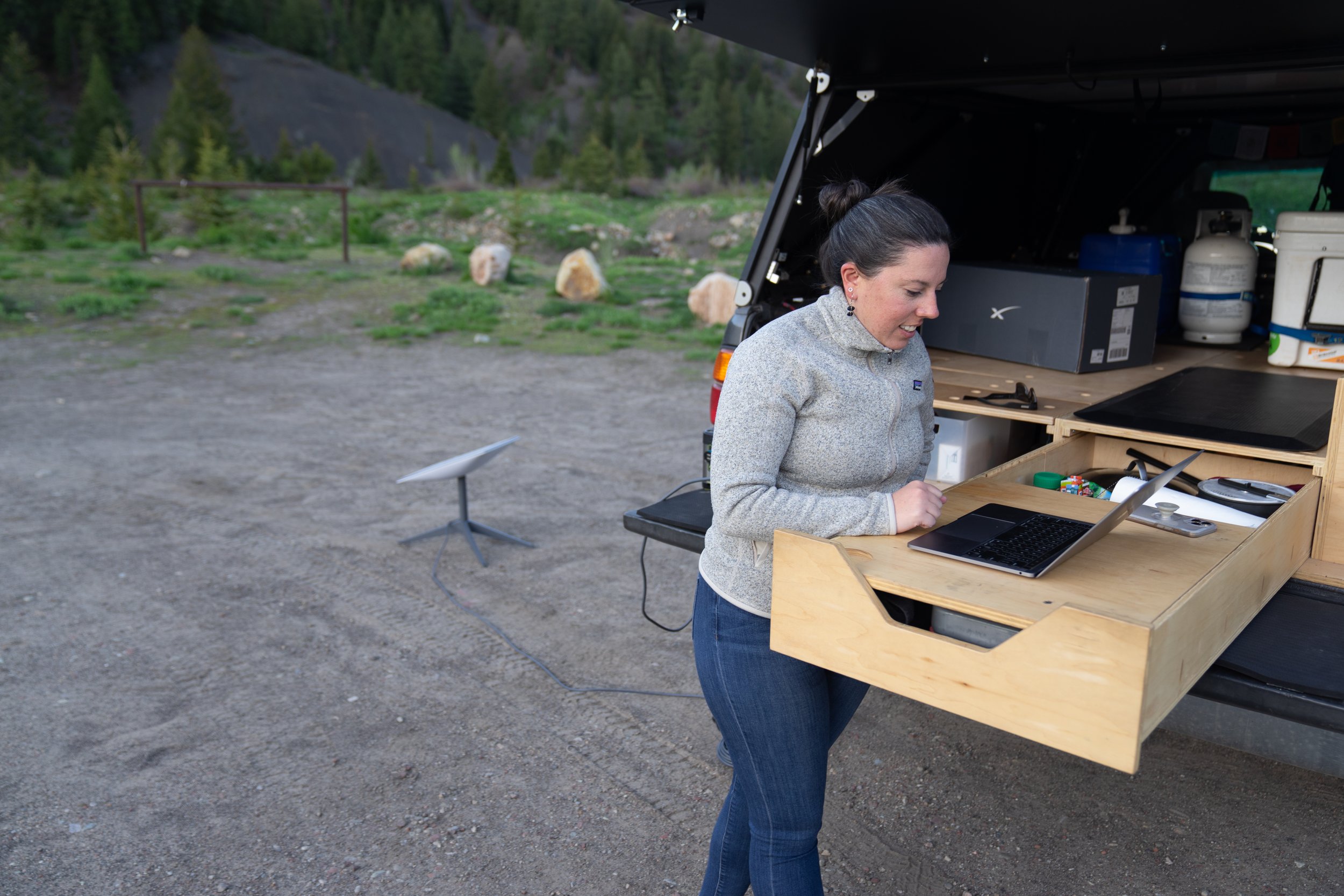 ---
June '22, Solar Install.
A small solar system is added to our camper. There is a complete blog post about it here if you would like to read more about it specifically.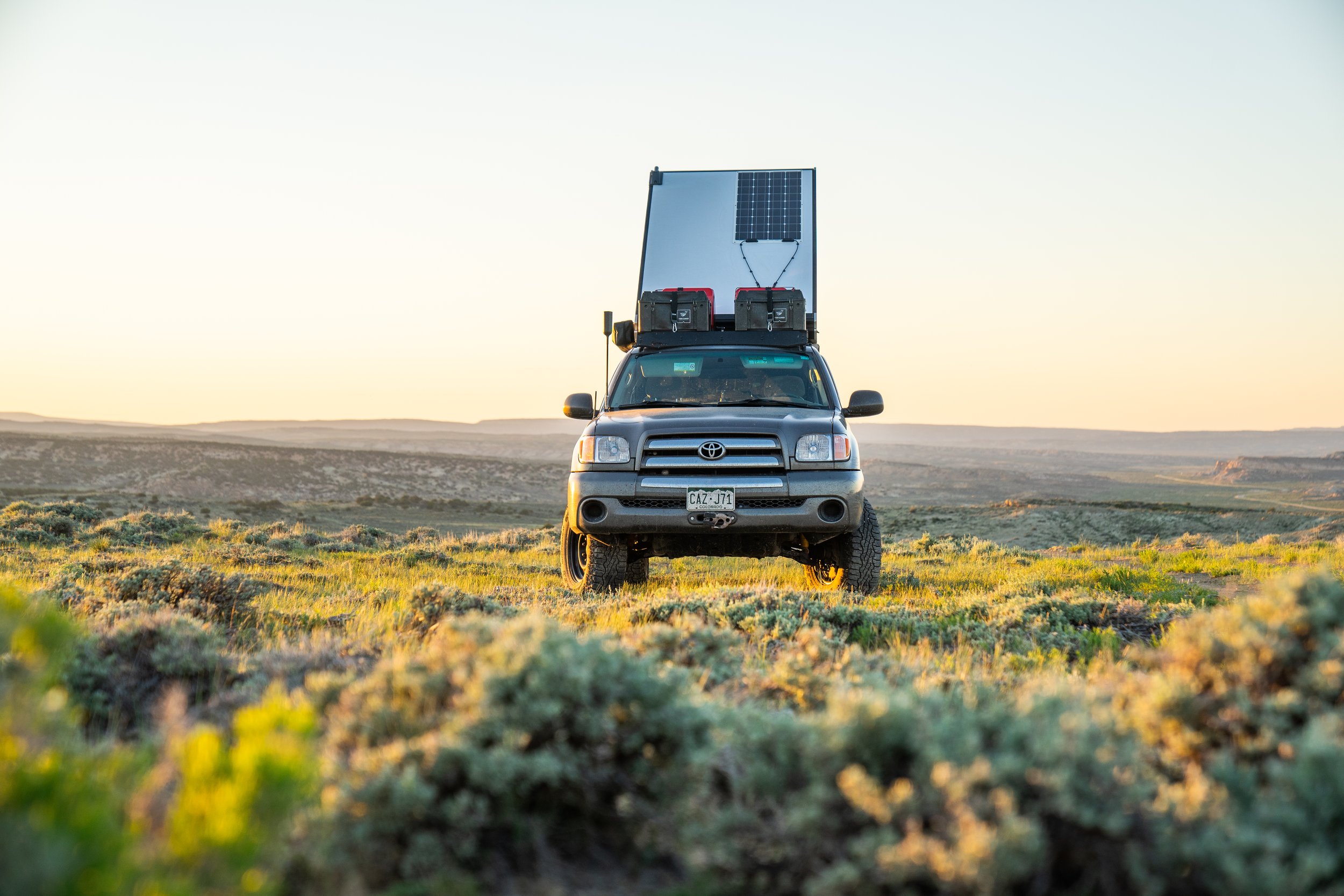 ---
Jun '22, Starlink Mount.
Starlink Pivot mount is added. This allows us to mount the Starlink dish to our roof, and raise it safely above obstructions as well getting it off the ground so it's less likely to get damaged. It was mounted using a 90º aluminum angle that is mounted to the side of our GFT top with T nuts that GFC makes to fit the track system in our camper. The Pivot mount is then bolted to the angle using Rivnuts that I installed into the angle. We only have the dish on the roof when the truck is stationary. The Pivot Mount can be found on starlinks app under the shop section.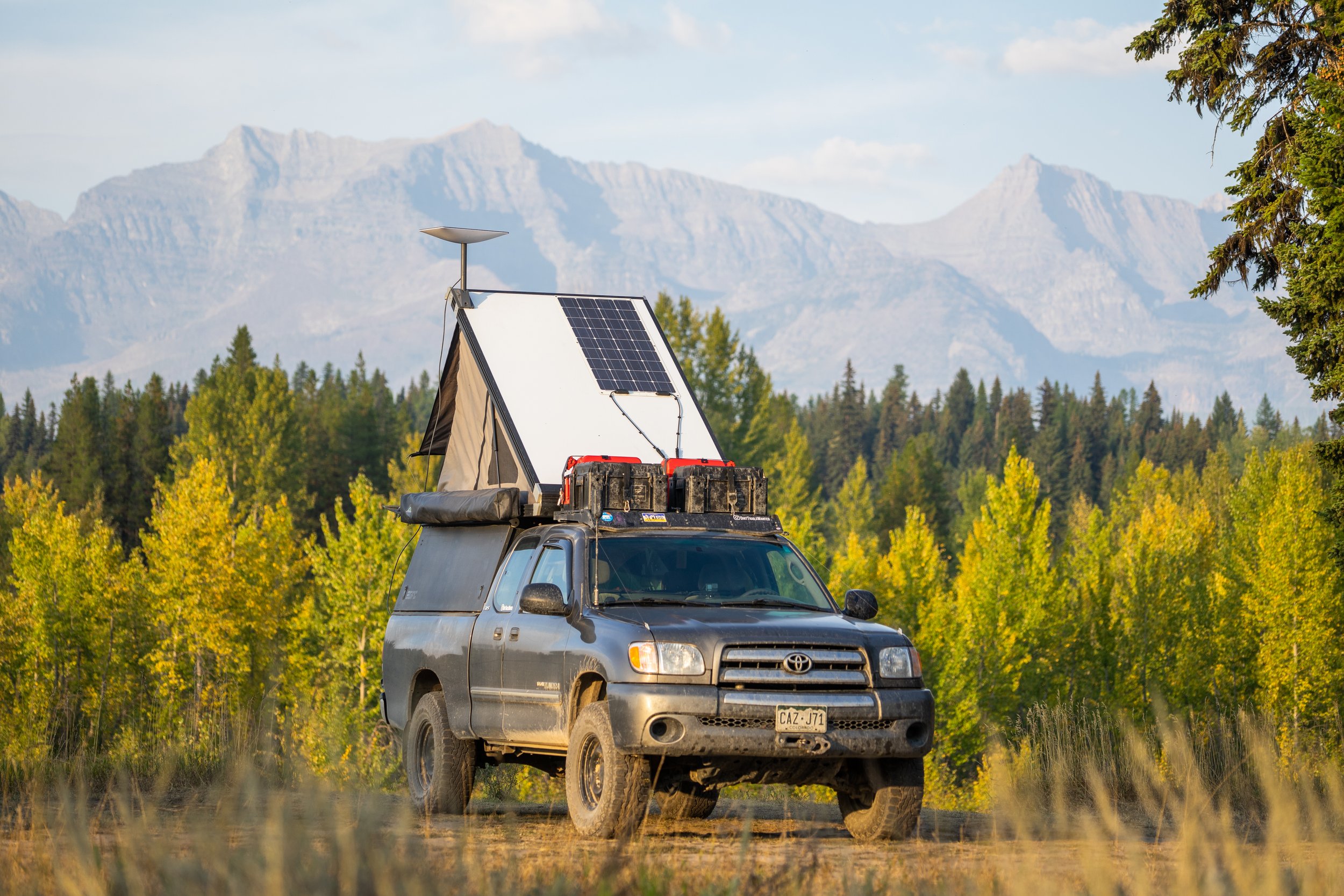 ---
June 16th '22, Canada & Alaska Road Trip.
We set off on the longest trip we have done yet. Colorado to the Arctic Ocean at Tuktoyuktuk, Northwest Territories, then down to Alaska before returning home 4 months later. There is an ongoing blog series about that trip that you can read more about here.
---
November '22, Rear Seat Delete and Storage.
Back home in Colorado prepping for the next trip. Back seat delete and storage system is added.
---
November '23, 100 Series Snorkel Installed.
I've long hated the look of snorkels, and still do, especially one on my personal truck. However, we have now crossed several rivers with Dolores, the first being the namesake of our truck, and another being deep enough that I feared we'd flood the motor. It was finally a justifiable expense for me, it sure beats a hydro-locked motor. We used a knockoff 100 series Landcruiser snorkel since there isn't one made for the 1st gen Tundra anymore. During this installation, the WeBoost was relocated to the driver's side from its original passenger-side location.
---
November '22, Solar Build
#2

, Fridge and water.

We redesigned our solar system. Switching from 100w of solar to 300w and tripling our battery storage. There is a complete blog post here with full details. In that process, we added a Dometic CFX 35 fridge and a small Dometic GO hydration facet.
---
Nov '22, Custom Leaf Spring Install.
Alcan custom leaf springs are installed at their shop in Grand Junction. Unhappy with the ride quality of the add-a-leaf pack after our Alaska/Canada trip, we decided to order springs to support 1,400lbs and provide a rear lift from the factory to 2.5" so that we would get our factory rake angle back.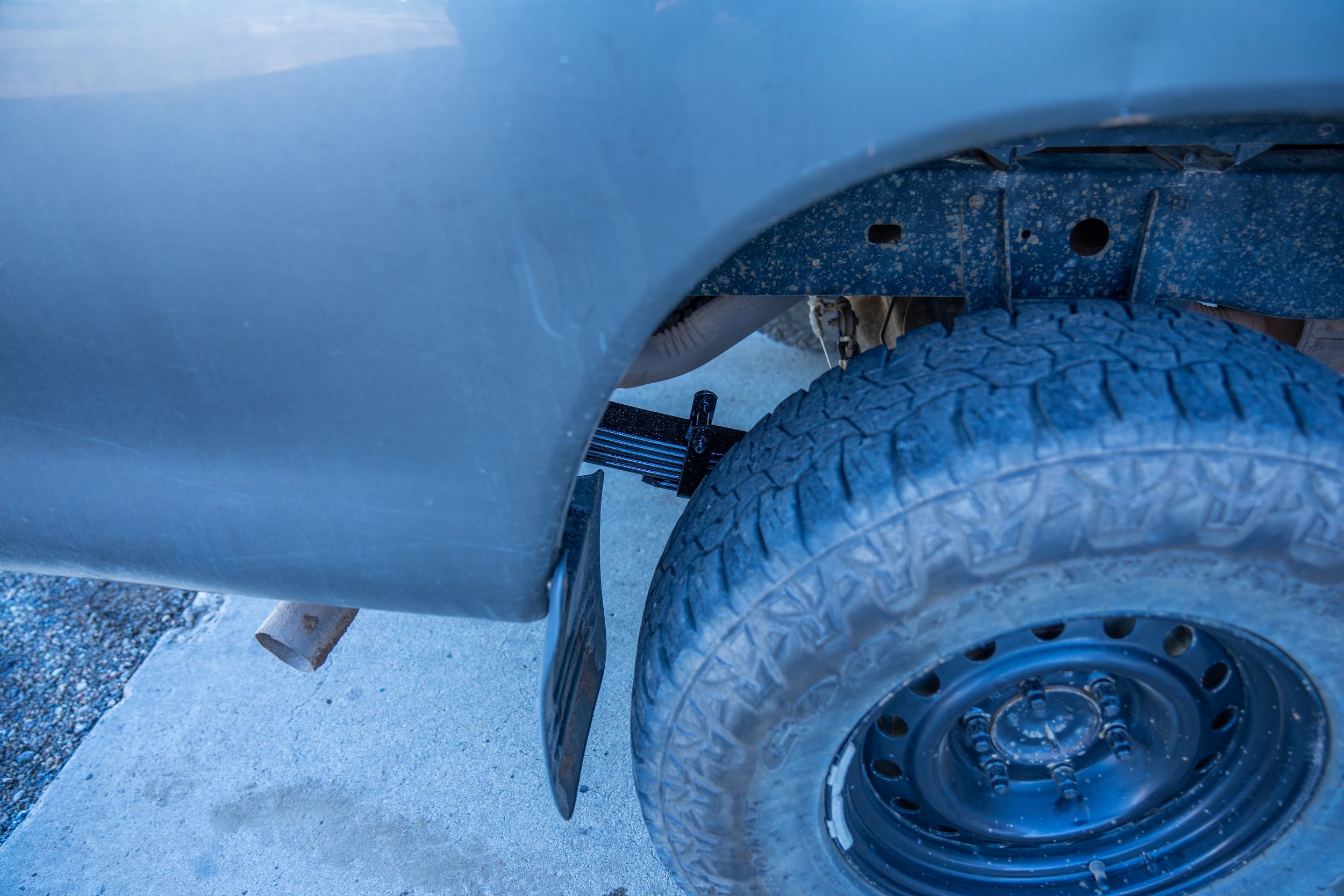 ---
November 11th, South West & Baja Road Trip.
We departed for the road trip that we are still currently on, touring through the southwestern United States, and spending time in Baja California. A series of blog posts will eventually follow this trip as well, in time.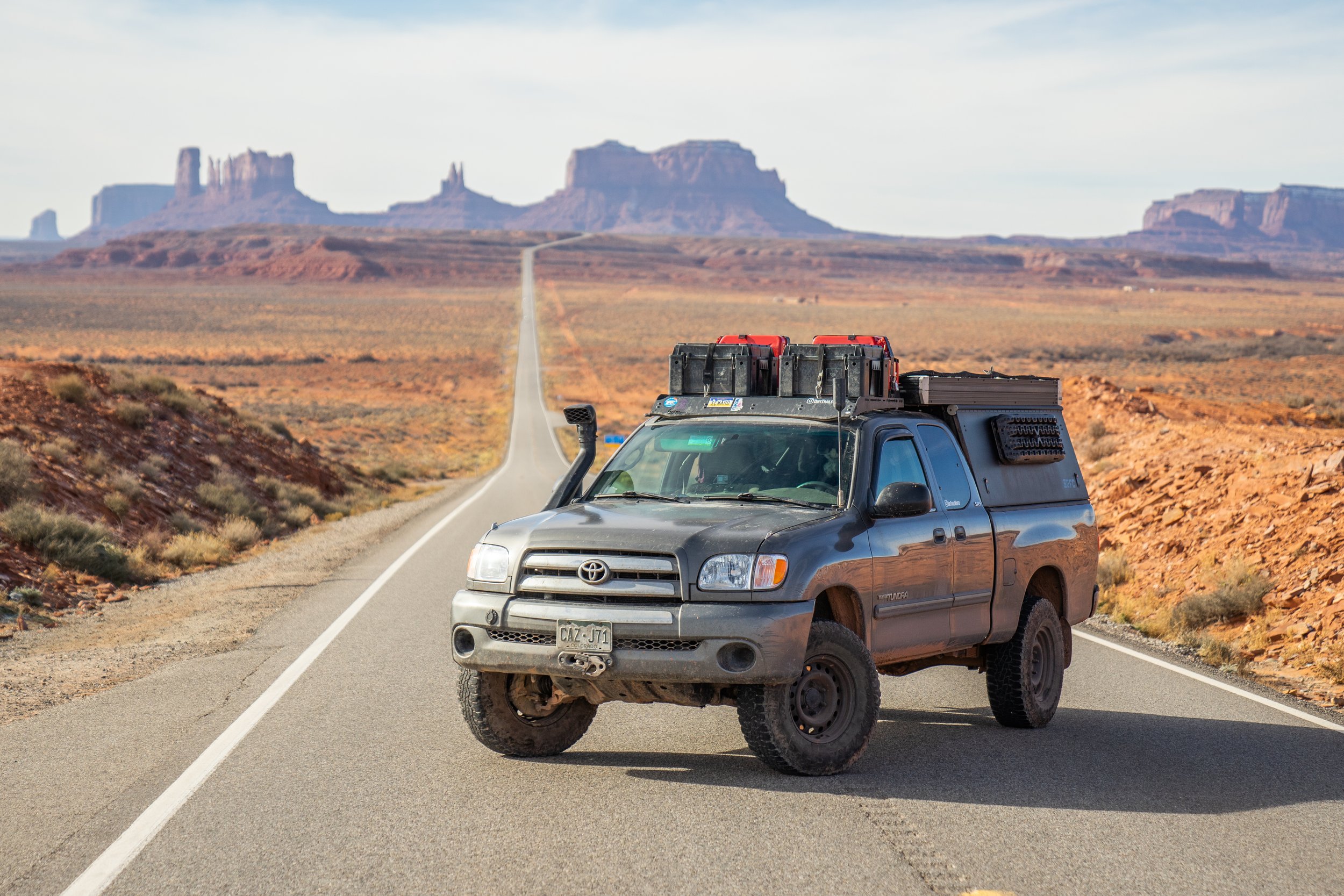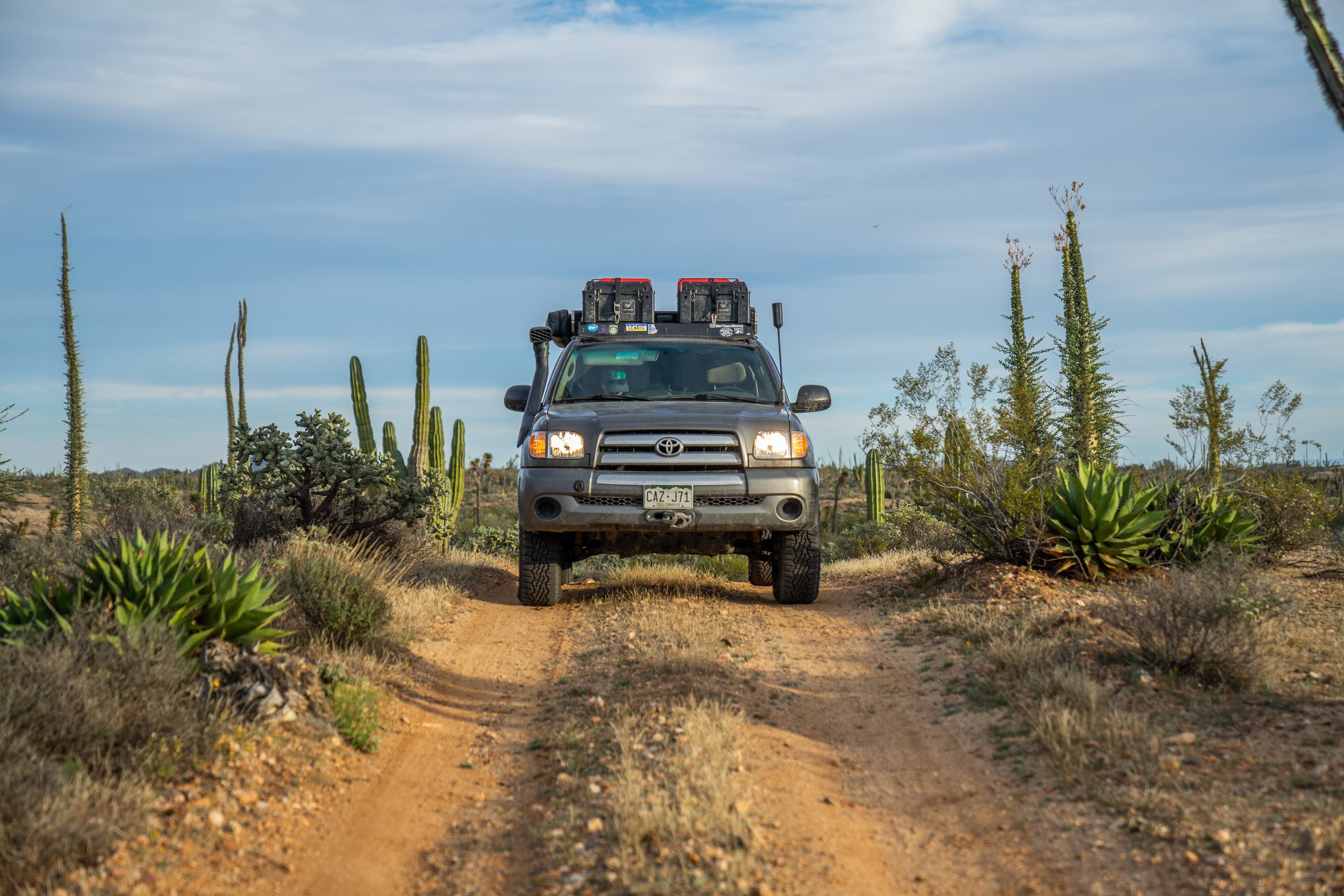 ---
November 13th, New Clutch.
This was an unplanned event, our clutch release bearing failed after 190k miles, it had a good run. Temecula Toyota helped us in replacing the clutch.
---
January '23, New Tires and Valves.
After 40,000 miles of hard use, our tires were due for replacement. We again went with the same Goodyear Wrangler Ultraterrain AT 265/75/16 116S tires. By this point, these tires had proven themselves on the Dempster Highway and nearly countless miles offroading in Utah and Colorado, so we feel very confident in them. We also installed some Colby Valve Ultimate Tire Valves. These valves are unique in that they are an all-brass construction that is installable from the outside of the wheel, aiding to trailside repairs should we ever damage a valve stem.
---
That's it for now…
If you have ever built a truck, you know they are never truly "finished" and that certainly is the case for Dolores as well. We have a list of things we would like to change, none of them being critical. Right now the truck is in great trail-worthy condition and is treating us well as we bounce around Baja with her currently. We will update this as we change the truck.
---