Has anyone immediately felt a need to get Load E tires, or noticed a big difference after installing them?
I have Cooper S/T Maxx tires. I don't notice any difference.
Peace.
I stayed away from load E tires because of weight savings (rotational mass) which equals fuel savings. On my 06 Tundra I wouldn't be able to take advantage of the increased load capacity of the tire. One advantage I could see is better puncture resistance though.
I run BFG KO2s Load range E on my truck with the GFC and my 200 Series Land Cruiser. I run them mainly for their durability when off road. They've never let me down. Other brands haven't performed as well and proved not to be as durable in the field. I also run them for their increased load capacity. Yes they are heavier and mpgs will take a slight hit. But I also run a GFC so I'm not too concerned about mpgs. Depending on your suspension setup you will might notice a slightly harsher ride. But it doesn't really bother me. Additionally some AT tires are load range E only. Especially when you get into more aggressive and bigger [>33 inch] tires.
All things considered I'll only ever run the KO2s on my truck with the GFC. They work so good. Cheers.
I too run Load range E tires now on my summers and don't really notice a difference in ride quality. This winter I changed from an 8 ply Goodyear Duratrac (studded) to a 10 ply TOYO Open Country studded and that, on the other hand, I'm not happy with. I'm actually thinking of selling the Toyo's because they seem to be too hard for a 1/2 ton in winter. This winter was the first time I had to put chains on my truck since I bought it in 2014. So if the pocketbook allows I'll be switching back to an 8-ply(D) duratrac.
Had a 80 series cruiser prior to the tundra and also ran k02s e range (they never let me down). I wanted a tougher tire for what we used it for. Loved the 80 , but gas mileage was so poor and under powered I finally sold it. Running Toyo AT3s on the Tundra, but will switch to something else when the wear out.
What are you driving is the question. Most half tons or smaller should be fine with load D.
If you were running 1500lbs of payload or more off-road, then maybe you might need them.
Factory Ram 2500 Power Wagons come with load D and weigh nearly 8k lbs stock. Most Power Wagon owners do go to load E tires, but they are substantially heavier that a tundra, etc.
FWIW, I have a Power Wagon with the GFC, and run D tires (37x12.50 Toyo MT); 40K miles on them so far.
we run E-rated tires for their durability offroad - they have been good to us
pic = at camp - i ran them a bit lower than normal (usually 12-15psi)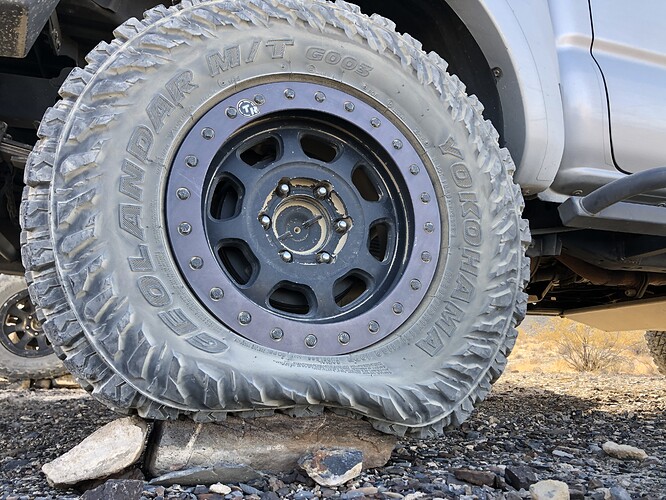 Yeah the Toyo AT3s I'm running are rated at 2600 lbs@44psi( non E load) and my GVWR is 6600 lbs for a 06 Tundra. So if I maxed out my tires, I would be close to 3800 lbs over stated GVWR. Going to scale my truck in the A.M. to see where I am.
Same for me with K02 Load Range E.
Went from P load duratracs to E load grabbers and they ride infinitely better in all ways.