I wanted to share this door mat I've been using that's given me a lot of joy. This TrafficMaster commerical door mat at Home Depot has been doing a phenomenal job of keeping the outside stuff contained, and the truck bed clean.
The grid pattern makes cleaning the mat easy. All I've been doing is removing the mat from the truck and shaking outside. Give it a few kicks on the backside, and it's clean again!
The rubber bottom and weight has enough grip to hold in place when driving around. It's got a tapered low profile, and doesn't cause you to trip on it. Also, soft to the touch so walking barefoot isnt awkward.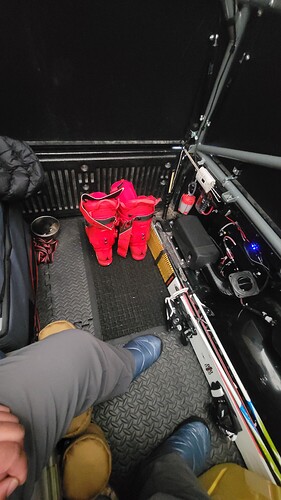 I've got it setup as my indoor "mud room" mat for footwear to dry.
Summary:
$16 and available at Home Depot
Absorbent
Agitates dirt and debria off footwear
Perimeter is raised rubber and contains moisture.
Drys quickly* (heated GFC)
Maintenance is easy.
Lightweight
Low Profile
Soft materials
Link:
https://www.homedepot.com/p/TrafficMaster-Black-24-in-x-36-in-Fiber-and-Rubber-Commercial-Door-Mat-60-885-1907-20000300/206498870
Notes:
I purchased the 24" x 36" size mat but they do have a few other options. This is a great size for one person but maybe consider a larger one if you have more gear or people.
Best,
Ron