Love to see what others in greater Seattle area are doing to trick your rig out!
If you care I am on the east side and could show you what I have accomplished or what not to do🤦‍♂️
That's cool, do you have some pics?
Seattle here. Still just kind of getting started but building a little platform and bench in the bed, did some wiring, battery, lights, etc.
NE Seattle! Recently installed Matt Gecko LEDs (upper + lower) that I hook up to the 12V car port on my Jackery 1000x. Next up is a twin ARB air compressor that I'm mounting under the passenger seat. Just waiting on the Desert Does It seat jackers and mount. Got the air compressor from Amazon so hopefully it actually works😶
LMK if anyone wants to meet up and swap ideas…
Build out so far includes:
dual battery in engine bay
house power run to rear driver side of bed - installed a Blue Sea panel there with some outlets and stuff
hardwired fridge power for Dometic CXF55 or whatever it is called
installed truckparts.parts LED kit
jedgar rain gutters
3x gzila rain fly setups - for each of the 3 big windows
BD s2 lights on rear corners of camper, 2 more on ditch mounts up front
stuck a organizer pocket to the roof in the upstairs tent area to keep things tidy while sleeping up there
made a net/bungee thing by front of truck bed on roof to hold bedding
80/20 bench and storage shelf build out in progress
100w solar on the beef racks to the redarc bcdc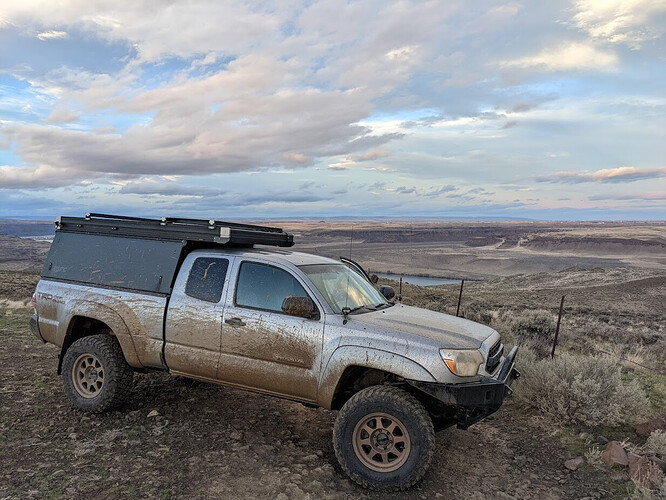 photo from yesterday - needed a break from the rain so the dog and I went to the gorge
Ha, yea this rain has been brutal. Without a garage I've had to put a hold on my projects.
I love camping at the Gorge tho! Trucks looks good! What wheels and tires are you running on?
Ah, nice. I thought those were Methods. I'm changing out my stock wheels and tires next week for Method 705s with Geolandars (285/70/R17)

I'm about an hour and a half maybe two hours from Seattle. Let me know if you guys meet up.
So about 10 miles south of Seattle? lol
@Ben, no doubt the Seattle area traffic does suck. I'm on Stevens Pass Highway in the beautiful Cascades.
im north of seattle lets do it!! lets a find a dirty road to bomb up and meet at the top