Continuing the discussion from Superlite leaking:
Late February, I submitted a Service Request Form because of the water intrusion problems I had with the SuperLite whenever it rained.
Cole from GFC contacted me and was able to help me out. He suggested I get some Seam Grip (SG) to cover the seams on the top of the SuperLite. I asked him how to apply it and he said he would have a video made detailing the process. A couple of weeks later, I received an email with the following 5 minute video.
In the video, painter's tape is placed along both sides of the seams. This is followed by a layer of electrical tape on top of the painter's tape. With a gloved hand, the highly fluid SG was spread over the seam, up to the edge of the tape(s).
Instead of doing all of the taping, I decided to apply it with a 1" brush and a (somewhat) steady hand. Since my tent has been on the truck for over a year, the first step was to clean the seams and stitches with a damp sponge.
After the surface was prepped, I took the SG and punctured only half of the tube seal. This is important because it will enable you to control the flow better.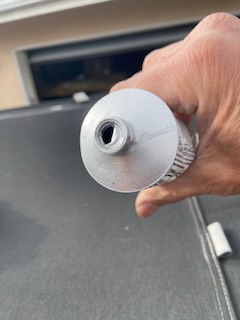 I then held the tube at a 45 degree angle to the raised ridge of the seam and ran a bead along the edge of the seam.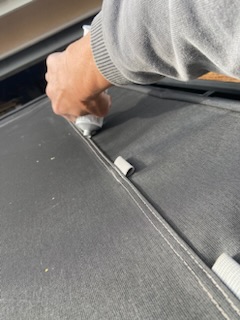 With the brush, the SG was pressed into the seam, and then over the top of the seam.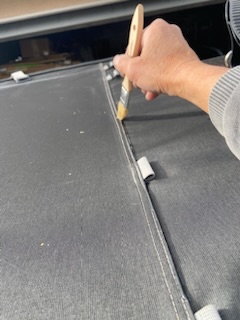 Next, I put the tube vertically over the stitches and ran a wide bead over both rows of the stitches. As I squeezed the tube, I applied enough downward pressure to press the SG into the stitches and to control the flow. I used the brush to evenly spread the SG over the stitches, with about an eighth inch overlap.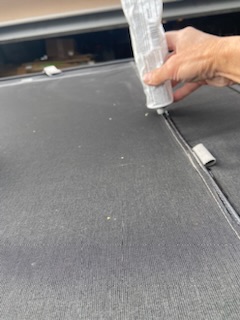 The next day, I applied another layer of SG, paying extra attention to any areas that might have needed more SG.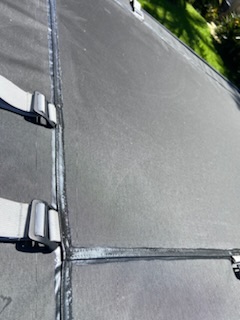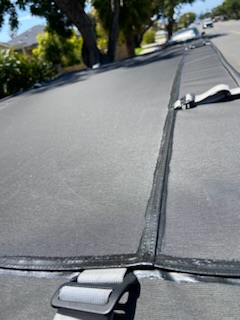 Overall, I like the way it came out. The edges of the SG would have been straighter if I had taped it, but who sees it from the top and from a distance, it looks good.
I would recommend sealing the seams for two reasons. First, and foremost, it weatherproofs the tent. The other benefit is that it also protects the threads from the sun. I noticed while doing this project, the stitches were looking weathered. Applying the Seam Grip now may prevent problems in the future.