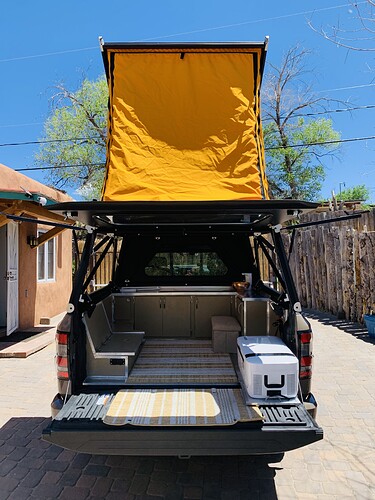 2 gal fresh water, faucet, sink drain between the cab
200w solar panel, 100a LiFePO4 battery & charger
1200w Bestek inverter
Under counter & desktop led lights
Multiple USB ports & 12v sockets
ICECO refrigerator on slide out
Aluminum & MDF board cabinets with many storage
DIY Fabrications;
3/4", 1/2", 1/4" MDF boards
Galvanized steel joints
1' x 2' thin aluminum sheets
1", 3/4", 1/2" aluminum corners
Slide out table for refrigerator
3/4", 1/2", 3/8" zinc screws & liquid nail
Aluminum rack for ROAM roof box
4.5 gal pressurized solar shower
4" x 6' sewer pipe and fittings w/bicycle air stem
Off-road Upgrades
4" Nisstec lift with 285/70/17 tires
Only used electric jigsaw, screw driver & hand held steel files…all materials, electrical are from either Home Depot or Amazon next day. (Perfect for today's supply issues & no stress of breaking and replacements)!
Bench seat is actually comfortable for one small person and storage comes in super handy!
No screws into existing truck bed, all fitted to the bed size and it has been tested off road at Moab Hurrah pass…nothing came loose…except tons of red dust came in from the tail gate. So, we added tailgate gaskets and also stuffed insulations all around the truck bed wall.
All came out as we wanted and believe or not, you can do this less than $2,000 including all electrical components…the most expensive item is refrigerator…of course not including Go Fast Camper, Nisstec Lift & tires…
BTW - I've never built anything before…not even a simple cabinet…so…literally anyone can do this…
Our first camping will be at Overland Expo West on-site campground, we are new to overland and want to learn where to camp!
If anyone like the cabinet setting, then I can help any GFC owners! DIY is the way! You won't regret, since you can fix it anywhere anytime as long as Home Depot is near & open!!! It is easy to build it again…maybe <$700 ish, everything else can be transferred…the next time will be less cost as I used too many MDF & Aluminums…hahaha