Where did you source your lights. I really like the simplicity of this design.
I find this storage solution to be the best fit for me, fantastic job! Do you have any design plans for your build that you would be willing to share with me?
This looks great! What material is this made of? Is it wood? Looks super clean.
@Offgrid @Pnoel
No design plans unfortunately, I just built it as I went. It was made of 1/2 inch birch plywood and used a long piano hinge for the folding bench portion. It was a lot of just trial and error to get pieces to fit and work correctly.
awesome. it looks so clean. well done.
Currently building out a double drawer system for my 2019 Ford Ranger. In this system, I'll be reusing the 25"x50" and 2x 25"x25" panels from the bed, as pads on the cabinet seat below. Here are the renderings but will attach photos as the build pans out on the Build channel.

That's a pretty similar drawer setup to my rig. I originally planned to have my fridge slide but changed my mind and put it above to gain some more storage. It was too high to sit on either way, but it's a pretty big fridge.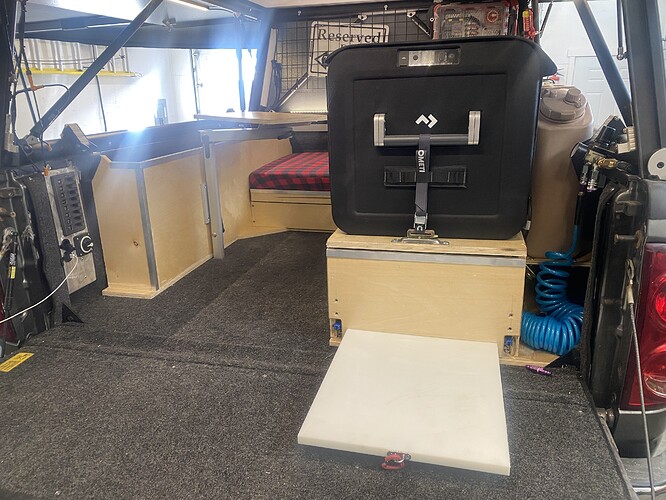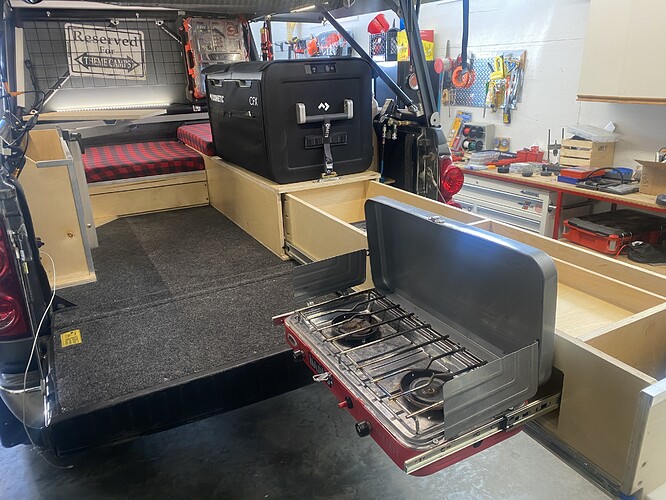 I think this is one of the most elegant solutions I've seen! Great work Chuck! You're in BC aren't you?
Is the back of your cabinet solid? Or open framed,
Man that is nice! Strong work!
Very Nice. How much do you think that will weigh when its done?
tell me more about that swing out
Would love to see the pics of the finished product
so for once being short has its advantages. I created a filler panel for upstairs sleeping that is 56x10 with cushion. So it can be added to bunk mode for a 35 inch wide bunk or it can be added at the end for a 72x56 sleeping space leaving 18 x 56 opening to get up an down at night

I have a decked system and love it. I just got a bedrug, the one you cut to size, and its a game changer.