Holy mackerel! Is that a deep freezer and a pizza oven? Sweet. Pizza and Gelato for everyone!
JK. That looks great! Good work! I'm planning a very simple build when I get mine.
Awesome set up! Do you know how much all the Goose Gear stuff weighs dry (unloaded)?
No idea. I had to upgrade my suspension for my fake goose gear build.
Thank you! Simple builds are great. I wanted something a little more livable for bad weather.
I thought you were just being sarcastic when you said "I was inspired by Goose Gear." Lol I didn't realize the product wasn't actually Goose Gear!
Did you do everything yourself? Great work man. I am sure you saved a lot of money. The only thing that has prevented me from doing a full Goose Gear build myself, is the nearly $8k price tag for everything.
Yeah, I built it out all myself. Still was not cheap but was cheaper than a goose gear build out for sure.
Very nice work! Is the wheel well lining for a propex or something in that compartment?
That looks AMAZING! Any chance you'd be willing to share a parts list?
How did you mount that vertical plywood at the front of the bed? I'm trying to plan out my electrical and was looking for some way to do something similar.
I have just been ordering pieces from tnutz.com cut to my dimensions. The wood on the bulkhead just bolts in using the existing bolts on the gfc frame.
Ah, so you bolted the wood to the tubular space frame, and not the outer-most panel?
Yeah it's bolted to the space frame.
I was on the fence for a bit. I'm happy I didn't take the financial plunge on a FWC considering the times we are in!
I added a small strip of bed rug today. Going to make crawling around on my knees so much easier when the tent isn't deployed.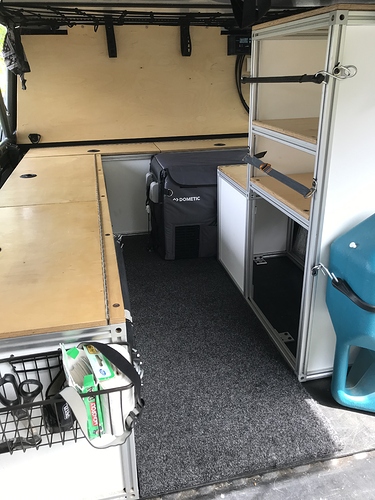 Had mike at wanderlust overland in Oregon city do some non camper mods for me… very stoked! CBI sliders and front bumper, warn winch, and new front coil overs.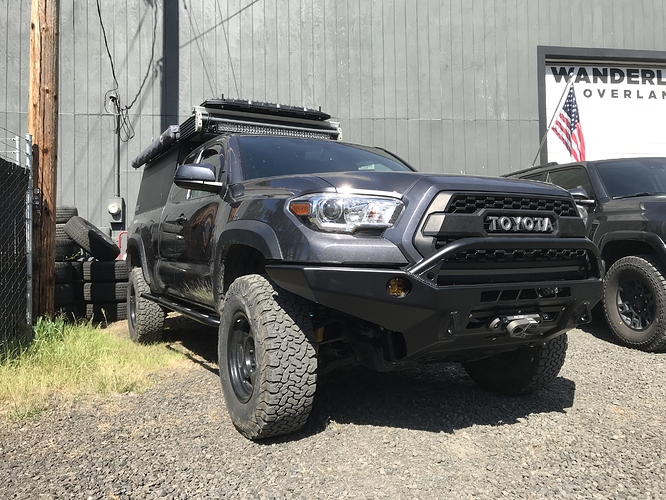 It's my third time back to mike. I don't plan on taking my truck anywhere else!
What are the side panels made of? Is the white material just painted wood?