Launch point for discussion for CO GFC owners. Post your questions, comments, tips, favorite spots?
Thanks for setting this up and welcome to the community! Hopefully we can be a little more active than the 4 Corners group!
In the Centennial area here with a wife and 4 year old daughter.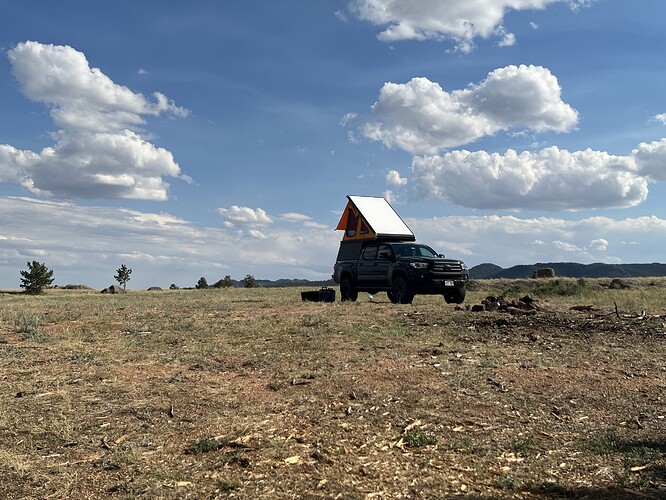 Hi. North Park here. Thanks for setting this up.

Love it… we're from near Edwards. Going on a trip next week into Alberta and we'll see how the GFC does?!
I'm in C. Springs–I like camping wherever I can get to! No major off-road mods to our 2018 DCSB Tacoma.
Justin here.
Loving mine. Got it in May. Probably have about 12 nights in it. Done some killer roadtrips. Just got back from CB, Telluride, Ridgway, and Moab.
Based in Denver.
Currently trying to track down stupid water intrusion in mine but GFC has a ticket open. 2019 Tacoma.
Where's the water entering?
Heading to the BV area in a couple weeks for a couple nights and wondering if anyone is willing to share favorite spots to camp? We'll be spending one night near the Shavano/Tabeguache TH to hike there. Any suggestions are welcomed and appreciated!
@MBBME Tin Cup pass is a great area.
Hey everyone- family of 4 here (two preschoolers). We try to get out for at least overnights pretty frequently and year round. We've had our camper since last August and up to 27 nights (trying to hit 30 by our 1 year GFC anniversary). I'm terrible at making plans but if someone else organized a meet up we'd probably make it, ha.
Edit: we are in Broomfield. There's a V1 GFC around the corner from me (have yet to meet owner), and a superlite down the street, ha
I'm in Durango…couple other GFCs here but haven't met any of the owners, unfortunately!
Going up forest service road 250 on the way to the Shavano/Tabeguache east slopes trailhead there are some great spots that overlook the valley if you can find one that is available. They are still about 4 miles from the trailhead but are beautiful spots. There are also some spots just past the trial head on 252b that are closer to the trailhead but don't have as good of a view.
Hello and thanks for setting this up! I live solo in C. Springs with my 2014 Taco and V2 GFC. Looking for info on camp spots!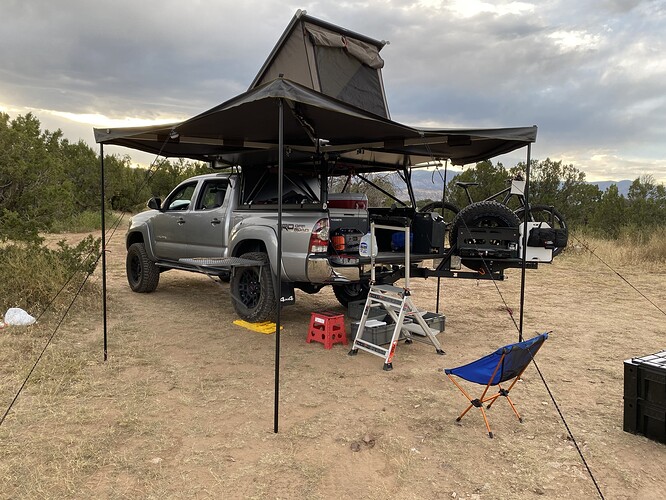 Love the awning/shelter! What is that object near left rear wheel?
@atsah is correct on both counts!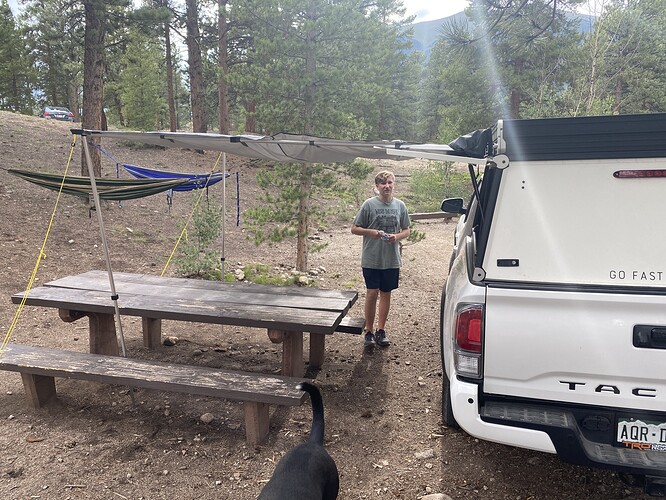 I'm in the denver area. Got the GFC in June where nearly twenty nights in and loving it currently writing from our camp spot near wolf creek pass.
There is a nice dispersed camp area above twin lakes near the MTN Elbert trailhead some with trees some with views a few with both. It's about half north of BV.