Does anyone have experience with an Overland soft goods 1 inch topper and also the new GFC mattress to compare?
Hey All,
I just wanted to pop in here and let you know that upgrading with the Hest Dually addition to the sleeping platform hinders the usage of the Transform-a-Floor feature within the camper.
I must say that I have slept on the Hest and it was undoubtedly comfortable, but the new TurboNap is a direct competitor. The new TurboNap setup is built to ensure the Transform-a-Floor is still able to be used while being comfortable every night spent in your GFC! The dual density foam is sourced from the US, with fabric that is sewn by our team, to leave you feeling like you're sleeping on a cloud!
Thought I should make that known here, but let me know if you have any more questions! Happy Camping!
Don't have both unfortunately but I do have the 1" OSG and it is much better than the old foam by itself.
You could probably recreate the the turbo nap if you wanted to as well. Think the foam is like a 24/34 and 44 ILD foam. All you'd need to have done is hire a local seem-stress or DIY 3" covers. Could use the old ones as a basic template.
To be clear, the turbo map does look/feel nice but totally understand it's hard to drop that much $$. Been debating on doing a DIY.
I had the same thought, but one of the things that I discovered when using the Turbo Nap is that it's not as simple as just adding foam. The covers and the foam work together as a system.
Can we get a demo video of it closing with bedding? I am genuinely curious as users are saying no you can't but you guys are saying yes you can. Might be a good learning opportunity to share amongst the community.
Here's a demo for ya @GainzGFC . Let me know if you want to see any more:
(still processing as I'm posting this)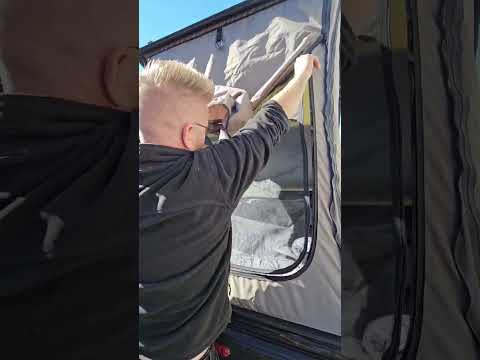 Anyone else want any demos? Anything I can show?
(full disclosure, GFC sent me the Turbo Nap to review)
Interesting you got it to review. Was under the assumption that they hadn't sent it out to folks because of the short supply. Would have loved to compared it to the the original 2in mattress, old mattress plus 1 in OSG topper, my DIY topper, and finally the Hest. Yea I have tested a butt load of options…
Appreciate the video but still think GFC needs to clarify "bedding". I could close my aeronaut in with my Hest right now still but not anything else. In their old video, they put pillows, a nalgee, and sleeping bags in there. I fear just saying "bedding" might give the idea that folks could still store sleeping bags or more in there which likely isn't the case - would you agree?
Old video referenced here:
I have the Hest foamy and would also recommend. I am not light, over 200lbs. I tried all the combos before getting the Hest. The foamy like the dually folds up easy allowing you to use the transform a floor. It's not perfect but remember the transform a floor alone has seams you lay on which are not comfortable in my opinion. Just my 2 cents.
They are also located in Seattle not sure where you are in Canada.
After trying the Hoverquilt I don't see why a few sleeping bags wouldn't fit if laid out flat. You might need a bit more pressure to let the air compress out of the sleeping bags. What would be so different?
No promises, but I'll see if I can find my sleeping bags, I had a few Coleman bags in storage. I'm not real interested in trying to close the tent on hard objects like a Nalgene bottle - and I don't consider a Nalgene bedding - hope you understand.
Here's an excerpt from my (still in progress) longer video review where I compare the older 2" to the 3" close up.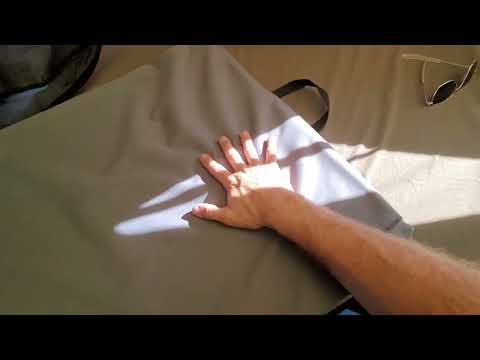 I tried to find ways to communicate the difference in how they squish and feel. I've slept on mine for three nights now, and also used in couch mode twice by the ocean, and the Turbo Nap is just a new level of comfort relative to the old mattress.
I say this as someone who was pretty much fine with the 2" foam. Now, I wouldn't go back.
Totally understand the Nalgene as I wouldn't either. I just got the Aeronaut in October and love it but most folks probably don't have it or it's a small percentage. Once it's deflated, it's super thin anyways hence why I could also pack it in with the Hest currently.
I know for sure I could NOT pack in my Dolomite Northface bag though which I consider a "sleeker" sleeping bag. Not a backpacking bag by any means but it's not oversized at all.
When I felt the TurboNap in person, it is way better than the old 2in. First thing I said is "Wow, GFC finally did it". Time will tell from those who spend a lot of time in the tent though. After 70 nights this year, I needed something comfortable and the Hest filled the ticket. I am sure folks will be happy with either the TurboNap or the Hest because the old 2 inch stuff was concrete.
This is one of the reasons why I chose to upgrade to the TurboNap and it wasn't an easy decision given the price, even the launch pricing. I haven't received it yet but had an opportunity to check it out from a buddy who just picked up a camper with it and it is NICE! And the covers play a huge part for sure. I currently have the 1" topper from OS and while it is for sure an upgrade to the old standard mattress, it's still not enough for me as a side sleeper. I'm also not a fan of how the topper needs to go on top of the old covers. Just a bit of a klugey setup for me and also not much protection for the top layer of foam. The turbonap offers a nice and comfortable complete system a little outside the price range of a Hest(Which I also love) but then you lose the ability to use the transformafloor which was a huge reason for going with a GFC in the first place. Just my 2 cents and it will come down to preference at the end of the day but nice to have the options.
In terms of storing bedding, its obviously going to depend on what your bedding is, as well as your mattress setup, but I think an important thing to note is the placement of the bedding. Regardless of bedding type I think the best way to store anything up there is to place it in the middle and as far forward towards the wedge as possible as that area doesn't get filled up with as much or any of the tent material when closing it up. I used to keep a queen sized comforter folded up and placed at the wedge of the tent and it would close up nicely compared to just laying it flat across the whole tent.
We have them. I think it's a great upgrade. Camper still closes no problem. I have horrible back issues from being in the military, and the upgrade has made a nice difference. Fair price, also.
I think I misread this. You probably have experience with the OSG's foam, and are trying to compare the two. My bad.
Thing is, the term bedding is subjective. I personally use a zero degree Coleman sleeping bag a queen size pillow. With the old 2" mattress, I can leave the "bedding" in there and close the camper relatively easily and latch it. The upper clam shell would have a minor bow to it but nothing concerning. Vice Chief's video already shows that the last bit takes a bit of effort to close and i know for a fact my bedding is thicker than what he has along with the pillow. I'm not even going to try it with my current bedding and considering getting something lighter or remove it every time I close it.
Exactly my thoughts and why I think GFC needs to clarify the type of "bedding" because it is subjective. If they demonstrate a specific sleeping bag/item could in fact be stored, it would help others see what is possible with the new mattress. That's why I also posted that older video they made about storing stuff up there - an excellent demonstration on how to store it up there and also a general example of the items being stored. Bedding also likely changes with the season and temperature at which one is camping.
I just wish I could keep my pillow up there

I run the Hest in mine and have no problem closing my GFC. There's enough space at the head to place pillows/aeronaut blanket, but does require me to slow down a bit when closing to let the air escape. The hinges are a tiny bit snug, but I've had zero problems after 6 months with this setup. I was afraid that the extra stuff might push the seals, allowing water intrusion, but so far it's stayed tight and dry, even during high-pressure washing.
Yup I found it took a little bit of extra work (similar to what Vice chief has with Turbo Nap) but nothing to the point it's not worth it. A good nights sleep is worth an extra 15 seconds of effort imo.
What did you guys do with the old GFC 2' mattress pieces? Hate to throw them away since they're perfectly fine. Any ideas to repurpose them?