Funny, i picked me up a new to me 2017 Honda africa twin with only 1300 mi on the clock back in December. Since then I've added ohlins fork and shock, Scott's damper, akrapovic exhaust, Givi crash bars and outback cases, camel pegs, tinted screen, etc.
love this bike!
I now have full Outback Motortek crash bars/skid/pannier racks/center stand, and a home made rear rack. I put 1400 miles on mine, since December. Virginia has had a decently warm winter.
I just want to ride, and mod my GFC haha. Those 2 things are taking my time outside of work. Planning on getting Shinko 805 big block tires towards the end of the summer. I love this bike, and really planning on keeping it longer than all of my previous bikes (which I tend to only keep for a year hah)
@Enduro_Woods_Rider sorry for taking over your build thread.
@Medicfung feel free to continue this chat on my build thread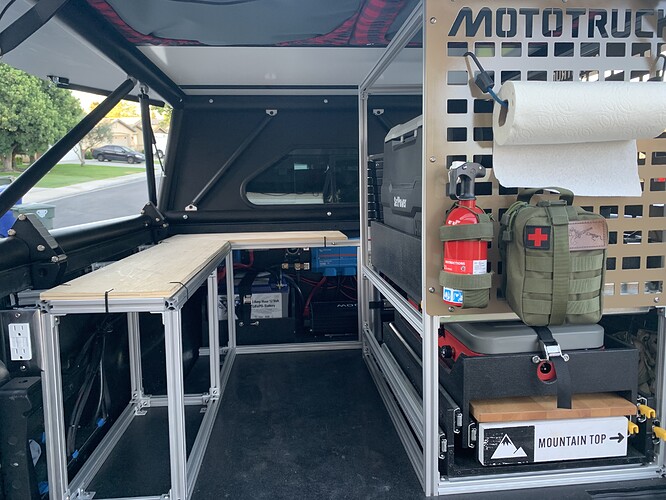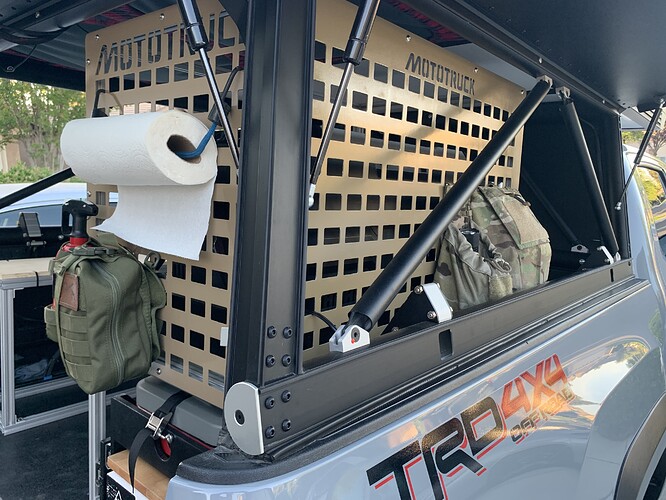 This weekend I ran a 120V outlet, and mounted up some molle bags to hold an extinguisher, hammocks, first aid kit and some other stuf
Nice side-slide for that fridge.
Thank you! I needed the Fridge to be on a slide system to access the compartment because directly above it will be a counter top.
How did you run that 120v outlet? Parts list?
Any AC 120V outlet circuit is going to require a breaker which means a breaker panel/box.
Inverter's AC Terminal Block > Breaker > GFCI Receptacle… All wired with marine grade copper tined triplex wire.
Nate with the YouTube Channel: Explorist.Life has many great videos/ how-to's on wiring…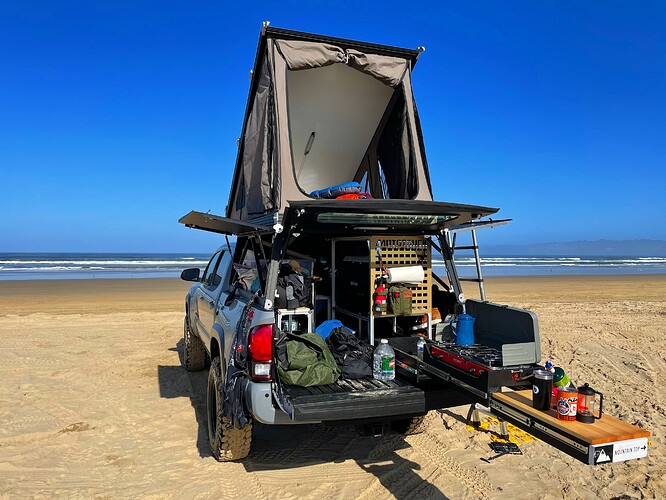 Beach Camping Trip with the Fam. My wife, and 2 younger kids (aged 3 and 6) are able to fit up there.
Love that outdoor kitchen! Did you install a sink and water pump?
Thank you! There will be a Sink/ 12V Water Pump, and 10 gallons of fresh water on board in the near future.
I was able to get a little work done on MotoTruck this weekend. I did a test-fit to my kitchenette sink system, and it works perfectly. It is not hard mounted to the 3 drawer slide; however, the sink system and the shelf hinges fold flat and will be easily stowed. It takes about 20 seconds to get the sink mounted up. The 12V water pump will be hard mounted near the 10 gallons of fresh water and there will be a quick disconnect water line to speed things up.
Due to me camping off grid the majority of the time and wanting to use as minimal amount of water as possible, I am stoked to be working/collaborating with Geyser Systems:
on this buildout! I will be using their Heated Geyser System for showering purposes for my family of 5, as well as cleaning dishes.
Use "MOTOTRUCK" in the coupon section for a 10% Discount!!!
I also began to enclose the seating/storage areas. Each storage door will have a marine grade slam latch and gas strut installed.
For both the kitchenette sink, as well as the seating areas, I will be using a gray laminate veneer to cover the top's and bed liner paint to coat the bottoms.
This weekend I made a panel for the Victron Cerbo GX and Victron Touch 50 and installed the Touch 50 and an additional 120V outlet above the Fridge. The Cerbo GX is the "brains" of my electrical system and is mounted near the battery bank and the other Victron Components. Additionally, you can control many other components (Water Storage Holding Tank, Water Pump etc) from the Touch 50.
For these past 4 months since I picked my GFC up, I researched every single brand of Hitch Mounted Motorcycle Carrier on the planet before I settled on MotoTote, and their MotoTote "Max". The quality is top notch, they are out of Texas and made right in their shop. I have become a brand ambassador "Roamer" for MotoTote and if you buy a carrier through my link, you get 10% off! My link is:
First time using a laminate on plywood and stoked with how it turned out on this kitchenette countertop. The gray is a close match to the OEM color on my truck, which was what I was shootin' for

I used bed liner paint for the underside and sides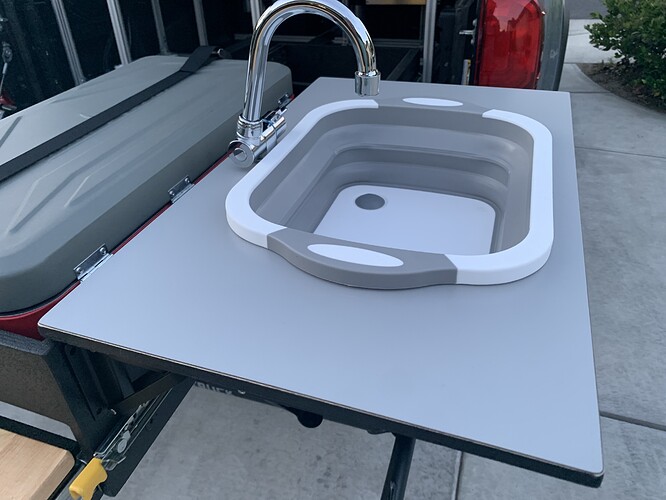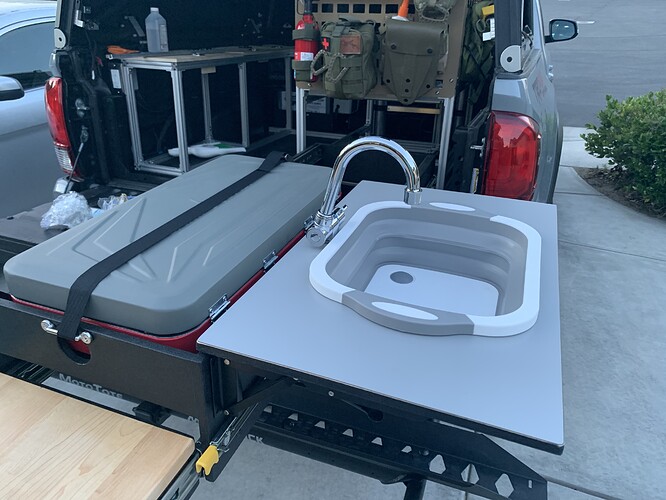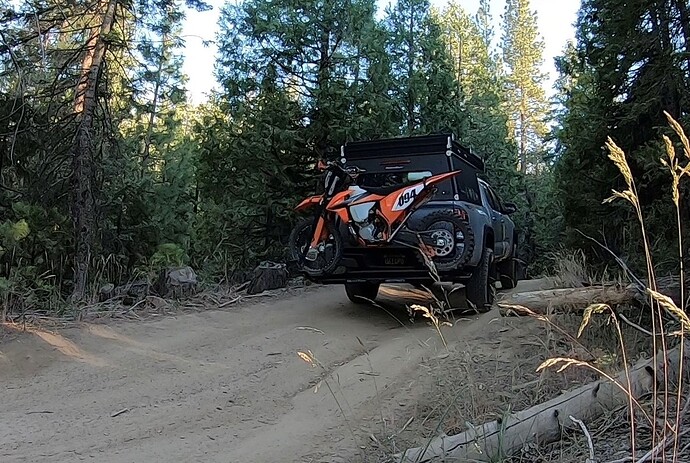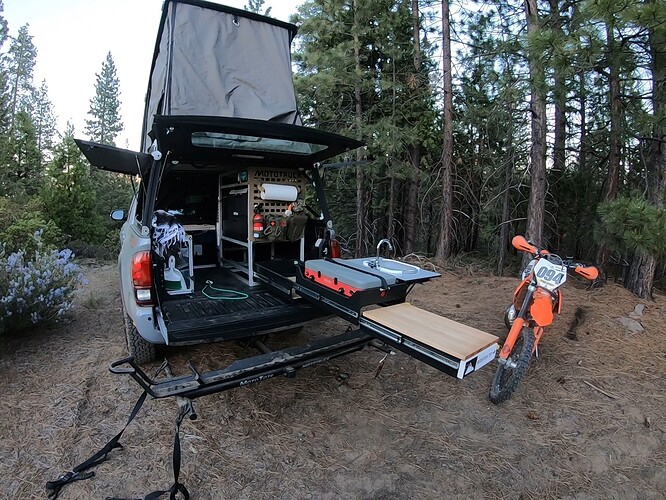 The Fam and I spent a few days last weekend in the Kings Canyon National Forest. The Cerbo GX and Touch 50 worked great! I took the truck up some rocky and wooped out sections with my KTM in tote via the MotoTote Max Carrier, and am very impressed with the ground clearance and overall stability of the MotoTote.

what dirt bike hitch mount are you running?
MotoTote… Click on the above link (Page 34) to their website for 10% off.
How much over your rear axle weight rating are you when loaded up for a weekend and the ktm on the hitch?
Based off my estimates I am not over the rear axle rating.