Enjoy the new hinges. Keep Squeakin.
sadly, #399 has two broken hinges! i thought mine was outside of the troublesome hinges. barely made it a full year. It might be the record heat we've been having lately out here in Cali. There was a crack and then a full blow failure to the driver's side on Sat morning. Then a full on failure no warning on the passenger side this evening. No cracks were seen either. @Mike_GFCUSA I emailed you to get on the next PIT tour. I'm so bummed because I'm leaving for Colorado for a 10 day off road trip on 9/21. And now I have two F-ed up panels. I just thought it would happen after like 2 years, just caught me by surprise.
Anyhow, can't wait for the new hinge, it looks BADASS!!
PS Is this something you can do on your own, like you mail me the hinge and i drill out all the rivets and put the new hinge in? Or is there more stuff involved. I just dont really want to wait until next year…
Mike installed the new hinges for me here in Steamboat this weekend. He fit me in on the CO PIT so I won't be traveling around with a taped door. Desert season is here and time to test out the new hinges and not worry about how my wife is opening and closing them. Ha
Hey Riley,
If support hasn't reached out can you shoot me another email, I may have an idea.
Thank you,
Mike was in Boulder, Colorado yesterday on the PIT and replaced my cracked hinges with the new embassy hinges. He worked through some cold, wet, snowy weather to get the project finished. The new hinge design looks great. I have no doubt the problem is fixed. Thank you GFC and Mike for the great customer support.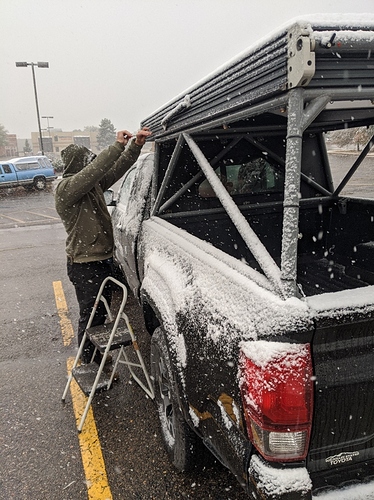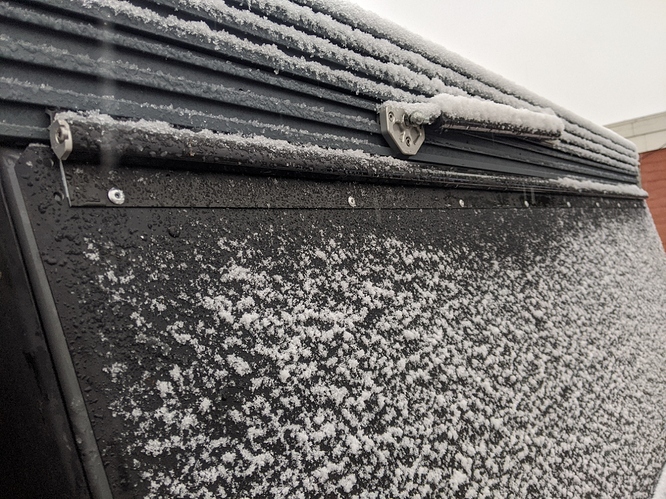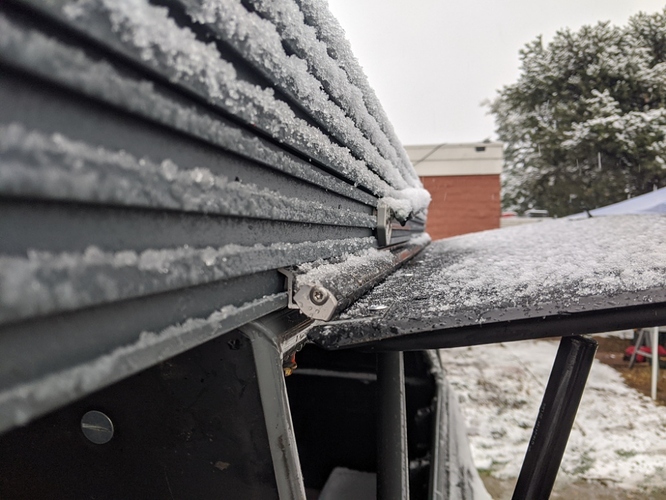 Thanks Dale! It was great to meet you, keep on enjoying the camper, in good weather or otherwise.
Good to see all the fixes and positive feedback. Can't wait to meet Mike on the next leg of the tour.
Don't forget to let me know when your on the East Coast near Maryland, because Maryland best and finest crabcake is on call for you when you get here. Hopefully I'll be picking my camper up here in the next few months!
You have my word, I will let you know and I will happily eat your sea critters
Nice. Are they doing away with the liquid sealant between the frame and the tent? If so, it seems a user replaceable hinge option may be a possibility. I wonder what the most technical part of the replacement is?
There are discrepancies between different generations of manufacturing that I've found on this trip that would make it difficult to do an encompassing or easily laid out DIY. The tool kit and materials needed is also not something everyone would have. The biggest issue is that a customer DIY repair would not be warrantied.
I was afraid of that. I think I could do the job properly, but I'd rather have a person with experience with all of the designs, with contingencies for all of them at hand, do the work. Attaching the new hinges looks pretty simple, but getting everything sealed properly may very well require a Large Michael.
@Mike_GFCUSA - Any plans to give us a running tally of the campers you've touched on the road? Every one you service is another mark of great customer service, as far as I'm concerned.
@ Dale - Thanks for the first photos I've seen of the hinge end cap.
My awning brackets utilize the bottom track on the camper. New hinges look like they use that track. Am I SOL on using my 270 awning now? Anyone else dealt with this yet?
I have the kinsmen 270 and I've been emailing with Matt on getting new brackets that work with the embassy hinges. I'm not totally clear on whether he's got them built yet or not, but he's suppose to send me an invoice, so I'm assuming they'll be ready soon if they aren't already.
Edit: looking back at the original email, he said he's a few weeks out on the new brackets. That was on Sept. 3rd, so my guess would be he'll start sending some out at the end of this month or early next… hopefully.
That's great news. Thanks. I actually messaged him today also. Definitely wanna keep my awning but wanna update these hinges!
I sent a bunch of photos to Matt so he could see the hinge, how it sits and where the panel opens to so he can get the design down.
@Mike_GFCUSA Now that you've done a bunch of retrofits, any estimations when leg 2 starts on the east side?
Please post photos when you have them in hand. I still have my awning in the box since I've been waiting out the final solution for the panel hinges. I'll wait to see if I want to modify the mounts myself or buy what Matt offers.