Hey All,
Announcing a new company I started making GFC accessories. I am a engineer in Bozeman and saw that there were a few products missing that I could help with.
Currently making a lock kit that will be shipping starting in the next week or two for the first batch, and likely 4 weeks out from having a bunch more in inventory to send out.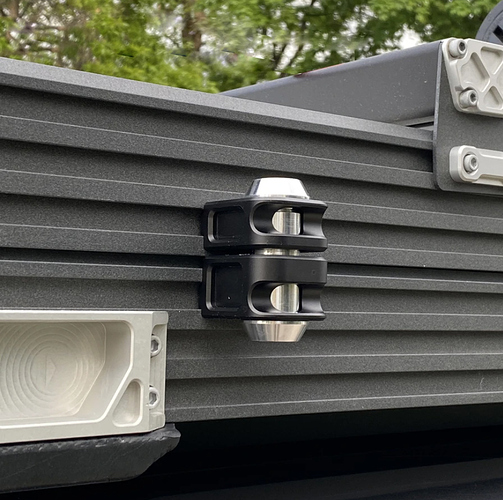 https://truckparts.parts/products/gfc_lock_kit
I am also finishing up the design on a lighting kit. The pictures only show three lights "downstairs" but there will be a rear panel light to light up the tailgate area on the production model.
The lights attach just above the stiffener on all of the operable panels, and across the bottom of the front fixed panel. You can mount the lights inside the tube frame on the bottom of the tent as well, but in testing the panel lights work much better. There are also two lights like the old school GFC upstairs original lighting kit.
The kit will fit all GFC models, and come with all the cable ties to complete the install. There is a separate dimmer for the upstairs and downstairs lighting circuits, and the lights can be switched between red and warm white. Both colors are dimmable. Power draw at max brightness (very bright) is ~3 amps at 12V.
https://truckparts.parts/products/gfc-lighting-kit
Those should be ready to ship middle of august.
I can answer any questions you might have.