"What is this… a quilt for ants!"
Yea having them at the GFC locations would be sick. I am in Montana so the expo events are always so far away. Like I said, I am a big "feel it" first type of person especially with the blankets/sleeping bags lol. Maybe this will be the summer!
I got mine recently and have been out on 3 different trips with it. It's a surprisingly fine/soft outer material, thin and weirdly lightweight. Very light touch on the skin. The word "gentle" comes to mind. It's filled with down (I've read) but the down seems extremely fine and unlike other down that I have experience with. The down doesn't seem to bunch or collect, it seems distributed and airy even after stuffing.
As others have said, it packs into a surprisingly small stuff sack for how large it is. It's a bit tough to communicate, but you pull it out of the stuff sack (like pulling taffy, just gets bigger and bigger) and it sorta self-"fluffs" over a minute or two and over a longer time scale as well. I have found that when I'm under it, after a few minutes I'm surprisingly warm and comfortable and I only notice it when/if it moves off my body or I poke a leg out or whatever. This "only notice it when it's gone" seems to be in part because it's so light, which I like.
It's very quick to pack (just shove it back in the stuff sack and cinch). Although I have tried to communicate experientially @GainzGFC , I know the value of real experience. For me, the proof was in the first night out- I have to say I'm not sure I would have bought one if I had just handled it in a store because these materials are a bit unfamiliar (no high-end sleeping bag experience). If you get access to one wrap up in it and sit in a chair for a couple minutes, I think you'll get a useful impression.
And just to clarify I'm not here to shill, no discount, no affiliation, I just wish someone had described it more experientially before I bought mine. I "risked" it anyway (knowing there was a return policy) based on posts here and was not disappointed and do not feel it is oversold.
Hi Hunter! I am happy to jump into this conversation about the Aeronaut HOVERQUILT. I think you are using our products and if you think the Overland Softgoods GFC sheets and mattress topper that we make are OK… you will love what Brandon at Aeronaut is making for the GFC community!!!
Brandon is a product designer who is deeply embedded in the outdoor camping industry… he is the real deal. The design, material selection and build quality of the Hover Quilt is world class!
Awesome product!!!
Happy trails…
Scott
Good way to describe it! I knew it had to "expand" or "fluff" because in photos it packs down to nothing but in the photos of it open, it expands like crazy. I just use a North Face double sleeping bag now, but looking for something that is potentially lighter and easier to pack around in the summer months.
Another thing that eluded me (maybe I just missed it) is the size of the stuffed bag. I took a few pics next to "standard" objects in case it helps anyone.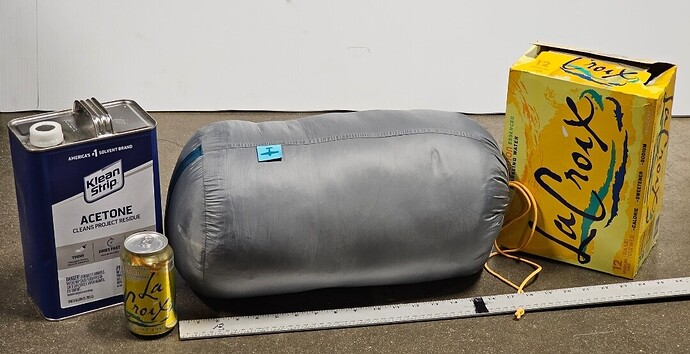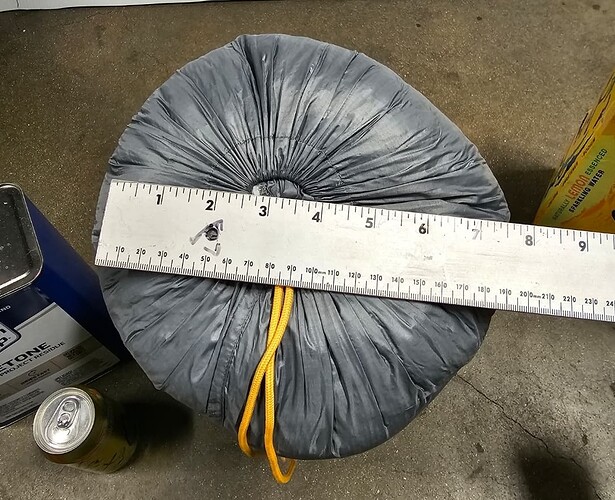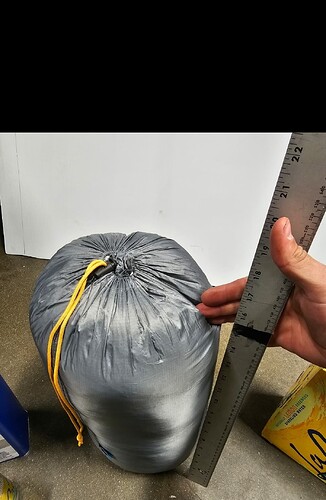 I am going to the Expo East.
Funny, I moved from Bend Or to Lynchburg Va.
Expo East is just up the road from Lynchburg, lol.
If you need anything I'd be happy to lend a hand.
Thanks for sharing the love @Vice_Chief and @WrinkledPants ! You guys are awesome

And @Casablanca let's chat! I see you DMed me also, could be a rad opportunity. That's a big move from Bend to VA!
Getting ready to finally pull the trigger on a Hoverquilt and had a couple questions:
Website says pre-order with availability in early December when trying to add to cart, is that accurate?
I know its recommended to store uncompressed for long term, what is your recommendation on storing it up in the GFC long term? I guess it would vary on how compressed it gets up there and I should add that I also just purchased the 1" topper from Overland Softgoods. Would love to keep it up there all the time but also want to make sure I take proper care.
Thanks!
Awesome! You'll love the new setup, and that Overland Softgoods topper is pure magic for extra comfort.
Thanks for the heads up on the preorder shenanigans - that was automated since we're dipped pretty low in stock on the silver quilts. I just updated it so that it should go through.
Good question for storing in the GFC. We've done that for the past 2 years with our original prototype and it's been great (also have the OS topper for past 9 months or so). It's kinda in between the compression of the stuff sack and the storage bag. If you know you won't use it for about a month or more, you could play it extra safe and toss it into the storage bag.
But even if you keep in the GFC full time it should last decades with moderate use and not lose any loft

Sweet! Thanks for the quick response. Putting in my order now!
Thanks so much for the support! We'll shoot that out right away. Enjoy and sleep loose!
@AERONAUT any idea when the silver/charcoal will be back in stock? Want to take advantage of the sale this weekend. Pls help
Yo Jason! The silvers won't be in stock for a while. We might be able to dig up one or two display quilts we used for photo / shows if you're down to get one of those. Shoot me a dm if that sounds good!
Hello, I'm John from San Diego and will be at expo east all 3 days. I LOVE your hoverquilt and would be happy help you at expo east anyway possible. However, I am currently on a year road trip and brought my "indoor" down quilt (twice as bulky, half as warm) instead of my hoverquilt since I'm following summer around north America. Honestly, I don't mind having mine shipped from home as I miss it anyway.
Thank you for the wonderful product,
John
FIREQUILT pre-order purchase compete!