Hey everyone - Happy Monday!
We're super stoked to share some awesome news - we just got back from launching a new brand at Overland Expo West at the GFC booth. ** Such rad people! I hope you can all meet the amazing folks there at GFC. So pumped to jump all in to this community and connect with everyone.
We also picked up our GFC V2 for our gladiator last month, and it's amazing. A perfect time to further test out our new sleep system.
Here goes! A little about AERONAUT Outdoor. We're all about sleep. Sleepers passionate about overlanding … or … Overlanders passionate about sleeping? Sleepeoverlanders? Still gotta figure that out

We believe sleeping gear for overlanders can be better. A lot better. You can also check it out on instagram when it's working @aeronautoutdoor
I used to engineer sleeping bags for NEMO, Marmot, etc, for over 12 years as my full time job. No one likes to sleep like a mummy … but it's also hard to find something that'll actually keep you warm that's not a sleeping bag. And fit in your RTT when it's closed. So we made it. A no-compromises, best materials you can get, down blanket for 2. The Hoverquilt is 90" x 80", so definitely good sized even if your partner is a blanket thief. 750 fill power goose down, so it's ultralight at 2.5 lbs (just over 1lb per person). Buttery soft materials to keep you toasty warm. And you keep it in your RTT / Camper super easily - it compresses to ~ 1/8" when it's flat. No cold spots because we went with box baffles. It also comes with a stuff sack for tossing under your seat, and a cotton storage sack for long term storage (also doubles as a laundry bag! Win!)
Check it out (more info / pics on our site and also instagram @aeronautoutdoor):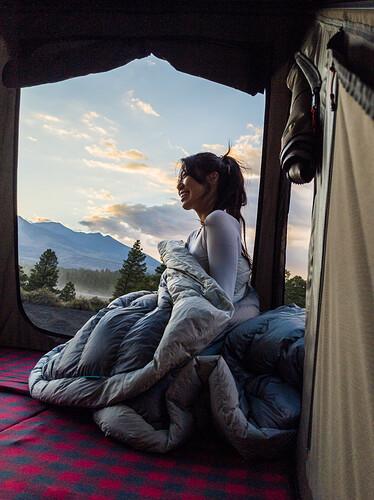 chrisbrinleejr
We're also really hoping to tap into your experiences and see what you would want to see from us in the future. Pillows, sheets, other temp ranges of quilts, colors, mattress toppers, new materials, etc. Let's work together to make awesome gear. Anything and everything to make sleeping outside even better for vehicle based adventuring.
TLDR: The hoverquilt is a super warm, non-confining down blanket that keeps you and partner warm to 0C / 30-35F. Or you burrito it and enjoy it all to yourself.
10% off code for all y'all go fast friends! GOFAST10
free shipping too!

Thanks!
B
sleep loose my friends
@ aeronautoutdoor (instagram)