What kind of Lights are people using in their GFC? No matter what kind please share. Thanks.
I've got two sets of those in my camper. They work pretty well. I like the ability to run red or white and they are dimmable.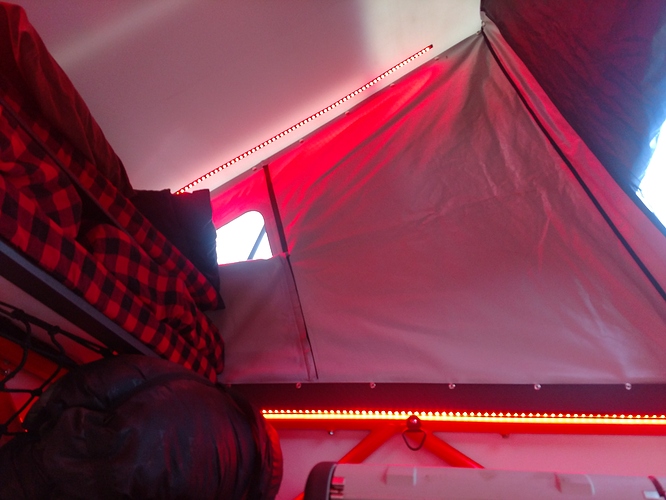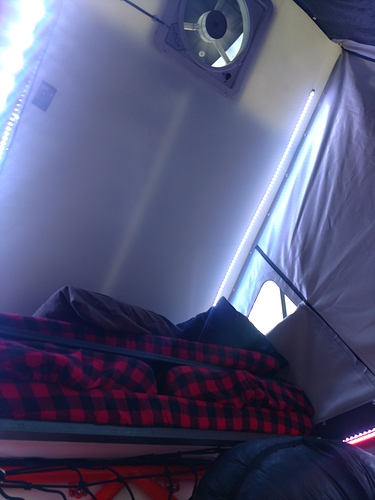 Nice topic.
Right now I'm currently running just a single Baja Designs Amber Dom Light with switch in my bed mounted to a Rago Fab Mount on the GFC Frame. Have a Baja Designs S2 on the rear bottom extrusion as well.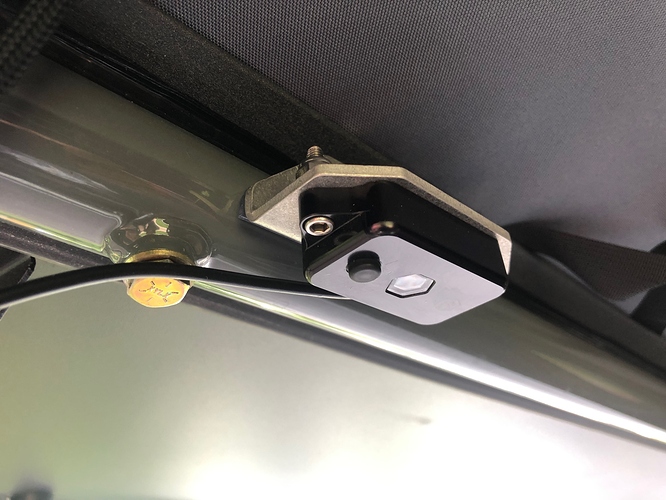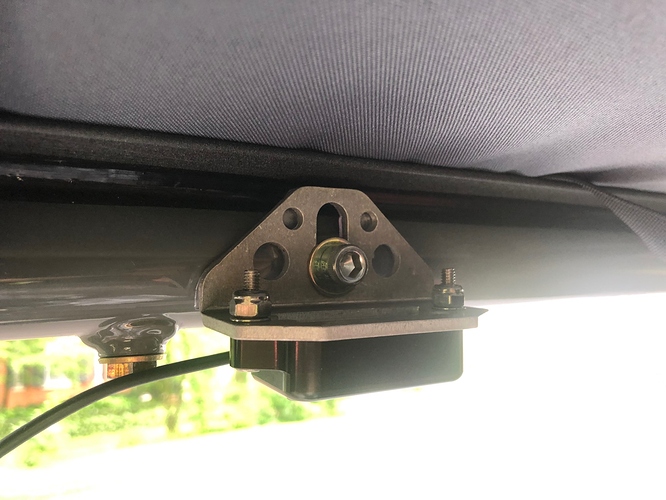 Inside the tent area I stuck a cheap adjustable OxyLED light from amazon with lithium AAA batteries.

Nothing too crazy but I thought I would share.
I've got these Rhino Rack magnetic LED strips. They're a super simple plug and play installation that runs off the 12v outlet on my Goal Zero. I like that you can swivel them around on the frame to move the light inside the bed or have area lighting when the panels are open. There's also one on its own switch in the bed so we don't have to move a panel to turn out the lights. They're water proof so hosing out the camper is no problem. The only downside is the cost, they're way more expensive than the strip lights you can get on amazon.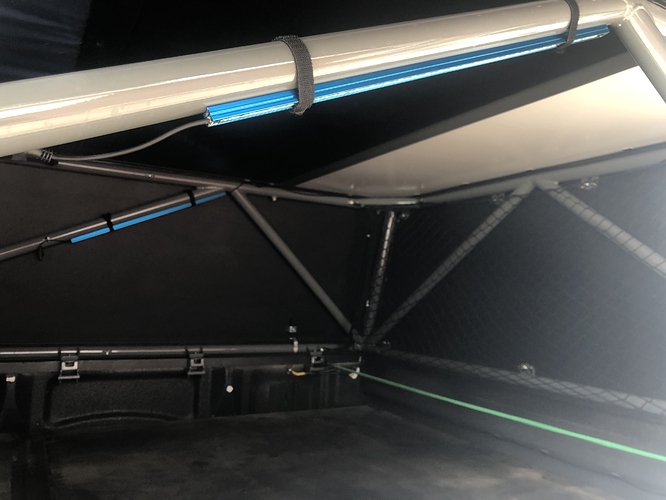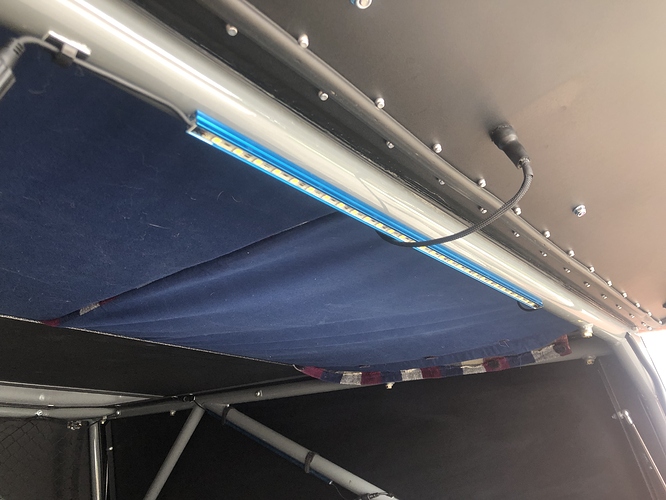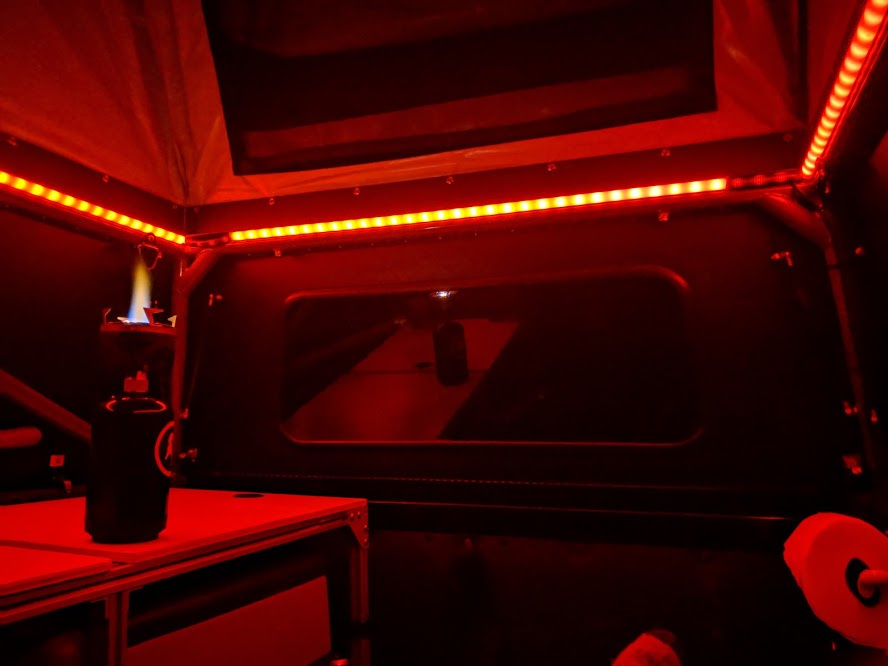 I've got some cheap RGB + white strip lights in some 90 degree corner aluminum channel/diffuser strips along the sides and back door. They work for now but I somewhat hate that I have to use a remote for them. May go back to a simple warm white on a dimmer switch near the tailgate.
Keep meaning to install some "upstairs" but in practice by the time we get up there we're not needing much light.
I use lights similar to this. Simple and no wiring to work around.
I've been using a single Black Diamond Remoji light and just hanging it in whatever area I'm currently working in. It's magnetic and has folding hooks. It'll do dimmable white or dimmable multi color. It's a great option to start with but I'm thinking about upgrading over the winter. It lasted for about 30 days/nights of camping without even nearing a low battery indication but I tend to use lighting as little as possible.
Black Diamond Remoji Lantern https://www.amazon.com/dp/B07CHM6QM3/ref=cm_sw_r_cp_apa_i_kKeIDb1PAS6C0
Some great ideas here. I really like the looks of your lights @Smelly621
I'm using some cheap lights off Amazon but really want to install some strip lights.
I put up a set of the 4 small GoalZero lights. They provide enough light and don't draw much power at all.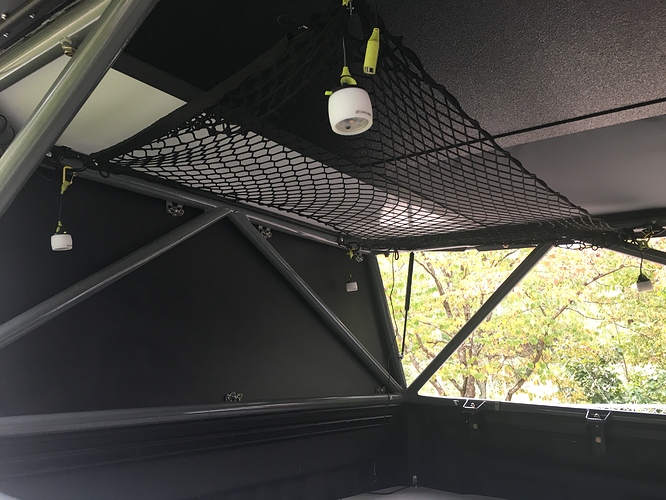 I am really liking the look of that setup. Can you give some more details on your lighting? For example:
It looks like you did at least four strips total. How are they all connected?
It looks like the up/down lights are on two separate circuits?
Did you do any corners for the lowers? If so, how did that work?
Do you use the remote? Where do you keep it?
How did you wire it to power?
Would love any and all info you have, as I think this is the route I will likely go. Thanks!
And I'm also interested in info about that ceiling fan.
I ordered two of the kits that I linked. Each kit comes with a remote, a wire harness and two strips. Each kit comes with everything you need to connect them together. For the corners, all I did was kind of bend the LEDs to fit. I can get you some pictures of it this afternoon.
For the remotes, I have one attached to the front panel of the shell with Velcro and the other one is attached to the roof of the tent portion with Velcro.
I have a relocated blue sea 6 circuit first panel in the bed that they get their power from.
The fan is a maxxfan mini that I installed. I have some pictures and some info on it on the GFC forum on tacomaworld.
How did you run these? Did you cut the strip in half and wire the two halves together? Pictures?
Yep, I cut them in half and soldered some wires between each strip. I added some 3M VHB tape where the wire joins each strip as a stress relief, and tucked the wiring that runs between them into the small piece of fabric were the tent pivots. I'll try to grab some photos this weekend.
I am working with Matt Gecko on Tacomaworld to offer a lighting kit. He put something together for my GFC and once he tweaks some small things I think he will start selling them. If you message him on TW he can get a kit together now. I believe listing is around $150, the kit is very well put together and high quality parts. The install was super easy. All wiring and connectors is supplied. Here is a link to his site: https://mattgeckoleds.com/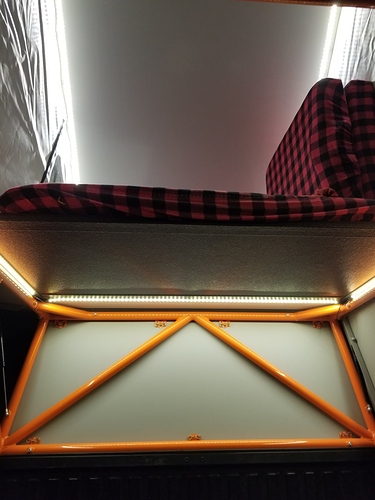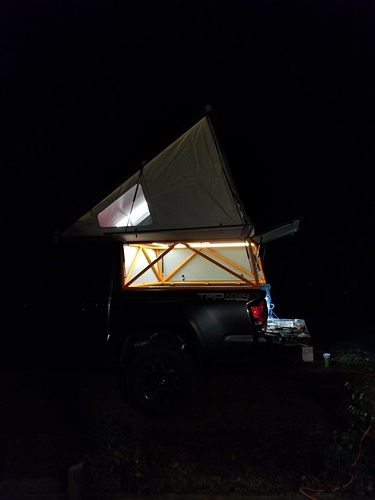 Does the kit come with the lighting for the top and bottom of the camper?
Is there ability to turn it on/off from the top and bottom?
Also would be cool to have white and amber lights.
Howdy - getting ready to put either a rock light setup or a BD dome light setup in my Tacoma GFC. Couple questions if you have time:
Are the BD dome lights bright enough?
do they heat up?
source for the mount?
Also planning a similar BD work light setup on the back outside of the camper. any problems with leaks after running the wiring through the seal?
Thanks in advance for the time?
254
Hamp
I used a Rago Fab Rock Light Mount and mounted my Baja Designs Dome Light with Switch to the drivers side rear on on one of the treaded 5/16 holes in the upper GFC frame.
It puts out good light. I've accidentally left the light on for days. It was warm but not too crazy hot.
The problem with mounting one single light is that it does always put light where you need it like a direct overhead light.
If you're going to mount several then you should be fine.
I purchased one of the Matt Gecko kits listed above yesterday.