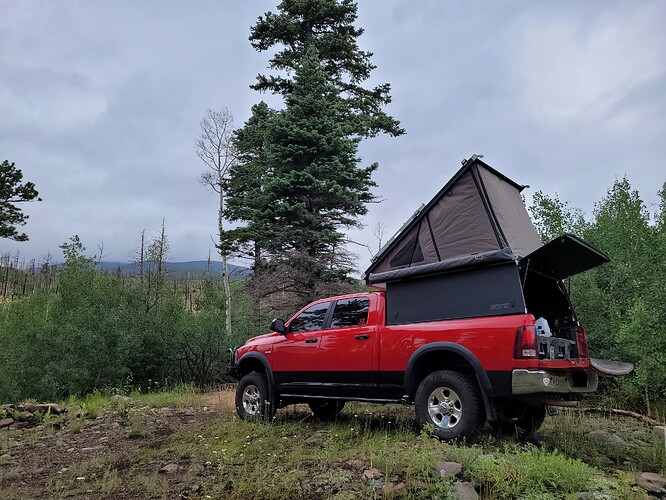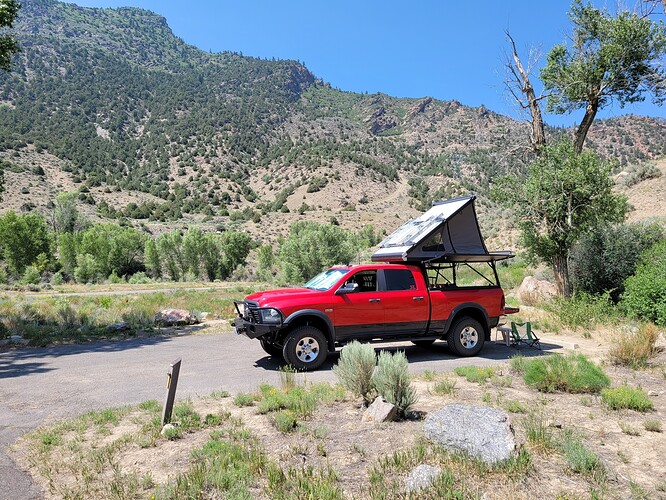 So I have been living out of my V2 on my '16 Ram powerwagon for a week now and I just wanted to post a review here. It was installed on May 21st and original deposit was back in April of '20 (I am the original buyer). It was a long wait, but I was very happy that I waited and got the V2. Apparently I was the second V2 installed on a Ram. So here are some thoughts:
It is a big jump inside if you don't have a step to get on the bed. I have a decked system and it is perfect height for me, but my wife will need a step. I also have side doors and a ladder, but I have been camping solo so I am just going through the floor.
On a powerwagon with 35s, you will need a step just to get on the tailgate. Even closing the doors is a stretch and I am 5'10". I am planning on installing a strap on the rear door to make it easier to close when I get inside.
A lot of water drips inside when you open the rear cab doors in wet weather. I will be looking into the drip rail extensions.
It does get a lot of condensation inside in weather, but it's a tent. Bring a towel.
There are a 2 pinholes in the tent by the front hinge that let in water while driving. It was enough to get the mattress wet at the front corner. I'm just going to get some sealer, not a big deal.
You can fry eggs on the black panels in the heat. Wear gloves. I wanted black for easier truck swap. I am questioning my sanity after the Washington heat wave.
My truck has Thuren front springs, tuned fox shocks, stock rear springs and airbags. With heavy rock sliders, a loaded decked system, other cargo and the V2, it feels heavy. It was scaled at 9000 pounds, so it will not drive like a stock wagon. It feels like I am driving an old baja truck when I hit bumps on 80mph interstates.
The camper does have a slight wind noise, but I really only noticed for the first couple of days. Gas mileage has not noticeably changed, but I have never been able to pass a gas station in this truck anyway.
Overall this camper is amazing and I am extremely happy. If you are on the fence and you own a powerwagon, buy it! Thanks for reading.