Whats your setup for the heater look like?
Have you narrowed down the shell material? also what price point are you striving for?
Hey Micah! I think, that in my hast, I totally misread your post. The WIK (winter insulation kit) needs to perform a couple of tasks. "moisture management" inside a closed up single wall tent being at the top of the list. Also, cutting down on cold air draft. Thermal insulation is beneficial but therein lies the rub. Obviously, there must be a heat source and our bodies are not great at heating the inside of a tent. Especially, when we are trying to trap that heat inside a cold weather sleeping bag to begin with. Candles, propane heaters, electric mattress heating pads (if you have the power source) and the cheap (or not so cheap) diesel heater, which is my preference are all much better heat sources. I have found, in the little bit of testing that we have done, that anything from cheap army surplus blankets to the really techie insulation materials used primarily in winter clothing will provide SOME thermal insulation provided there is an adequate source of heat. Our challenge has been to find the "sweet spot" between performance and cost. I encourage anybody to try different materials when out in the cold to see what works best for you. When my company, Overland Softgoods does a final release of our WIK it first and foremost must perform. Also, it must be made of quality materials, assembled properly and be a product that we can warranty. I hope this is a better answer.
Thanks for answering my question, Scott. This makes absolutely sense.
G'morning blackhearse! We are still playing around with materials. Ripstop for sure on the outside. The inside material is still a little bit of a moving target though. What we know for sure is that 30-40 scfm is where we want to be on both inside and outside materials. I'm not a lover of acronyms… scfm stands for standard cubic feet per minute air permeability. For anyone that wants to do a DIY kit, don't waste your money on expensive insulation material if you don't pair it with the right materials.
I get a little bit frustrated by this taking so long. But, we will get it figured out and then never have to look back, wondering if we got it right. Thanks, Scott
I spoke to @WrinkledPants for quite a bit yesterday and I have to say… For those looking for a well thought out commercially available insulation system, he sounds like he has a very exciting product in the works.
I'm betting it will be well worth the wait!
Excited to see how it turns out, Scott!
curious as to why air movement is that important. the tent fabric stops the wind and water very well. I personally don't have experience in designing something like this and that wasn't a thought. how would 30-40 scfm be a goal compared to something in the spectrum of muslin to nylon . please enlighten me
"Air" permeability is a bit misleading. In this application it relates to the ability to move moisture (gas phase) through the materials.
I know we're nowhere near this point but is there a ballpark estimate of what this would cost? I can see a few hundred dollars for sure but people are going to start to balk when it gets past that price point
We are thinking of offering two products. A three season version and a full-on all winter kit.
Materials used in each of these offerings will dictate a different price.
Once we figure out materials we can then do a time and materials evaluation and nail down a retail price.
What am I doing today?
Well… learning, obviously. I have learned a couple great things the past few days - but I may very well be on to my second prototype before week's end…
I learned how to use a sewing machine! And to be clear - sewing high loft material in layers of nylon is considered "hard" - and it is hard to get straight lines for sure. I have been trying to find videos or tutorials for making "technical insulated blankets" but the best info I have found is from granny's and their quilting channels.
So what have I learned? First pass was to sandwich all three pieces of material with pins on all sides and run them through. Second pass will be to sew the nylon and create a "Pillow case" and then stuff it. That makes the seams cleaner and will make sure it stays the proper size when stuffed.
Second - I will be stitching the edges of the primaloft, but want to do some "quilting" although I will probably actually just use the "tying" technique to put a knot every 5" in a grid. This allows me to save a lot of time but also not need any new equipment. Quilting is really hard with my machine and the high loft of this material because I need to roll it up and pass nearly all the material under the sewing machine arm. Because the 200 loft is so thick, I can't get it through there without a huge fight.
So - have I wasted any money yet? So far, just a few yards of cheap JoAnn's ripstop are going to be sent to the scrap pile - but will be reusing the primaloft from my original templates and reworking the pattern to be a bit oversize and then stuffing after sewing the container.
I have a lot more respect for my grandmother all of a sudden…
I have a quilt from my great great grandma that she sewed 100% by hand. it kind of makes what you are doing like a walk in the park but still very respectable to undertake a project like this WHILE learning how to do it. I tip my hat to you. I can't wait to see the end product.
Why did you get away from just using this stuff?
I had a hard time finding synthetic blankets that were large enough to be cut down to panel size… The one I did find was over $150 and I needed 4 of them… Not saying there isn't one out there tho!
The only reason I decided not to use the quilted material is because I saw it. The insulation wasn't what I wanted although it may work great. It's very thin compared to what I have now. I dunno tho… might still try it
I'm just goofing around at this point and hoping I get something I can use… But this is more of my leaping into the world of sewing as so many of the projects I do have a point where I wish I had a sewing machine and some knowledge.
Here's a fun kit - although I am learning that none of this is as easy as just "lay it up and sew it" - the thick insulation causes the layers to move around quite a bit. I have now tried 2 construction techniques and will be on to my 3rd option here shortly. Frontcountry Quilt Kit - Ripstop by the Roll
Real reward in getting right now is learning. Also banged up my elbow really badly on Xmas day so I'm on a skiing break against my will. This helps keep me excited about it!
for sure! I rode crystal mountain on Monday and it was 2 feet of fresh powder. My legs are still cooked. But I have to figure something out. Between my diesel heater and my tent I was warm-ish but the condensation was so bad because I was fighting the cold weather keeping the doors closed up.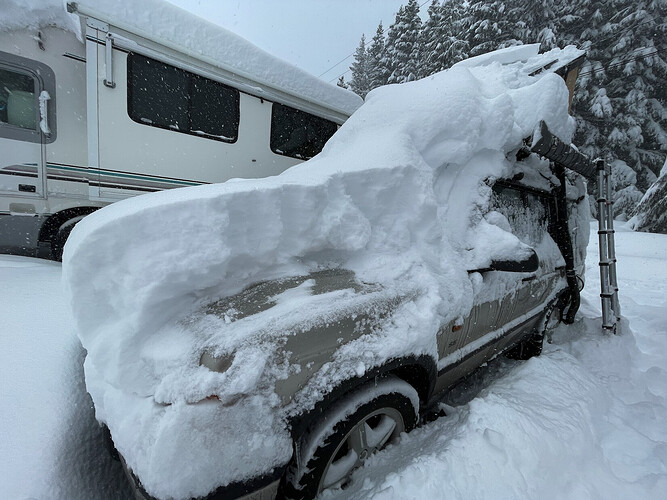 okay but bro… where did you camp at crystal? i only know of one spot on that whole mountain…
You can camp B lot with the RV's. You obviously pay for it, like $40 or so. But on days like this, it pays to be first in line at the chair lift.
haha true - i am mostly in backcountry at Crystal so no prize for first chair but on days like this it's probably nice to be surrounded by others who have shovels and are also snowed in…